If you love sushi, you are probably familiar with the different types out there. And you might have sushi rolls that are close to your heart and palate. If this kind of sushi is one of them, then you should definitely check out the 11 Shaggy Dog Sushi recipes.
What's The Shaggy Dog Sushi Recipe?
Before getting into the different Shaggy Dog Sushi recipes, you might want to get to know it a little better. If this is a sushi variety that you aren't familiar with, then it would be nice to explore the ingredients and everything you need to make this.
The Shaggy Dog Sushi is one of those rolls that might not fall into the traditional Japanese rolls. However, with sushi becoming more popular in every corner of the globe, more and more new varieties are tried, tested, and developed.
And the Shaggy Dog Sushi is one of them! While the exact origin of this sushi is unknown, you can now find it in most sushi places.
If you want sushi with both creamy and crispy texture and some kick, then the Shaggy Dog Sushi is for you. It's also what you can call an "inside-out sushi roll". It means that the rice is on the outside instead of the seaweed sheets.
If someone wants sushi but can't handle eating raw stuff, then this is one option they shouldn't miss. They can still get a fill of sushi. There are no raw fish or seafood involved in this sushi recipe.
If you have serious cravings for Shaggy Dog Sushi, then it's high time you learn how to make it! If you haven't tried making this before, don't be scared! It's not as hard as you think! For the Shaggy Dog Sushi, here are the main ingredients that you need:
Sushi Rice
Avocado
Tempura
Imitation Crab
Spicy Mayo
Teriyaki Sauce
Depending on the recipe you want to follow, there might be other ingredients that you need to add.
Since this is cooked sushi, you have to prepare the rice and tempura ahead of time. It would probably take 30 minutes to an hour to put the Shaggy Dog Sushi together. And you need a Bamboo rolling mat to assemble this sushi roll.
If you aren't used to rolling sushi using the bamboo mat, you might not get the perfect roll the first time around. However, with practice, you will be an expert in no time!
Make Your Own Shaggy Dog Sushi ASAP
Making sushi by yourself might be nerve-wracking or intimidating. But it doesn't have to be. Sure there might be a lot of ingredients involved. However, these Shaggy Dog Sushi recipes will show you how easy-breezy making this is! Put on that imaginary sushi chef hat and explore these recipes:
Making this Shaggy Dog Sushi is very easy. That's what the recipe is all about. You can see the list of ingredients and the instructions clearly. There are even photos showing you how to prepare the avocado and the bamboo mat for the sushi preparation.
Since a Shaggy Dog Sushi needs tempura, there are also instructions on how to make these batter covered fried shrimps.
2. Sushi With Me: Shaggy Dog Sushi Roll
If you want to know how to make Shaggy Dog Sushi Rolls at home, all you need is less than five minutes! This video walks you through the process of making sushi rice and tempura.
After preparing everything, it also shows you how to prepare the Shaggy Dog Sushi roll. There is also a list of ingredients as well as the steps in making this recipe in the description box!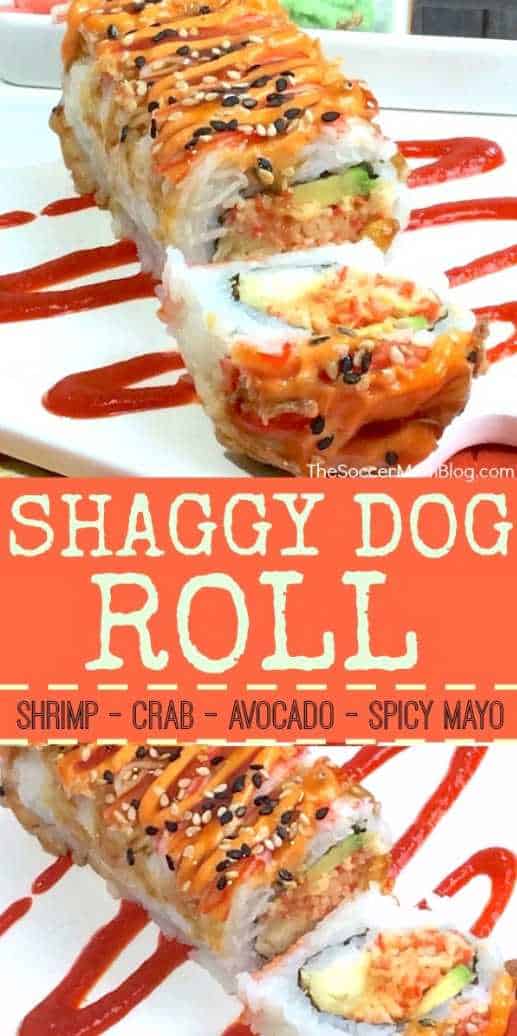 Eating Shaggy Dog sushi all the time might put a dent in your wallet. Here's a recipe that you can do at home! The recipe is pretty straightforward. Apart from the ingredients, the recipe even lists the kitchen equipment you might need.
The recipe also includes how to make sushi rice which is essential in making Shaggy Dog Roll. Without rice, you can't make this sushi at all!
4. Easy Homemade Sushi: Shaggy Dog
This video is all about putting together the Shaggy Dog Sushi roll. It shows you how to lay the rice on the nori sheet and add all the other ingredients you have prepared. As long as you have everything ready, you won't have a challenge setting everything up.
You can see the list of ingredients and the other optional items you might need when making this recipe.
If you want to make Shaggy Dog Sushi, then you need to have some Sushi Rice ready. It's one of the quintessential ingredients to make this dish. You can't assemble this without the rice.
Hence, this recipe teaches you how to make sushi rice and then how to make Shaggy Dog Roll. Knowing how to assemble the roll properly is important, so make sure you follow the instructions.
6. Shaggy Dog in Less Than Five Minutes
If you are eager to make Shaggy Dog Sushi but don't have the luxury of time, then this recipe video is for you! It doesn't involve a lot of talking but it shows you how to prepare this dish without any fuss!
The video will be over before you know it! It starts with preparing the sushi rice, cooking the shrimp tempura, and assembling all the ingredients on the bamboo mat.
This recipe kicks off with letting you know what a Shaggy Dog Sushi Roll is. It then gets down to business and tells you about the things you need to make this sushi. It won't be hard to follow this recipe because there are photos showing you each step.
Also, there are some tips and tricks that you can do to make sure you make a really awesome Shaggy Dog Sushi roll!
8. Famous Shaggy Dog
If you aren't too confident with your sushi-making skills, then this video might boost your morale. They might say they have done it wrong, but you can use this as a guide when making your own Shaggy Dog Sushi Roll.
You don't have to be ashamed if you are going to use store-bought tempura. It's understandable, especially if you don't have the time and energy to make them.
If you want everything there is to know about the Shaggy Dog Sushi Roll, then you can't go wrong with this recipe. Before telling you about the ingredients and the process, it answers some questions you might have about this specific sushi.
This recipe is very detailed. The ingredient and cooking equipment lists are there. And you have the whole cooking instructions – from making the roll to the presentation!
10. My Way: Shaggy Dog Roll
You don't have to copy the Shaggy Dog Sushi Rolls from your favorite Japanese restaurants. You can do it the easy way too! You can learn about preparing, cooking, and putting together your own Shaggy Dog Roll.
That's what this recipe is all about. You can do all of this in the comfort of your own kitchen! Consider it as a Japanese culinary challenge!
11. Four in One: Shaggy Dog Roll Sushi
Here's a recipe video where you learn how to make four different kinds of sushi including the delicious Shaggy Dog Roll! The core of all sushi recipes begin with the rice. Once you have the sushi rice ready, you can make any sushi you desire.
Skip to the Shaggy Dog Roll portion if you are eager to know how to make this one!
Shaggy Dog Sushi Hacks
Not all Shaggy Dog Sushi recipes are alike. There might be some differences here and there. Regardless of that, here are some tips that you shouldn't miss out on, so you can make the tastiest Shaggy Dog Sushi!
Use Sushi Rice Only
For sushi, you need to use sushi rice. This short-grain variety is stickier than long-grain rice. Since the rice is on the outside, you need them to stick together well, or else your Shaggy Dog Sushi will crumble.
You Can Make Or Buy Tempura
If you can, you are free to make your tempura. However, you can also opt for the frozen ones from the supermarket. It's all up to you. Just follow instructions, and the tempura will be good to go!
Adjust The Spice Level
Spicy Mayo, a combination of Sriracha and mayonnaise, is drizzled on the Shaggy Dog Sushi. It adds more flavor to this sushi. The spice level depends on your preference. If you want the topping to be spicier, add more Sriracha!
11 Best Shaggy Dog Sushi Recipes
The Shaggy Dog Sushi might not be a traditional sushi offering, but it sure packs a lot of flavors! If this is one of your faves, it's never too late to learn how to make it. If you master any of the 11 Shaggy Dog recipes here, you can have this sushi treat anytime and anywhere you desire!
Directions
Select your favorite recipe.
Organize all the required ingredients.
Prep a Shaggy Dog Sushi Recipe in 30 minutes or less!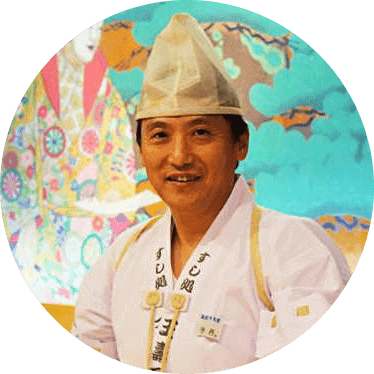 Hiroshi Nakamura, a Tokyo-born sushi chef turned US-based writer and critic, is the voice behind ichisushi.com, blending traditional sushi wisdom with modern insights.