Do you like to try making scallop sushi rolls? Scallop sushi, while not the most traditional sushi roll in Japan, has gained popularity for its unique and delightful flavor combination. You can find it on different menus of Japanese buffets and sushi bars.
The combo of scallops, avocado, and cucumber on top of vinegared rice is hard to resist. When drizzled with sriracha sauce and spicy mayonnaise, scallop sushi will become more enticing.
Scallop Sushi
Scallop Sushi, or Hotate in Japanese, is considered a luxury item in every sushi restaurant. But at first, scallops are not traditionally served in sushi rolls.
However, these past few years, there has been a sudden change. Today, scallop sushi rolls are trendy in Japan and across the globe.
It is no lie that scallop sushi is one of the crowd's favorites. Not only do these scallop rolls taste delicious. The best part is these scallop rolls are eco-friendly and sustainable.
Typically, scallop sushi consists of chopped scallops, sushi rice, and sauce fillings.
But there are endless additions that you can include, such as masago, tobiko, cucumber, and avocado. You can even add sriracha sauce and spicy mayonnaise to boost the flavor.
Does scallop sushi spark your interest? Why not try making one? Luckily, making a scallop sushi roll is more straightforward than you think.
This guide will talk about scallop sushi and the 20 best scallop sushi recipes you can try at home. Here we go!
One of the most famous recipes for scallop sushi is Green Lemon Marinated Scallop Sushi by Big Oven. This recipe is a perfect appetizer for intimate family lunches or grand party celebrations.
On top of that, you can find all the ingredients at your local grocery store. This scallop sushi recipe only used essential ingredients such as sushi rice, sea scallops, vinegar, honey, ginger, green lemon olive oil, cilantro, and nori.
2. Seared Scallop & Unagi Roll
Seared Scallop & Unagi Roll by Simply Sushi is the perfect recipe if you're on a diet. This scallop sushi recipe uses Hotate (Japanese scallop) combined with Unagi (Japanese Eel) to make a healthier version of sushi rolls.
Because these two ingredients are famous in Japanese cuisine, you will not feel like you're on a diet. This food is nutritious since it has low calories but is high in protein.
Scallop & Salmon Tartare Sushi Balls is a unique dish that will surely be your next favorite. Plus, it is simple, easy to make, and delicious. This scallop sushi recipe only used 11 simple ingredients.
Prepare salmon slices, scallops, sour cream, capers, and dill. You can find other ingredients like lemon juice and red onion in your kitchen. With six quick steps by Best Menu, you can easily prepare this dish at home.
4. Spicy Scallop Crunch Rolls
Are you one of the people who is a huge fan of spicy scallops? Then, check out this recipe by The Japan Food Channel. You will surely love this dish with the proper spicy scallop and tuna.
This scallop sushi recipe also used cucumber to add crispness to every bite. On top of that, the recipe also has avocado slices.
These slices blend perfectly well with the spicy taste of the scallops. Then, put some crispy tempura bit to add flavor. There you go!
Do you want to taste your favorite sushi restaurant at home? Through this recipe, Chef Roy Yamaguchi shares his signature scallop sushi recipe to try at home. This scallop sushi recipe uses fresh sea scallops, mayonnaise, and sriracha sauce.
For the papaya seed dressing, prepare to use papaya seeds, rice wine vinegar, and fresh ginger sauce.
Chef Roy already provided all the instructions for preparing scallop mix, rice, maki, and papaya dressing. You can bring the Japanese scallop sushi to your kitchen with this detailed step-by-step guide.
6. Baked Scallop Roll by Ahara Kitchen
Baked scallop fillings on top of sushi rolls sound delicious. You can learn how to make this recipe in 3 minutes with Ahara Kitchen. Start by mixing chopped scallops with sugar, mirin, and mayonnaise. After that, please place them in the oven.
The video already lists down all ingredients that you need for this recipe. Follow these easy steps, and you can have baked scallop fillings on top of a California sushi roll.
Do you like spicy foods? If you want something hot for sushi rolls, this recipe is for you.
Along with that, if you are going for something healthier, you can try this at home. Spicy vegan scallops are perfect for snacks. They can also serve as an appetizer for dinner.
Do not worry about the calories since this recipe is for vegans. Just add a little soy sauce, and voila! You can feel the taste of Japanese cuisine without actually going to Japan.
8. Live Scallop Sushi by Native Sushi
The thrilling part of this dish is that you get a live scallop fresh from the sea. After that, give your sushi a good rinse. Plus, add some kimchi base to make a sauce. What a twist! Then be ready to put it in the seaweed.
The chef also adds cucumbers to make the sushi crunchy. If you're up for more crunch, you could also add potatoes and nachos. With those quick steps, you can have live scallop sushi. You can pair it with your favorite drink for a full taste.
If you're up for a sushi treat, then we recommend that you try to make this dish at home.
This recipe stands out from other scallop sushi recipes because of the soft-shell crab. At first, the recipe looks difficult. But it is worth it. You will surely love the crunchy feeling of this scallop sushi roll.
Once you taste it, you can feel the balance between scallops and crabs. Along with that, the cucumber, avocado, and radish sprouts give it a fine texture. Altogether, this recipe is enjoyable. It will be fantastic if you and your family try this at home.
10. Salmon and Sea Scallop Sushi Roll by Robert Khoury
A blend of two fish fresh from the ocean makes this recipe unique. When making this sea scallop recipe, go to the oriental market for fresh wasabi. All in all, the ingredients you will need for this scallop sushi recipe are basic.
Just prepare the simple things needed to make sushi. These things include bamboo mat, sea scallops, salmon, seaweed, and wasabi. To spice up the taste, do not forget to add slices of avocado.
This scallop sushi recipe will make you realize one simple thing. You can always have an incredible bite of sushi at home.
Have you ever heard of sushi rolls with mashed potatoes? This scallop sushi recipe by What to Cook Today tried using mashed potatoes together with scallop and mayonnaise. Then it turns out to be delicious and sweet.
The ingredients for this scallop sushi recipe are already in your kitchen. These ingredients include potatoes, butter, scallops, and seaweed.
You can always add some sesame seeds and wasabi to make it more flavorful. The recipe is excellent if you're up for a combination of scallops and vegetables.
12. Uni and Scallop Maki by Doma
Gunkan Maki recipe is something that you can always cook in your kitchen. A Gunkan Maki is scallop, uni, crab, salmon, and avocado. You can have a delightful scallop sushi roll by following this channel's seven easy steps.
This creative recipe also adds sesame oil, mushroom sauce, and sriracha sauce to add flavor. On top of that, this scallop sushi recipe is not challenging to make.
You only need to have seaweed paper, sushi rice, scallop, and uni. Then, voila! You already have Gunkan Maki.
Do you like sushi rolls that are sweet and spicy? This recipe made by Mommy Potamus is creative. It combines the sweetness of scallops and the smokiness of chipotle peppers.
They also add cauliflower to add texture to the dish. If you like something adventurous for dinner, cook this recipe at home.
Make ready some bay scallops and white rice. But Mommy Potamus suggests that you use cauliflower rice. Then mix it with chipotle mayo, powder, or chili flakes.
Generally, the ingredients needed for this recipe are not complicated. Green onions, salt, and seaweed sheets are always available in the kitchen.
14. Fried Sushi Cakes with Raw Scallops by Mark Bittman
Fried Sushi Cakes with Scallop is a must-try scallop sushi recipe. You can have fried sushi topped with raw scallops and chipotle mayonnaise.
Once you try this recipe, it will be hard for you to resist. It will be helpful if you list down all the ingredients necessary for sushi rice cakes, chipotle mayonnaise, and sauce.
You only need sushi rice, mirin, vinegar, and salt for the rice cakes. Only one hour is required for you to prepare and cook this dish. We can assure you that you will have a wonderful meal with your friends once you master this recipe.
Try out this recipe if you're for something tasty and fun. Zuchshi Shrimp & Bay Scallop Rolls combine pepper sauce, rice, shrimp, and bay scallop rolls. You can leave an impression on your guests by serving this dish.
You can always have seafood as an appetizer with this easy recipe. It would help if you had zucchini, sushi rice, pepper, shrimp, and scallops.
After that, you can put some spicy mayo to make the extra dish wild. You can never be wrong with this recipe if you like spicy foods.
16. Hokkaido Scallops Surf and Turf Roll
You can learn the secret recipe of these Hokkaido Scallops from a Master Sushi Chef. This excellent scallop surf and turf roll will be thrilling and fun to make. This recipe is perfect if you want an authentic Japanese sushi experience at home.
You can find the ingredients for this recipe on Amazon. But we are sure that you can always find this at your local grocery down the neighborhood.
We highly encourage you to try this recipe. You can get fancy and casual by having this scallop surf and turf roll.
Do you want to make sushi extra special for your next family gathering? Then, check out this Dynamite Scallop Hand Roll.
This dish is not complicated and would not take much of your time to make. You will only need to prepare cooked rice, nori sheets, and bay scallops as prime ingredients.
On top of that, to boost the smokey taste, prepare cayenne pepper, mayonnaise, and orange tobiko.
This dish is all full of fruits and vegetables to make it nutritious. Inside the scallop hand roll, you can find spinach, mushroom, cucumber, and avocado.
18. Spicy Scallops Temaki Hand Roll
You can eat scallops in a lot of different ways. You can have this raw fish as a snack by transforming it into a temaki or hand roll. You can boost the sweet flavor of raw scallops by mixing them with lemon juice and salt.
If you want a blend of fantastic flavors, try to create a hand roll using scallops. Then make it spicy by adding some mayonnaise and sriracha. This scallop temaki recipe will surely make your mouth water with the right combination.
This maki recipe starts with a simple avocado roll. Afterward, there is a filling of baked scallops and crab sticks mixed with sriracha and mayonnaise. Check out this recipe and find all the ingredients and cooking tools you need.
Ten medium bay scallops would be enough to make two servings of maki rolls. To spice up the taste, you can include soy sauce, pickled ginger, and wasabi paste—what a mouthful of spicy scallop goodness.
20. Seared Scallop Sushi Nigiri
Making seared scallop sushi rolls may look complicated. But do not worry. By following this video tutorial by Chef Pheds, you can easily make sushi rolls. On top of that, you can enjoy sweet and tender scallop sushi.
Seared scallop sushi nigiri is butterflied scallops put as a filling on sushi rice. After that, you can enhance the taste of the scallops by putting sauce like yuzu tobiko and spicy mayonnaise.
The Bottom Line
Indeed, you can make scallop sushi rolls at home. We cannot wait for you to make these 20 best scallop sushi recipes. Now you don't need to go out to have a premium scallop sushi experience.
Do you know any scallop sushi recipes that you try and love? What do you think about scallop sushi rolls? Please let us know in the comments.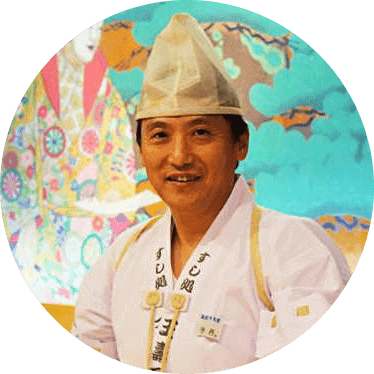 Hiroshi Nakamura, a Tokyo-born sushi chef turned US-based writer and critic, is the voice behind ichisushi.com, blending traditional sushi wisdom with modern insights.