Salmon sushi is a favorite dish for many people. It gives a pleasant fish flavor and is packed with omega-3 fatty acids. If you're planning on making sushi, but are unsure of the ingredients and techniques, you've come to the right place! Here are 26 salmon sushi recipes for you to try.
This sushi recipe from Allrecipes is the simplest to make as a beginner. Among the common ingredients used to make sushi, such as sushi rice, salmon, rice vinegar and wasabi, the addition of cucumber gives this dish an element of freshness.
Although the recipe calls for the rice to be cooked in a rice cooker, you can use a pot to achieve the texture required for making sushi rice.
2. Flying Tiger Sushi- Salmon Avocado Roll
Variety is the spice of sushi, and this recipe from How to Make Sushi does not disappoint when it comes to various and easily accessible ingredients to make sushi.
The recipe is made from parboiled asparagus, Tobiko (flying fish roe), sliced avocado then served with a side of refreshingly sweet and sour pickled ginger. A beautiful go-to recipe if you're looking to take your tastebud experience to the next level.
Craving sushi but looking for a budget-friendly salmon for your buck's worth? Then this recipe on Taste.com made from canned salmon is worth a try.
Canned salmon is as healthy as fresh salmon. Just be sure to carefully read the label. What makes this recipe a beautiful variation is the addition of carrots (grated) and Lebanese cucumber.
4. Double Salmon Sushi Roll
Have your salmon and eat it too! This recipe from How Daily loads up on salmon by adding it inside and out.
The recipe is made using avocado, masago (smelt roe), spicy mayo, and unagi sauce. The final product is garnished with green onion and served with pickled ginger to seal in that creamy mouthwatering flavor.
A healthier alternative for salmon sushi is the recipe by KetoDiet. Instead of wrapping the salmon in rice and seaweed, the salmon is used as the wrapper. The fun part? They add cream cheese and furikake seeds (you can also use sesame seeds) to give this recipe a burst of flavor.
6. Salmon Dreams Sushi Roll
How to Make Sushi devotes its time and passion to creating versatile, tasty recipes, and with this recipe, they create heaven on earth for sea-food lovers. Crispy tempura shrimp and julienne cucumber slices are wrapped in rice, with layers of salmon placed on top of the rice with a driblet of masago roe.
Turns out you don't have to roll up your sushi mix to enjoy some good old sushi. This recipe from Joyous Apron shows you how to save time by assembling a sushi bowl.
A melt-in-your-mouth recipe made from baked salmon with minced garlic served with a sauce made from Mirin. Serve this with veggies like carrots, and avocado, then garnish them with sesame seeds.
8. Salmon Roses Sushi
This salmon rose roll recipe offers a visually appealing way of enjoying your sushi. The recipe is created using thin-striped salmon slices layered with avocado and rolled rice. Next, you roll up the mix while ensuring the avocado slices appear on top when placed straight.
A dollop of mayonnaise is added to the rolls, with a topping of black, red, and orange caviar to give it the rose appearance.
Much like keto-friendly sushi, this recipe is ideal for health-conscious individuals. Instead of the rice, you substitute it for cauliflower rice.
You make this recipe the sushi-conventional way with an addition of daikon (winter radish) and mayonnaise. Diet Doctor also offers vegan alternatives, so there is no reason not to enjoy sushi if you are anti-fish.
10. Crazy Salmon Roll
Once you get the hang of creating your own sushi, you'll be able to make these tasty spicy salmon rolls in no time. The filling for this recipe is made by combining diced salmon, sriracha, kimchee sauce, sesame oil, mayonnaise, sesame seeds, and scallions.
Afterward, you roll and cut the sushi, squeeze pea-sized mayonnaise, torch the salmon and mayonnaise for a smokey salmon flavor, then add salmon eggs (salmon roe) on top.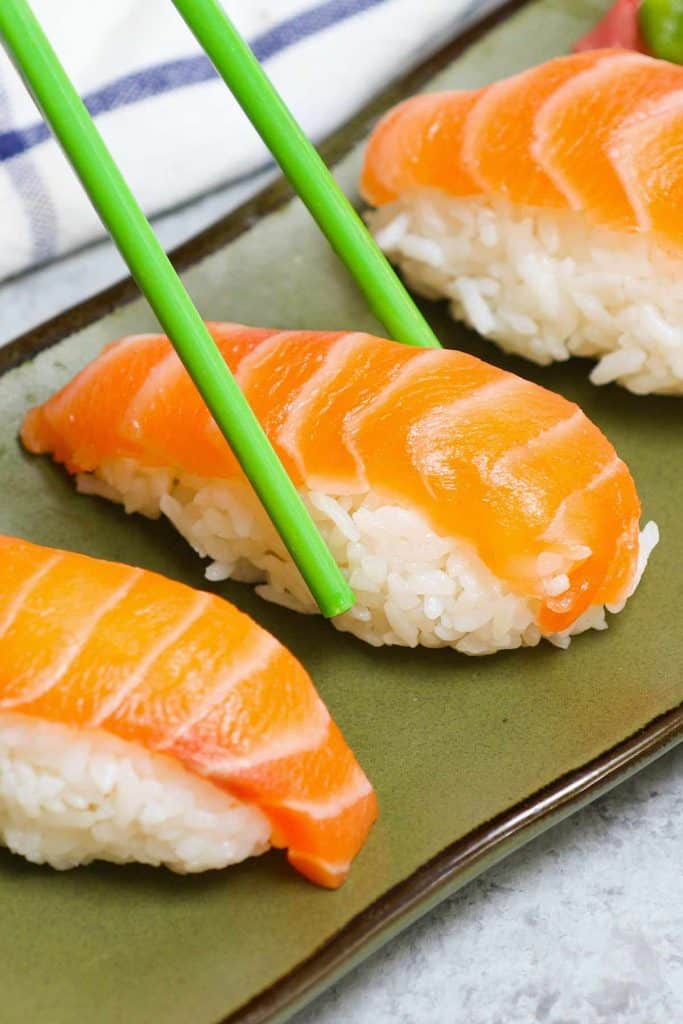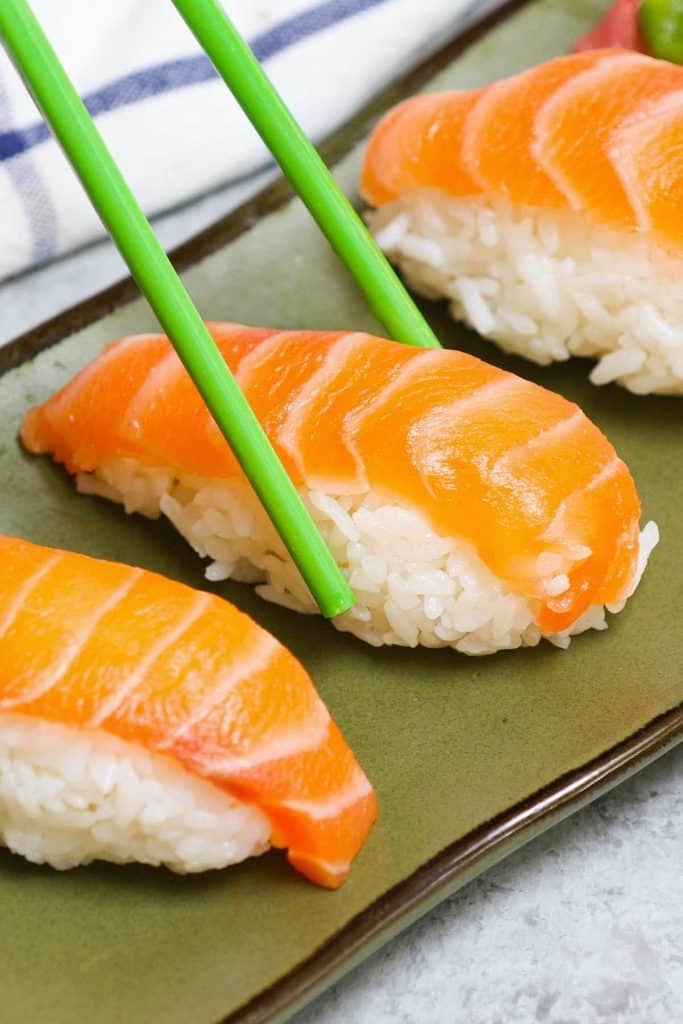 What would a list of sushi recipes be without the mention of the traditional Japanese-style recipe? This recipe from IzzyCooking is made using simple ingredients; raw salmon, wasabi, cooked Japanese rice, rice vinegar, and water.
The firmly rolled rice on the salmon gives it an oval shape that is easy to handle when eating. You can enjoy the nigiri with a favorite side such as wasabi, soy sauce, and pickled ginger.
12. Mango Salmon Roll
If you're looking for sweet and savory sushi, this mango salmon is your go-to recipe. The filling is made by laying cucumber, avocado, and crab meat on a nori sheet.
Once you've rolled up the combo, place the salmon and mango slices on top of the rolled rice and sheet, then cut them into equal rolls. Drizzle the rolls with eel oil then decorate with halved olives and cherries. Yum!
I Heart Umami gives you sushi you'll enjoy with every bite you take. It's creamy, crunchy, and flavorful. What makes this recipe stand out is that the rice is air or pan-fried, then you drizzle the sushi with a "Bang Bang" sauce after adding the toppings.
The sauce is made by combining rice vinegar, ketchup, coarse salt, coconut aminos, garlic clove, hot sauce, and mayonnaise.
13. Pineapple Salmon Sushi Roll
This recipe from New Gen adds the ease of making sushi without a roller with the use of their pineapple habanero sushi wrap.
The recipe is a fine balance of sweet and savory from the pineapple and bacon. Think pizza, only in sushi form. Adding onion and sriracha sauce to the mix is enough to keep you coming back for more.
From roll-up to oval and square-shaped sushi, Norecipes presents a unique and easy way of preparing sushi by making cone-shaped sushi. This recipe encourages people to make sushi without any skills or special equipment.
To make the sushi you need red onion, yuzu kosho (yuzu pepper), shiokonbu, kaiware daikon sprouts, sushi rice, nori, soy sauce, and salmon. Once you've prepared the ingredients as instructed, you hand-roll the sushi into the cone.
15. Spicy Tuna Salmon Sushi
Instead of filling tuna in the rolled salmon and vice versa, this recipe uses diced tuna and salmon to make tartar for garnishing. First, you place strips of tuna/salmon then wrap them around a slice of avocado and a teaspoon of rice.
The tartar is made from sliced salmon/tuna, sriracha sauce, soy sauce, freshly squeezed lemon juice, and chopped chives, which are then heaped on the sushi rolls.
While a lot of sushi recipes call for completely cool rice, this recipe serves the rice warm to create a comfort-sushi bowl.
To make, season the salmon by mixing sliced cilantro stems, vinegar, soy sauce, and sesame oil, then toss them together with the salmon. Assemble your bowl by filling it with the sushi rice and salmon, then garnish with black pepper, cilantro, capers, and scallions.
17. Sushi Bake | Cheesy Salmon Kani Recipe
Baked sushi anyone? This double creamy baked recipe is an ideal way of encapsulating the flavorsomeness of sushi. To make it, layer cooked sushi rice and seaweed flavor on an oven-proof dish.
In a separate bowl, mix the baked salmon, cream cheese, sour cream mayonnaise, sriracha sauce, and sliced imitation crabs until well combined. Layer this mix on the rice, bake according to the instructions, then serve on nori sheets.
Eating healthy sushi is great. Do you know what's even better? Preparing the sushi in 15 minutes flat! This sushi bowl makes a great weeknight dish, especially when you're pressed for time.
It's made from salmon sauteed in soy sauce, garlic, and ginger mix. Assemble the bowl with sushi rice, vegetables (pickled carrots, cucumber, and/or avocado), and the rest of the ingredients according to the blog instructions.
Assembling this sushi cake is a great way to take your sushi-making skills to the next level. The recipe is made from scrambled eggs, salmon, cucumber, wasabi, nori, and cooked rice assembled in a cake tin.
Once you've assembled the cake according to the directions provided, invert the cake onto a cake stand and serve as is, or decorate with mayonnaise, sesame seeds, and cucumber.
21. Salmon Sushi Pizza
Salmon sushi pizza is a delicious twist on pizza night, using nori as the crust and other sushi-inspired toppings.
The salmon pizza is made from fresh California salmon, cooked sushi rice, mayonnaise, nori aioli (a mix of blended toasted nori, kombu, and mayonnaise), whitefish roe, scallions, furikake, and black sesame seeds.
Even though this recipe doesn't use a regular lollipop stick, it's still a fun way of displaying your sushi rolls. The recipe is made from cheese combined with smoked salmon.
You then layer the cheese mix with the rice, cucumber, and red bell pepper. Lastly, garnish the sushi rolls with watermelon berry greens, and insert wooden skewers into the sushi rolls.
23. Rainbow Dragon Roll Sushi ll Salmon Sushi Roll
This sushi roll is very appealing to look at, and if you're looking for a way to impress your guests at a party, this recipe for a rainbow dragon roll could be the answer.
For the filling, you'll need some cucumber, carrots, mango, cooked sushi rice, and nori. Roll, place a layer of salmon, and cut into equal slices. Decorate each slice with freshly sliced strawberries, spring onion, and sesame seeds.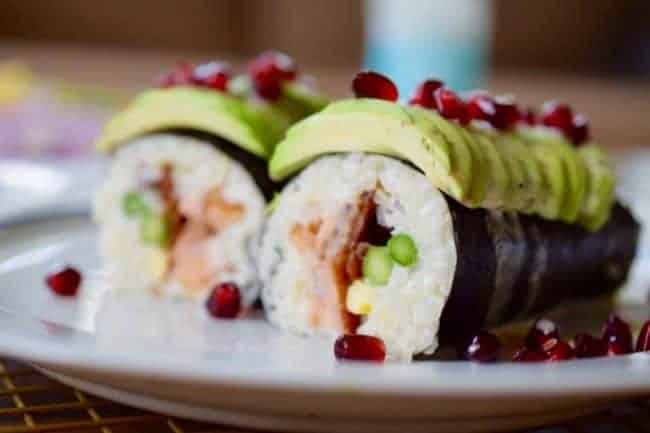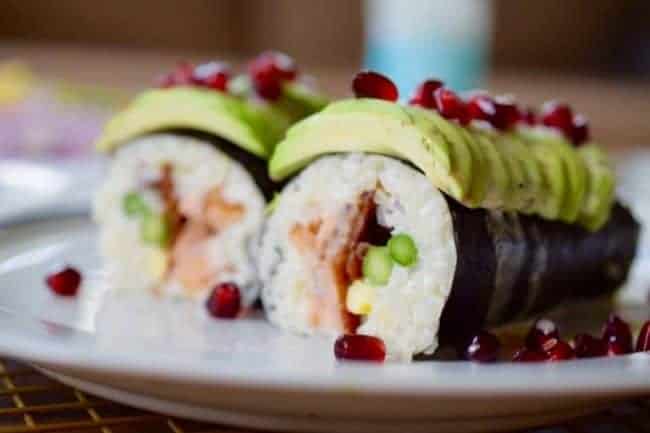 If you're always on the lookout for healthier ways to make salmon sushi, paleo sushi is the way to go. Healthy doesn't have to be boring, and this recipe proves exactly that by using tasty ingredients.
To make the sushi you will need cauliflower rice, nori, hot smoked salmon, apple, bacon, asparagus stalks, plant-based milk (cashew or coconut), Ranch dressing, onion, beef gelatin, and pomegranate seeds. Assemble as instructed and enjoy!
25. Easiest Spicy Salmon Sushi Boats
Sushi boats are a great way to make multiple types of sushi. You can choose whatever fillings you want, and they make an excellent snack.
To make the base of the sushi boat, halve the cucumbers and scoop out the inside. Mix the mayonnaise, sliced salmon, and sriracha. Heap the spicy salmon mix into the cucumber and garnish with sesame seeds.
Sushi sandwiches are a tasty alternative if you love sushi but can't be bothered to make it. You fill the nori sheets/wraps with cooked sushi rice, sliced red pepper, cucumber, and salmon and dip the sandwiches in soy sauce for more flavor.
You can even play around with your favorite vegetables, cream cheese, hot sauce, and mayonnaise to achieve your desired flavor.
26 Best Salmon Sushi Recipes
Making your own sushi from these salmon sushi recipes can be a pleasurable pursuit. There are many variations when it comes to making a dish that caters to any sushi enthusiast's preferences. Whether you are health conscious or love a spicy and crunchy meal, the only limitation is your imagination.
Directions
Select your favorite recipe.
Organize all the required ingredients.
Prep a Salmon Sushi Recipe in 30 minutes or less!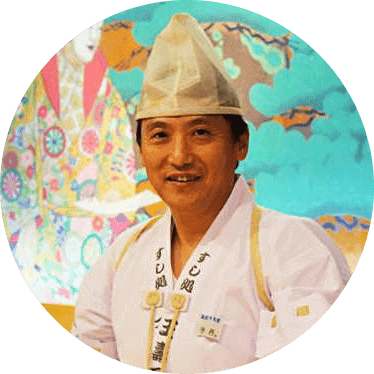 Hiroshi Nakamura, a Tokyo-born sushi chef turned US-based writer and critic, is the voice behind ichisushi.com, blending traditional sushi wisdom with modern insights.