Among the beloved dishes of many in Japanese cuisine is sushi. ISushi has a distinctive taste that feels buttery to the mouth and is satisfying. But let's be honest! It takes remarkable skills to roll a beautiful and even dish.
For those of us looking forward to eating sushi with minimal effort, these 20 easy salmon sushi bowl recipes are the answer! Sushi bowls are the deconstructed version but still contain the flavors you want in sushi.
Here, you'll find unique recipes that range from dishes with flavored rice to those with amazing sauces. We also included some with atypical toppings to give you an array of choices. So be sure to check everything if you don't want to miss out on something special!
Everything is better with kewpie mayo and a dash of spicy sriracha. It adds sweet and spicy umami, which you can't find in any sauce.
To serve this delectable dish, you can do it like the usual deconstructed sushi bowl. Or you can try the fun way by placing all the ingredients on a lazy susan and letting your guests design their bowls.
2. Viral Tiktok Sushi Salmon Rice Bowl
Are you a regular on Tiktok? If yes, most likely, you've stumbled upon this viral dish. But if you haven't tried or heard of it, fret not because we got you covered!
This recipe features a perfectly seared salmon with Creole seasoning for a rich, savory flavor. The rice also has avocado oil to incorporate a distinct flavor. And don't forget the seaweed for the complete sushi bowl experience!
For those on a gluten-free diet that wants something savory for lunch, this is for you! This glorious teriyaki salmon dish combines seasoned sushi rice, fresh avocado, and edamame beans.
Yup! No other fancy sides to this since the marinade is already oozing with flavor. Although, you can add other fruits and veggies if you like.
4. Smoked Salmon Sushi Bowl with Lemony Onion Salad
A bowl full of freshness and umami, what more can we ask for? In this recipe, you'll find thinly sliced raw salmon and avocado drizzled with lemon. Then sitting on top is an onion salad with capers, honey, and mayo. All that needs cooking is the rice, and you've got yourself a quick-fix breakfast.
Whip all the delicious sushi tastes into a bowl in just 15 minutes. This dish has bite-sized pieces of sautéed salmon, pickled veggies, and sticky sushi rice.
And to tie all the delicious flavors together, you'll find a creamy sesame sauce drizzled on top. But you can also sprinkle some Furikake for added crunchy and salty taste.
6. Salmon Sushi Bowl with Soy and Ginger Dressing
Give you're sushi bowl a garlicky and salty taste with refreshing notes from the soy and ginger dressing. It combines six ingredients that render a depth of flavor for the smoked salmon. It also features colorful veggies like radishes, beetroot, and carrots.
To cap it, a sprinkle of Shichimi Togarashi goes on top for a spicy, citrusy, and hints of ocean taste.
Warmer months call for ice-cold treats to cope with the heat. But have you thought of a refreshing deconstructed sushi bowl? It is easy to put together and very filling, so it's sure to please you 100%.
The sushi rice formed its flavor from the chicken broth and ghee for a buttery and salty taste. While the fresh sides and wild-caught fillet add umami to the dish.
8. Smoked Salmon Sushi Bowl Using Quinoa
If you're looking for a sushi bowl with a higher nutrient value, this recipe is the best one on the list. Quinoa has higher contents of vitamins and minerals than regular sushi rice.
It is cooked in a blend of lime juice, brown rice vinegar, and coconut aminos for a fuller flavor. But our favorite in this bowl, aside from salmon, is the creamy goat chevre.
Sushi rice is not always available in local stores. So this recipe is perfect if you've got limited ingredients at home. This dish uses dry rice seasoned with sesame oil, soy sauce, and vinegar. For the toppings, it has flaked salmon and common sushi ingredients like carrot, cucumber, and sesame seed.
10. Spicy Salmon Sushi Bowl with Garlic Cilantro Rice
Get creative with your sushi bowl by adding garlic and cilantro cubes to your rice. It gives the dish a rich nutty, and citrusy taste that is uncommon in many sushi bowl recipes.
Aside from this, the raw salmon and seaweed salad gives you a feel of the ocean without visiting the beach. It is light and tasty, with a subtle kick from the spicy mayo sauce.
Sushi-grade salmon can be way out of budget. But luckily, this recipe can transform regular salmon and level out with restaurant sushi bowls.
To make it savory, it has a combination of spices that also contributes to the spicy texture of the fish. And to make it look presentable, it features salmon caviar on top (which is optional).
12. Pan-Seared Salmon Sushi Bowl
This salmon sushi bowl recipe made by a wellness chef from Japan is the real deal! She shares some techniques to remove the fishy smell of salmon and a method to prevent overcooking.
The rice has sprinkles of toasted white sesame seed for added texture. And to keep it grounded with its roots, it only has sliced nori seaweeds and raw egg yolk for the toppings.
You might be wondering, how in the world is a sushi bowl grain-free? Well, paleo-friendly dishes are the answer to that!
This recipe features fluffy garlic and ginger cauliflower rice with hefty sesame seeds. It also has pickled radish, baby cukes, and fresh creamy avocados. We're sure the contrast in texture will make you go loco with it!
14. Smoked Salmon and Sweet Potato Sushi Bowl
We've mentioned a couple of common sushi ingredients for the salmon bowl. But for this, it's a whole new level of pairing! Here you'll find boiled sweet potatoes, chopped romaine lettuce, and brown rice. It also includes a spoonful of spicy mayo to jive all the ingredients. Sounds super healthy to us!
Savor all the flavors and textures of a California roll sushi while sticking to your keto diet. This salmon sushi recipe uses cauliflower rice and Swerve, a calorie-free sweetener. It makes sure it fits the special diet standards.
You'll also find other keto toppings recommendations in the blog. But feel free to go outside the suggestions if you plan to serve it to your non-keto guests.
16. Salmon Sushi Bowl with Avocado Mixture Rice
Have you noticed the cooking pattern on this list? Aside from the endless toppings, adding flavors to the base is something you should try.
Combining sushi rice with seasoned avocados makes the flavor fuller in every bite. It also gives the plate a pop of color, making it even more pleasing to the eyes. Then, add in some smoked salmon and greens, and you're good to go!
Are you looking for a make-ahead dish that would be handy during those busy days? Don't skip another breakfast; whip this sushi bowl recipe instead!
You can cook the salmon in the air fryer beforehand and assemble the sushi bowl in an airtight container. That way, you can just pull it out of the fridge and reheat it.
18. Salmon Sushi Bowl for Two with Honey Sriracha Dressing
Prepare a sushi bowl that you could enjoy with your loved one for your next dinner. This baked salmon dish is easy to prepare and takes only less than an hour.
But the best part about this recipe is its honey sriracha dressing. It has nonfat Greek yogurt, honey, and sriracha that blend well with lightly seasoned salmon.
Are you looking for a spicy dish that offers a distinct flavor? Try this unique salmon sushi bowl recipe. It has mashed avocados mixed with wasabi for a creamy texture and some heat. But don't worry; it includes pickled ginger to help clear your taste buds from all the spiciness!
20. Florida Grapefruit and Salmon Sushi Bowl
You've seen avocado, lemon, and cilantro rice. But have you heard of grapefruit juice in rice? This recipe combines the two to produce a sweet and tart taste. And to add a citrusy flavor, it has grapefruit segments that pop among the greens.
We know you might think of it as an unusual combination, but you'll never know how refreshing it is unless you try it!
Take Away
Did you enjoy our selection of 20 salmon sushi bowl recipes? We made sure to include all categories from this dish. That means special diets, budget-friendly recommendations, and even atypical styles.
Salmon sushi bowls offer numerous benefits. It is high in protein and contains healthy fats, making them ideal for a balanced diet. It is also easy to make and practical for those with tight schedules. Lastly, it is simply delicious without having you break the bank by eating in a high-end sushi resto.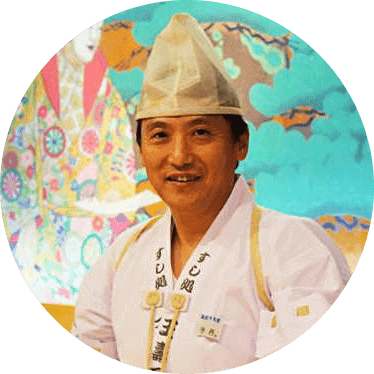 Hiroshi Nakamura, a Tokyo-born sushi chef turned US-based writer and critic, is the voice behind ichisushi.com, blending traditional sushi wisdom with modern insights.