Oshinko Sushi is fast becoming a staple dish in many households. Everyone wants to have a taste of this exotic, tasteful dish with an aesthetic appeal.
But the good news is, You don't have to visit a Japanese restaurant to have a taste. With this simple Oshinko Sushi recipe, you can have your fill any day in the comfort of your home.
Why This Recipe Works/ Why We Like This Recipe
Before discussing the recipe in detail, let us look at some of the reasons why people love this Oshinko Sushi.
Very Flavorful: Every Oshinko roll comes with this unique and tangy flavor- the kind you get from pickled vegetables. It combines various flavors from different ingredients into a harmonious blend. This combo is not just appetizing, it is satisfying as well.
Light and Refreshing: Oshinko roll is a very light meal. It is made with low-carb ingredients, and as such, it contains little carbs too. This is the kind of dish I would highly recommend if you are trying to lose excessive weight.
Vegan-Friendly: Oshinko rolls are a vegetarian-friendly diet that contains very few calories. If you are a vegan with the desire to incorporate sushi into your regular diet, Oshinko sushi offers such an opportunity. Oshinko sushi is also your best shot if you want to reduce your calorie intake while maintaining a sushi vibe. It is not like other Sushi recipes often stuffed with layers and layers of fillings.
Highly Versatile: Oshinko rolls are a very versatile dish and give room for personal modifications. You can add avocado or tempura flakes, whatever works for you. The only compulsory filing here is pickled vegetables.
Ideal for beginners: Oshinko Sushi is one of the simplest sushi recipes you will ever come across. There are no exaggerated tastes or flavors. This mild flavor makes it ideal for beginners who are yet to explore the sushi world.
Things You Need For Oshinko Sushi Recipe
Ingredients
Sugar
Salt
Rice Vinegar
Takuan
Nori sheets
Japanese Grain rice
Equipment
Makos ( Bamboo Mat)
Bowl
Sharp knife
Plastic wraps
How to Make Oshinko Sushi Recipe
Below is a step-by-step guide on how to make your favorite Oshinko Sushi recipe.
Step 1. Prepare the Sushi Vinegar
Make Sushi vinegar by blending the rice vinegar, sugar, and salt. Some recipes might encourage using other types of vinegar. But I wouldn't advise this because it could be too harsh for the rice.
Step 2. Mix the Rice with Sushi Vinegar
Move the already-cooked sushi rice into a large bowl and mix it with the sushi vinegar. While doing this, make sure you add the vinegar slowly and stir at the same time. We do not want an uneven distribution of the vinegar.
Step 3. Set Aside
After coating the rice with the vinegar mixture, the next thing would be to cover it with a wet cloth and set it aside. Allow the rice to cool down before rolling them up for the Sushi.
Step 4. Prepare the Ingredients
First, divide the Nori dish into two halves. If you want to get a neat cut, make sure you cut along the lines of the seaweed. Next, cut the Takuans into thin strips. Note, the thinner the better.
Step 5. Assemble the Roll
Place the bamboo sushi mat on a flat surface and place the Nori sheet on top of it. Next, spread the prepared rice evenly across the Nori sheets. Remember to keep your hands wet during this process. Wet hands make the rice less sticky.
Step 6. Set the Takuan in Place and Roll
Place a strip of Takuan in the center of the rice. Hold the Takuan down with your middle finger and roll. Always roll from your front to the edge of the rice. It is easier that way.
Step 7. Cut the Rolls
Finally, cut the Sushi rolls in half with a sharp knife. Place the two rolls side by side and cut again in three places. Now you can serve your delicious rolls of Oshinko Sushi.
Tips and Tricks
What tips and tricks do you need to make this recipe superb?
Use Quality Ingredients: If you want your sushi rolls to turn out as nice as those you see in a fancy Japanese restaurant, use high-quality ingredients. The quality of your ingredients and equipment goes a long way to determine how well your sushi will turn out.
Cook the Sushi Rice Perfectly Before Making Your Rolls: Another important trick is to pay attention while cooking the Sushi rice. Spicy, soft, and slightly sticky are the qualities you should look out for. Also, do not roll the rice without letting it cool down first.
Adopt a Proper Rolling Technique: You may not know this but rolling is one tricky part of making an Oshinko Sushi. If you want to get it right, always roll from your front outwards. Do not overstuff the Nori dish. It will make rolling difficult.
Moisten your Hands: Dip your hands into a bowl of water at regular intervals. We don't want rice sticking to those hands every now and then. If you fail to moisten your hands and they get all sticky, it will be difficult to distribute rice evenly on the Nori sheet.
Be Mindful of the Flavoring: One of the things we love most about Oshinko Sushi is the tangy flavor. It would be a shame to overpower this flavor with something different, wouldn't it? So stick with the pickled vegetables. If you must add an extra flavor, make sure it is something subtle. Something like avocado or sesame seeds.
Slice with Care: Always pay attention and use a sharp knife. This is the only way to get neat and even cuts. Also, you must wet the knife at regular intervals and wipe it clean after every cut. You do not want rice sticking out everywhere and making your rolls less attractive.
Frequently Asked Questions (FAQs)
What is Oshinko Roll Made Of?: Oshinko roll is made of pickled vegetables wrapped in rice and nori sheets. Ingredients for this dish also include the popular yellow radish evident in several other Japanese rolls.
Is Sushi Sticky?: Yes, sushi is sticky. It is sticky because of the high starch content in Japanese rice. Even after washing it more than once, it retains its sticky qualities. Secondly, Sushi is sticky because it is cooked with little water, and this makes the rice stickier and less slippery.
Which Vinegar is Used for Oshinko Sushi?: If you really want to enjoy your Oshinko rolls, go for the Sushi Vinegar. It helps preserve the sushi and keeps it fresh all day long. Additionally, it gives the Sushi fillings a refreshing taste. Sushi Vinegar is nothing like your regular vinegar.
What Can I Use Instead of Sushi Vinegar?: If Sushi Vinegar is not available, you can use apple cider vinegar, white wine vinegar, champagne vinegar, or sherry vinegar. However, these substitutes may not taste as good as sushi vinegar.
How do I Eat Oshinko?: Oshinko Sushi is an option, for a snack or as the course for breakfast or brunch. Another great idea is to serve it as a side dish, with Miso soup, tempura or eggplant. No matter how you decide to enjoy Oshinko I assure you that it will be a treat.
Final Words
Making your favorite Oshinko sushi rolls doesn't have to be a hard nut to crack. All you need is the correct ingredients and this simple Oshinko Sushi recipe.
It is tasty, highly-nutritious, easy to prepare, and allows you to make your personal modifications. What more could you ask for?
30 Minutes Oshinko Sushi Recipe
Course: Recipes
Ingredients
Rice Vinegar 

Sugar 

Salt

Japanese Grain rice

Nori sheets

Takuan
Directions
Properly blend the salt, rice vinegar, and sugar to create sushi vinegar.
Pour the cooked rice into a big bowl and thoroughly mix with the sushi vinegar. Use a wooden spatula to ensure consistency.
Once properly covering the rice with vinegar, cover the pot with a wet cloth.
Cook your rice to room temperature before rolling them.
Divide your Nori sheets into two. Cut your Takuans into thin strips as well.
Put the Nori sheet on top of your bamboo sushi mat. Then spread the rice evenly. Ensure your hands are wet when doing this.
Put one or two strips of Takuan in the center of the rice and roll. Place your middle finger in between before rolling.
Cut the entire roll in half. Then, take each half and cut it into three equal pieces.
Your sushi is ready to be served.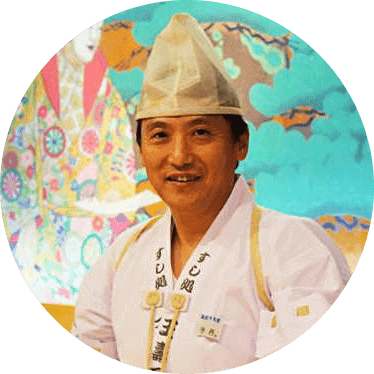 Hiroshi Nakamura, a Tokyo-born sushi chef turned US-based writer and critic, is the voice behind ichisushi.com, blending traditional sushi wisdom with modern insights.