There has been an ongoing trend on TikTok of making sushi as a dessert. The main ingredient? Oreos.
This article will tell you all about the twenty-five Oreo sushi roll recipe. Try out and taste a new and innovative way to make sushi rolls.
What is Oreo Sushi Roll?
Oreo sushi roll, also known as Oreo Swiss roll, is TikTok's new addiction. The original recipe uses two ingredients: Oreo and milk. The original creator of the recipe transformed the simple cookie sandwich into a sushi roll.
Of course, the Oreo sushi roll is not 'sushi' in technical and traditional terms. It's more of a deconstructed cookie and cake combination. The method also includes rolling with a mat and cutting, hence the name.
Unlike the original Oreo cookies, Oreo sushi rolls are soft and milkier. The Oreo is transformed into a Swiss roll by crushing and adding milk to the cream and cookies.
The popularity of the Oreo sushi roll spread throughout social media. Since it's no-bake and relatively easy to make, many people want to try it. It's also great as a kitchen activity as the directions are trouble-free.
The original recipe has garnered various recreation and good reviews on the internet. If you want to try them out yourself, here are twenty-five Oreo sushi recipes.
This two-ingredient oreo sushi roll recipe by Stephanie is both quick and easy. She explains the step-by-step process of making the sushi roll and its origins.
The directions also contain substitutes and alternatives to the ingredients and methods.
The recipe uses a food processor, but Stephanie has you covered if you don't have the equipment. Enjoy the reshaped and innovative Oreo sushi roll with this easy-to-make recipe.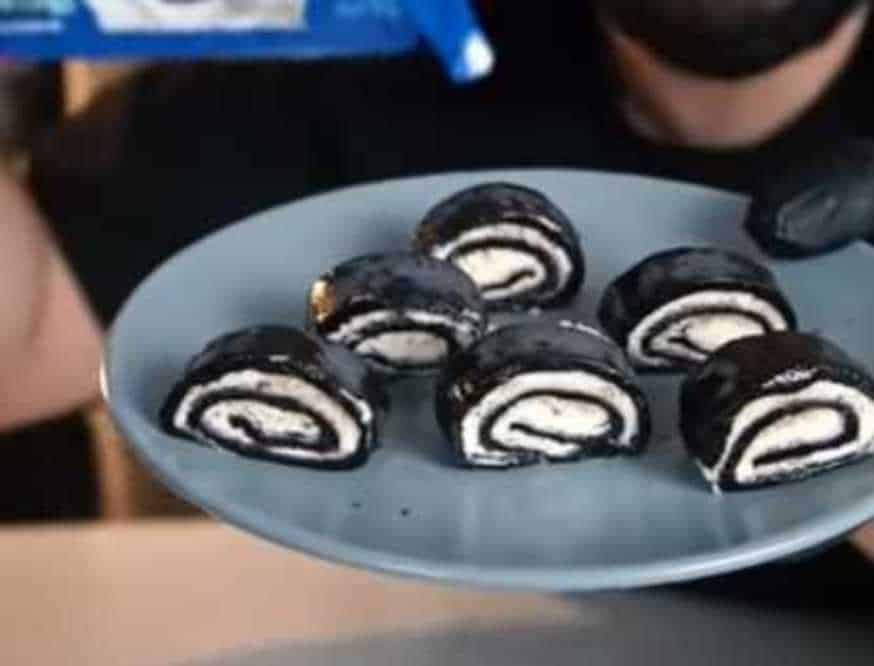 This Oreo swirl recipe by Patrick Zeinali is another name for the Oreo sushi roll. The process and step-by-step guide are comprehensive and easy to follow. You don't need fancy equipment; a zip lock bag and wooden spoon are required.
In less than five minutes, you already have an Oreo sushi roll. You can also chill it in the freezer for an hour.
If you want a healthier and protein-packed Oreo sushi roll, this recipe by Cheat Day Design is perfect for you. Instead of using the traditional Oreo cookies, they use oat flour and cocoa powder. The Oreo cream combines butter, vanilla whey, and milk.
The recipe is no-bake, sugar-free, gluten-free, and high in protein. It's a perfect way to have an Oreo sushi roll without breaking your diet.
4. Easy Oreo Roll by MoonSoon Cooking
This recipe added another ingredient to the milk and Oreo combo. Cream cheese is yet another twist to the original TikTok recipe. You can create a richer and more potent taste with this other ingredient.
The process in the video is also fast and easy to follow. You can have an Oreo sushi roll ready in just under a minute. You can also chill it in the freezer for an hour.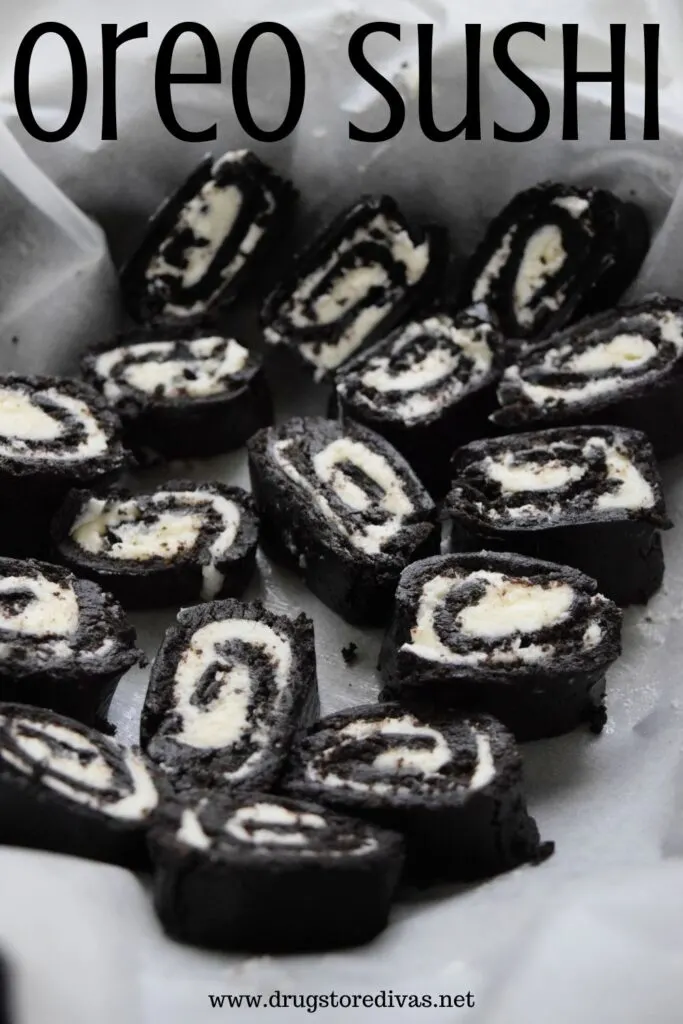 The two-ingredient recipe from TikTok inspires this one. However, Drugstore Divas decided to incorporate a new and creamy twist. You will need one more ingredient: heavy cream.
Heavy cream will solidify the Oreo cookie and cream. It will make it dense and taste better. If you are a fan of the creamy and milky taste, we assure you that you will love these sushi rolls.
This recipe by Social Food Lab includes Oreo cookies and milk. You will need a food processor and a clean cling wrap to follow. The process is short and easy to follow.
You can have a dessert ready to serve in just under five minutes. If you want a quick dessert, try out this recipe.
Want to enjoy an Oreo sushi roll without guilt? Try out this healthy and vegan recipe by Oats Lady. The sushi roll incorporates various healthier and cleaner ingredients.
The cookie portion contains oat flour, Oreo cookies, butter, and milk. The filling is much creamier and fresh by combining yogurt, protein powder, and milk. For an easy but healthy Oreo sushi, try this one out.
8. Oreo Sushi Roll by Cooking with TwinTag
This Oreo sushi roll recipe by Cooking with TwinTag adds another ingredient. The secret ingredient is mithai mate. Mithai Mate is a mixture of coconut grating, milk, and sweeteners.
With this new ingredient, the cookie part of the sushi roll has a richer taste. Milk is also added to the cream for a thicker texture. The cake part is also denser than the filling.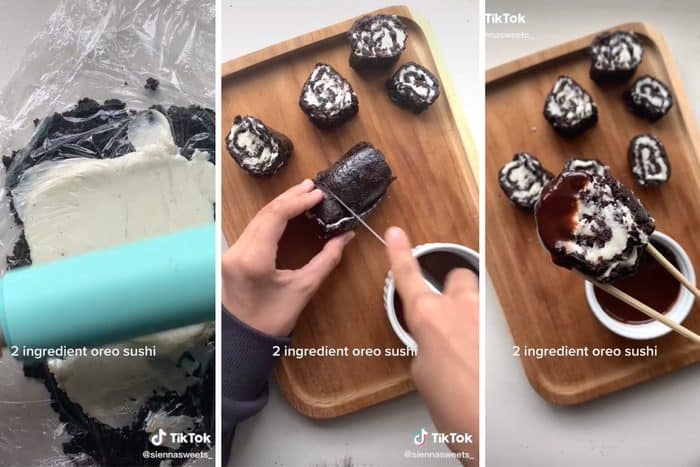 This recipe by Taste of Home will teach you how to make the sushi roll the original TikTok way. You need two ingredients: Oreo and milk. You can have either standard or condensed milk.
The recipe is speedy and easy to follow. You need to separate the Oreos, combine them, and roll. For the filling, combine the milk with the cream filling.
10.  Oreo Recipe by Delmira Cooking
Do you want to try out different no-bake Oreo recipes? In this recipe list by Delmire cooking, you will get the ones for Oreo sushi, but you will also have other Oreo recipes.
Enjoy the chocolaty and creamy taste of Oreos. This sushi roll is excellent for a quick and easy dessert.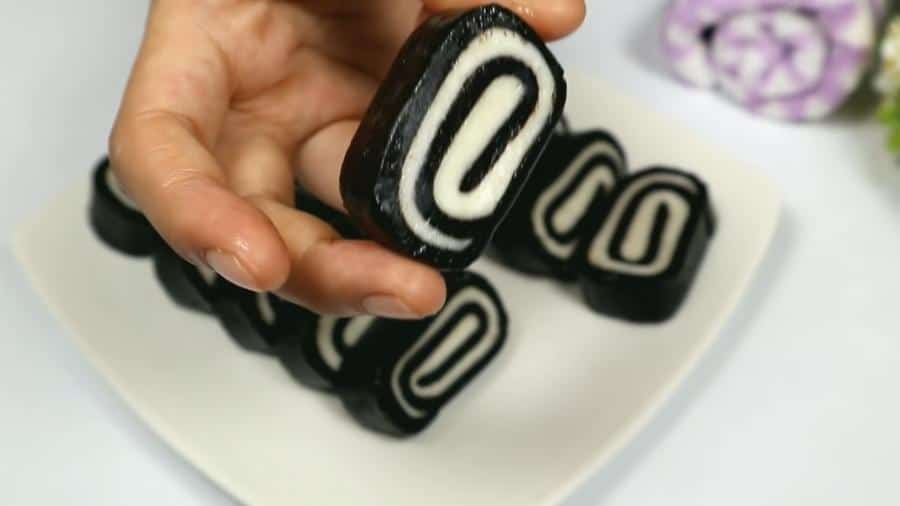 Want a thick and creamy Oreo sushi roll? Well, this recipe by Goody My is here to deliver. This double stuff Oreo sushi recipe is double the creaminess.
Condensed milk and Oreo cream make a milky and sweet taste. The process is also very manageable as the directions are listed step-by-step. It's fast and tasty, an excellent choice for a quick snack.
12.  Oreo Sushi Roll by Yummy Food Recipe
This creamy and milky Oreo sushi roll recipe by Yummy Food Recipe is perfect for dessert and parties. The Oreo cream contains condensed milk and powdered milk. The cake portion contains milk powder and crushed Oreo cookies.
The filling is much creamier compared to the combination of milk and cream. The condensed milk added thickness and sweetness to the sushi roll.
Bring out a new and easy recipe dessert with this Oreo Sushi Roll from Joyful Bakers. You will surely love this renewed look of Oreo cookies. With this recipe from Joyful Bakers, you can quip up a dessert fast.
With Oreo and milk, you are set. Fancy equipment is not required for this recipe. With a zip lock bag, rolling mat, and fridge, you can do this in the comfort of your kitchen.
14.  Oreo Biscuit Roll by Bah Family
If you want a quick dessert for the family, try out the Oreo biscuit roll by Bah Family. The recipe requires a mixer, Oreo, and milk. You can have an Oreo roll ready to be served in just under ten minutes.
The tutorial is easy to follow and very manageable to make. It's no-bake and gluten-free, perfect for people with dietary limitations.
This step-by-step journey of Agnes Hsu from Hello Yummy shows how she explored the recipe. She shares her insights about the process and what she likes about the recipe.
The recipe is relatively easy and quick to make. The two ingredients are also well-known and accessible to many. It's also great for parties and gathering as a substitute for cakes.
16.  Oreo Rolls Tutorial by Trinity Jae
Watch as Trinity Jae explore the original Oreo sushi roll recipe from TikTok. The tutorial is very informative and great for beginners. It's easy to follow, and the ingredients are accessible.
You need a food processor, some Oreos, and milk. It's quick to prepare and serve. If you want entertainment and information, this tutorial is perfect for you.
This recipe by 12 tomatoes will teach you to make TikTok's new addiction. With just milk and Oreo, you can make a new dessert. Akin to a sushi roll, the famous recipe is dubbed as 'Oreo Sushi Roll.'
It's a straightforward recipe, yet it can look classy and elegant with proper plating. The directions give a very in-depth look at the process.
18. Oreo Roll by Delmira Cooking
This quick no-bake Oreo roll by Delmira cooking can be your new dessert. Your standard Oreo cookie can transform into something more unique with a few tablespoons of milk.
This recipe is perfect for a last-minute snack and dessert. You can also chill the Oreo sushi roll for a cooler serving.
19. Oreo Sushi Rolls by The Sugar Family
Watch this Oreo sushi roll recipe by The Sugar Family. Cooking can be the best bonding activity for you and your kids. See as two Sugar Family children assemble and make their Oreo rolls.
You can see how easy and quick the recipe is. Even kids are getting in on the trend. If you want an entertaining tutorial, you need to watch this one.
20. Oreo Cookie Roll by Tastemade
The Oreo cookie roll by Tastemade brings the Oreo sushi roll to a whole new level. You will need a few more ingredients in this recipe. The result is a thick, tasty, and dense Oreo roll.
The recipe uses chocolate frosting and milk for the cake part. For the cream, they added butter, milk, and sugar. The added ingredients will elevate the taste and make the roll more flavorful.
21. Oreo Roll by Sonya Parang Recipes
The recipe by Sonya Parang is very manageable to follow. You do not need any fancy equipment or ingredients to make your Oreo roll. The tutorial is similar to the original TikTok tutorial.
The serving is excellent for multiple people, such as parties and gatherings. In twenty minutes, you can have a cold and sweet snack.
Easy and quick Oreo rolls can be available with this recipe by Yummy Recipe. The sushi roll contains milk and Oreo cream, and cookies. You will need a grinder, a zip lock bag, and a rolling pin.
The tutorial is straightforward to follow and comprehensive. The holiday music track at the back is soothing as you make your sushi roll. The recipe is perfect as a birthday or holiday treat.
Want more milk and cream in your Oreo Swiss Roll? Well, try out this oreo sushi roll.
This oreo swiss roll recipe is three times the cream. The roll contains milk, milk powder, and condensed milk. You will surely love this recipe if you are a fan of milk.
The sushi roll is sweeter, denser, and milkier than the original. If that sounds delicious to you, try it out.
The eggless and no-bake Oreo from My Food Gully is perfect for beginners. It's uncomplicated and straight to the point. If you are a novice in the kitchen, try out this recipe.
You can make it to impress and serve. This recipe can turn into a fancier dessert with a proper dressing such as whipped cream and choco glaze.
25.  No Bake Oreo Chocolate Sushi by All in One Creativity
No-bake and easy, that is the recipe from All in One Creativity. You will unleash your inner baker with this trouble-free recipe. The video is manageable to follow and quick to prepare.
You don't need any fancy oven or pans. With a few packs of Oreos and milk, you are set.
25 Best Oreo Sushi Roll Recipes
Sushi has seen many innovations as a part of traditional Japanese food. Along with it is the invention of the Oreo sushi roll. These twenty-five Oreo sushi roll recipes are great for beginners and novice home chefs.
What are you waiting for? Try out this sushi dessert today.
Directions
Select your favorite recipe.
Organize all the required ingredients.
Prep a Oreo Sushi Roll Recipe in 30 minutes or less!