Do you want to give the classic Italian sushi a twist? If you're a fan of Japanese and Italian cuisines, you'll probably enjoy Italian sushi. We've listed the best Italian sushi recipes you can follow to level up your sushi game. Don't worry – even beginners can try these easy recipes!
Mahatma Rice made a delicious fusion recipe of Italian sushi. These rolls use grated Parmesan or Romano blend cheese, basil leaves, cured Italian ham, and red peppers.
These Italian sushi morsels will surely leave you craving for more, as it presents an unmatched combination of flairs and flavors. This recipe uses Medium Grain Arborio Rice by Mahatma.
2. The Italian Roll Sushi Recipe by Hiroyuki Terada
Do you want to learn how to make Italian sushi from a renowned chef? Check out The Italian Roll Sushi Recipe by Hiroyuki Terada, a master sushi chef and one of the best Japanese chefs globally.
This recipe by Chef Hiroyuki features what you can get from your local grocery stores, like Publix sushi. This recipe uses delicious Italian ingredients sprinkled with Japanese influence and an Italian style.
Making Italian sushi rolls should never be difficult. This recipe by Tablespoon is among the easiest and quickest Italian sushi recipes out there. You can prepare this recipe in just fifteen minutes, yielding two servings!
This Japanese-inspired Italian roll will be appealing to your guests if you're having a sushi or Italian-themed party. This recipe uses simple ingredients.
4. Real Italian Sushi Secret Recipe by The Zapper
If you're craving Italian sushi with smoked salmon, try this Real Italian Sushi Recipe by The Zapper. This recipe also involves using shrimp, teaching you how to prepare, clean, and slice the shrimp perfectly. The Zapper also demonstrates how to cook and season your sushi rice with vinegar.
RiceSelect made a simple and easy Italian sushi recipe for you. This recipe requires only 25 minutes of your time for preparation and 15 minutes for cooking. In total, you'll prepare 16 servings of delicious Italian sushi rolls in under 40 minutes only!
The ingredients you need to make this recipe are sushi rice, cheese, basil leaves, prosciutto, and roasted red peppers. Italian sushi rolls are best enjoyed at room temperature.
6. Italian Sushi Roll and Mango Sauce Sushi Recipe By Jeorge TV
With patience, passion, and the right recipe, you can make the best Italian sushi with your style. But why not begin with this easy, yummy recipe by Jeorge TV?
This Italian Sushi Roll and Mango Sauce Sushi Recipe by Jeorge TV uses delicious ingredients like shredded cheese, tomatoes, parsley, Mozzarella cheese, and prosciutto. To create the mango sauce, you need rice vinegar, sugar, salt, and ripe mangoes. Having a mango sauce for your sushi will make your roll a hundred times better!
Is it your first time cooking Italian sushi? Do you want it to have the perfect taste and the best flavor combinations? Try the Tasty's Bad Bunny's Italian Sushi Recipe! This recipe is 100% rated.
You can make this recipe with 10 minutes of preparation and 40 minutes of cooking. Prepare unsalted butter, sushi rice, white wine, parmesan cheese, garlic, and prosciutto for this recipe.
8. Italian Japanese Fusion Italian Sushi by Don's Cookbook
Don Cookbook's Italian Japanese Fusion Sushi Recipe presents a detailed step-by-step recipe you can try. As one of the best Italian sushi recipes, you'll learn how to prepare fantastic Italian sushi rolls that will leave you craving more. This recipe also demonstrates preparing sushi rice that will not fall apart or disintegrate while rolling.
Are you ready for some sweet, salty, and lip-smackingly delicious Italian sushi rolls? This Italian Sushi with Arborio Recipe by Carolina Recipe is a must-try! Carolina Recipe made an Italian sushi recipe that's straightforward to follow.
This recipe yields delicate sushi bites, but they're punchy and impressive! There's also a recipe tip for vegetarians on their website, where you can replace the cured ham with sliced vegetables.
10. Italian Antipasto Sushi Recipe by Healthy Intent
Hosting a sushi party can be fantastic with Healthy Intent's Italian Antipasto Sushi Recipe. This recipe makes a unique appetizer you can serve to your guests at a sushi party.
This recipe utilizes the simplest ingredients you'll get with a simple run to the nearby supermarket. A detailed guide is written on the description box, so you don't have to worry about writing everything down. Everything's listed for you already!
If you're a spicy food lover, you'll enjoy The Food Channel's Italian Sushi Roll with Spicy Japanese Marsala Sauce. This recipe can serve four people, and it only takes 20 minutes to prepare and 15 minutes to cook.
This recipe by The Food Channel does not use any raw or traditional ingredients that brings a new take on the classic sushi. For the sauce, you need simple ingredients you can buy from nearby stores – you might even have them in your kitchen now!
12. Unique Italian Sushi Roll Recipe by Foody TV
Get ready to cook like a champion with Foody TV's Chef Champion. Chef Champion curated an unmatched, unique Italian Sushi Roll Recipe that will walk you through making an extraordinary roll.
This recipe uses duck, where you'll enjoy the excellent smoked flavors of the meat. The duck meat is thinly sliced, and the ingredients are seasoned with Cajun seasoning. With this recipe, you'll be taught to cook sushi as an expert chef would.
We're calling every vegan sushi lover! Here's a vegan, vegetarian sushi recipe for you. Fine Dining Lovers' Vegan Sushi Italian-Style Recipe uses Arborio rice, balsamic vinegar, and chopped tomatoes to satisfy your meat-free sushi craving.
This recipe serves eight people with a total preparation time of 40 minutes. This recipe is taken from Laurinda Erasmus' book entitled Benessere Well-being.
14. Italian Sushi by Hailee Wilkes
Do you want to recreate Italian sushi easily? Try Hailee Wilkes' Italian Sushi recipe, where Kyle and Hailee made Italian sushi following an easy and yummy recipe. This recipe uses a delicious mix of prosciutto, risotto, mozzarella, Parmesan cheese, and asparagus.
This recipe yields around 6 to 8 pieces which you can serve with balsamic vinegar, shaved Parmesan cheese, and pesto. If you're hosting a sushi party, this is an excellent addition to your sushi bar or appetizer list!
Yes, you can make Italian sushi with spaghetti! This Italian Spaghetti Sushi Recipe by Cookist has a low difficulty score, so even kitchen newbies are free to try this out.
You need 30 minutes to prepare and cook this recipe, yielding servings good for ten people to enjoy. Sushi may be inspired by Japanese gastronomy, but adding spaghetti brings out its flavors from Italy!
16. Spaghetti Sushi by Simple or Not Kitchen
Pasta lovers will surely love munching on spaghetti sushi. If you're a pasta and sushi lover, you should check out Simple or Not Kitchen's recipe for the unique Spaghetti Sushi.
This sushi twists the classic Japanese-style sushi into an Italian-style meal. This spaghetti sushi combines meatballs and creamy cheese sauce for those who love everything about cheese. This unique way to serve traditional sushi is fun for sushi parties!
Spaghetti isn't only the type of pasta used for Italian sushi recipes. Other kinds of pasta can be made into sushi as well. This Pasta Sushi Recipe by Italy Magazine is a creative and unique twist to traditional Japanese sushi.
This recipe may be Japanese-inspired, but its flavors will make you feel like walking around the streets of Italy. Pasta sushi can be an appetizer, or you can consider it a first-course meal.
18. Spaghetti and Meatballs Sushi Roll by Hiroyuki Tejada
Another version of spaghetti sushi is Hiroyuki Tejada's Spaghetti and Meatballs Sushi Roll Recipe. This recipe by the master sushi chef is perfect for everyone who loves experimenting with different ingredients and giving a twist to famous staples.
This recipe makes seaweed-wrapped spaghetti rolls filled with meaty and flavorful meatballs on the inside. To complete the taste, cheese is sprinkled generously on top of every Italian spaghetti sushi roll.
If you have leftover risotto, do not throw them away! You can still use that to make delectable sushi. Mostly Mediterranean Italian Sushi Recipe uses leftover risotto, creating a fun and unconventional take on classic sushi. This recipe uses vegetables like eggplants, squash, and zucchini to start.
All these veggies are sliced thinly and brushed with olive oil. The preparation time for this recipe is only 10 minutes, and the cooking time lasts for approximately 30 minutes.
20. Epic Meal Time's Italian Sushi
Bacon and Italian sausages aren't conventionally incorporated in sushi, but this recipe by Epic Meal Time steps up the Italian sushi game! This Italian Sushi recipe by Epic Meal Time uses unique ingredients like bacon strips, macaroni pasta, meatballs, and Italian sausages to create delicious Italian sushi.
This recipe also uses lobsters for fillings. Epic Meal Time's Italian sushi recipe is overflowing with mouthwatering ingredients – and we do not even complain!
Hosomaki is a small sushi roll that makes a perfect light snack for everybody. This recipe by Oreegano isn't only light, but it is healthy. Hosomaki Italian Sushi Recipe by Oreegano uses simple and nutritious ingredients like green beans, fresh rosemary, and lard.
To add to the ingredients list, you need pepper, salt, eggs, grated Parmesan cheese, and sushi rice. Cooking this recipe is easy. You can make two servings in less than an hour!
22. Pesce Marinato by Chef Tony
It's not Italian sushi; It's Pesce Marinato. Chef Tony made a Pesce Marinato recipe which is very similar to Italian sushi. This recipe might make your next favorite Italian seafood dish! This recipe uses marinated fish and seafood cooked without fire.
You'll be cooking this recipe with the vinegar's acidity. How interesting! The process featured in this recipe lengthens your food's shelf life. This nutritious recipe is perfect for health-conscious individuals who want to twist the traditional Italian sushi.
Making Italian sushi at home is easy. You do not have to make things complicated because Italia Delight's Italian Sushi Fillings and Sushi Recipes are here to save your day!
This page by Italia Delight will teach you how to get the best sushi ingredients locally and give descriptions on the Japanese art of making sushi. There's so much to learn about Italian sushi, so why not start with Italia Delight's Italian sushi recipes?
24. Donna DeRosa's Italian Sushi Experiment Recipe
Do you have leftover risotto and Italian vegetables in your kitchen? Most people do not know how to experiment with them and put them to great use. The good news is you can make Italian sushi out of them!
This recipe by Donna DeRosa uses zucchini, eggplant, and yellow squash cut into thin slices. Shrimp is among the ingredients, too. This insanely delicious recipe not only makes a great snack, but it also yields healthy Italian sushi rolls for the rest of your family – even your kids can enjoy!
Summary
That's a lot of Italian sushi recipes! There are indeed many variations of Italian sushi you can experiment with. Some use smoked salmon, duck meat, shrimp, and meatballs.
Interestingly, one of the unique twists is spaghetti sushi. If you're a pasta lover, that's a must-try. What's great is that there are vegetarian options too! So whether you're hosting a sushi party or thinking of an excellent first-course appetizer, you'll never run out of ideas with these Italian sushi recipes in mind.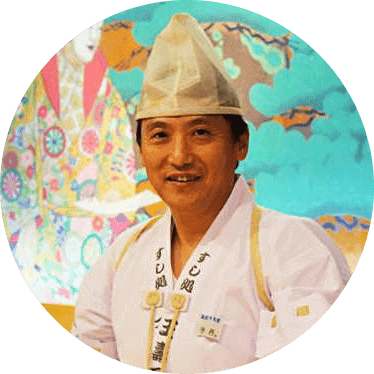 Hiroshi Nakamura, a Tokyo-born sushi chef turned US-based writer and critic, is the voice behind ichisushi.com, blending traditional sushi wisdom with modern insights.