Surprisingly, Inari sushi is an easy dish to make in your kitchen. Flying to Japan or Korea is not necessary to enjoy this classic dish.
You also don't need a lot of bucks or spend hours cooking this dish. With simple ingredients and the best Inari sushi recipes, you can prepare the dish in just a few minutes in your kitchen!
If you're wondering how to cook an Inarizushi, keep on reading as this page has the 26 best Inari sushi recipes for you:
If you're looking for an easy sushi recipe you can quickly make at home, check out this Easy Inari Sushi by Just One Cookbook. This recipe produces the perfect finger food to prepare for your next celebration or home gathering.
Just One Cookbook's recipe shows the proper way to make the Inari sushi and its two variations. This Inari sushi brings sweet and savory flavors to melt in your mouth.
2. TabiEats' Inari Sushi Recipe
One of the ways to eat rice is through Inari sushi. This dish is perfect for vegetarians and vegans who enjoy Japanese cuisine.
TabiEats' Inari Sushi recipe uses simple ingredients you can find at home. Simmering liquid requires instant dashi stock, soy sauce, sugar, Mirin, and water. For sushi rice, you need rice vinegar, sugar, and salt. How simple is that!
This special Inari sushi recipe is from Chopstick Chronicles' Shihoko's aunt. This recipe uses secret ingredients and techniques to help you create the perfect Inari sushi.
Aunt Keiko's Inari sushi is rich in flavors that will make you want to go to Japan and experience more of the cuisine.
The linked article for this recipe also discusses the difference between Japan's Kanto and Kansai regions, where the Inari sushi is crafted differently.
4. Inarizushi Recipe by Cooking with Dog
Cooking With Dog crafted a simple and tasty Inarizushi or tofu sushi rice pouch recipe. This recipe produces juicy tofu pouches filled with delicious sushi rice.
This recipe will also give you tips on making the best-steamed rice to match your roll. Rice vinegar is required for this dish, but the channel will teach you alternatives if you do not have available ingredients at home.
It's no secret that Inari sushi is a quick delicacy to make. In fact, it is one of the most straightforward types of sushi to cook.
However, creating the perfect Inari sushi can be tricky for some. This Inari sushi recipe by RecipeTin will teach you how to prepare simple Japanese sushi quickly.
All you need for this recipe are cooked aburaage pouches and sushi rice.
6. 6 Assorted Inari Sushi
When cooking Inari sushi, you can play with your creativity. This recipe by The Cotton Skies shows how to make six different versions of the famous Japanese dish.
With this recipe, you can make about ten servings. The toppings for The Cotton Skies' list include spam, eggs, canned tuna, avocado, pork belly, and kimchi.
Inari sushi, or "rice stuffed tofu pockets," is a healthy, everyday vegetarian dish.
The Spruce Eats has created a recipe for this Japanese food that will help you prepare your version of the sushi. You can use your imagination to freely craft, shape, and dress the food.
With the right ingredients, technique, and creativity, this inari sushi recipe will make your tummy happy.
8. Ochikeron's Basic Inari Sushi
Inari sushi is undoubtedly straightforward and basic, but we can't deny it's delicious. The dish is perfect for parties, birthday celebrations, picnics, and any event.
This recipe by Ochikeron narrates how you can easily make Inari sushi stuffed in tasty tofu pouches filled with sushi rice. While store-bought Inari sushi is yummy, homemade ones are still the best!
They say Inari sushi rolls are nostalgic, bringing back childhood memories. This recipe by Picked Plum brings a combination of flavors, from sweet and vinegary to salty.
If you haven't made or tasted Inarizushi yet, then this recipe might be the best one for you. With only eight ingredients, you will be able to prepare the dish in less than 20 minutes.
10. Inarizushi Recipe by Japanese Cooking 101
This video by Japanese Cooking 101 shows how you can easily make Inarizushi at home. Japanese Cooking 101's recipe requires simple ingredients you can find at home.
If not, they're available at your local shops. You can also create variations and play with your imagination as you prepare the sushi. This recipe does not use plain rice, which gives off a tastier take on the dish.
Inari sushi is an easy Japanese dish to make at home. But did you know there's an even quicker way to cook the dish? TofuBud created a recipe for deep-fried tofu sushi to help you become the master sushi chef that you want to be!
This recipe will also teach you the basics of cooking Inari sushi, just like professional sushi chefs. Topics like pressing the aburaage and making aburaage from scratch will be tackled on their page.
12. Recipe for Festive Inari Sushi
Inari sushi is excellent for home gatherings, but this dish is perfect for holidays, parties, and events. This recipe by TabiEats shows how you can make a festive Inari sushi roll at home.
With various toppings, these rolls are indeed festive! This recipe creates deep-fried tofu pouches, simmered in soy sauce, and filled with delicious flavorful rice.
Do you want to create an Inari sushi that's juicy and vegan? Full Of Plants has your back. This recipe balances the flavors of sweet, salty, and sour.
What's great is that this sushi requires no rolling. This recipe will also share four delicious toppings you can add to the recipe.
This vegan Inari sushi recipe is seasoned with soy sauce, combined with sugar. It can also be simmered in a dashi broth which creates a soft, juicy texture.
14. Inarizushi with 6 Toppings
This recipe by Gastronomy Gal presents six savory Inari sushi toppings you can try. This recipe has vegetarian and non-vegetarian options perfect for families to enjoy.
The topping combinations for this Inarizushi include corn salad and parsley, crab salad and furikake, and diced avocado and bonito flakes. Another topping option is the Korean yellow dish plus seaweed combination.
Hungry Huy's Inari sushi recipe only requires two simple ingredients. These are deep-fried tofu pockets and sushi rice.
These deep-fried tofu pockets need to be savory and seasoned. Seasoning the aburaage at home helps you control the levels of sweetness and pleasant flavors.
This recipe will also give techniques on how to serve the Inari sushi perfectly. The tips they shared include bento and plates.
16. HeToldMe's Inari Sushi
Most of the ingredients from HeToldMe's Inari sushi recipe are local ingredients you can get at a local Asian grocery store near you.
This recipe for the nigiri piece gives step-by-step instructions for preparing the popular Japanese dish. In just a minute, this channel has explained everything you need to know about the delicacy.
You can create Inari sushi as delicious as it looks by following Japan Centre's Inari sushi recipe. These rice-filled, deep-fried tofu pockets can be served on their own or combined with bento dishes.
Preparing the Inari sushi by Japan Centre only has four steps that are all straightforward to make. You only need five simple ingredients, including sesame seeds, carrots, and shiitake mushrooms.
18. DIY Inari Sushi by DIY Cooking Channel
This DIY Inari sushi recipe by DIY Cooking Channel explains the difference between Korean Inari and Japanese Inari. If you're going to use store-bought Korean Inari, everything is in the package.
If you opt to use Japanese Inari, you need to make sushi vinegar. This recipe has different selections for toppings, including shrimp, avocado, beef, and crab meat.
This Inari Tobiko Sushi Roll recipe by Christie At Home is easy to make. It is a delicious and simple dish that can be prepared in less than 30 minutes. You only need seven ingredients to make this dish.
This recipe is an excellent food for lunch, dinner, or even as an appetizer. If you love tobiko and inari, you are likely to enjoy this Inari Tobiko Sushi Roll.
Did you know that Inari sushi might be the easiest sushi to make? Yes, you read that right! Besides cooking rice, the most work you'll ever do is seasoning the aburaage. T
his Inari sushi recipe from What to Cook Today® is a straightforward 3-step recipe that's great for beginners to follow.
Inari sushi's simple recipe can be combined with other ingredients. Food Network's Mixed Vegetable Inari Sushi recipe gives a unique take on the dish.
Cucumber, daikon, mushroom, and carrots can be added to the Inarizushi. The preparation time for this recipe requires 30 minutes. The cooking time is 30 minutes.
22. Vegan and Gluten-Free Inari Sushi
Even beginners in the kitchen can cook this easy, vegan, gluten-free Inari sushi following Japonica Cooking's recipe.
This recipe fills the tofu pockets with yummy sushi rice cooked in sweet soy sauce broth. This channel is all about Japanese cuisine and culture, so if you're an aspiring newbie chef, you should watch more of their recipe videos.
Prepare all your ingredients and create this yummy Inari sushi recipe from Tried, Tested, and True.
This recipe gives a slightly sweet taste with no raw ingredients. If you would like to try Japanese sushi without raw fish, this dish is ultimately for you. This recipe is both vegan and vegetarian.
24. Healthy Inari Sushi in 3 Ways by Yoko's Kitchen
As you can see, Inari sushi is a healthy and nutritious dish. If you love vegan and vegetarian recipes, you should definitely check out Yoko's Kitchen's version of the Inari sushi recipe.
This traditional Japanese food recipe has the perfect combination of sweetness and sourness. Being plant-based, this is great as a healthy snack to complete your bento box.
Do you want to spin the traditional Japanese Inari sushi into a Korean-style dish? Here's My Korean Kitchen's take on the delicacy: Tricolor Yubuchobap.
This dish is a sweet delicacy with fried bean curd pockets filled with vinegared rice. People love bringing these to parties or taking the rolls for lunch.
26. Cheap Lazy Vegan's Vegan Fried Tofu Sushi
Level up your Inari sushi dish by following Cheap Lazy Vegan's vegan fried tofu sushi recipe. This recipe provides tasty topping ideas like avocados, bean curd, seaweed sheets, and corn.
Even those who don't like tofu can enjoy this recipe as it is deliciously superb. You'll probably be craving the dish while watching Cheap Lazy Vegan's video!
27 Best Inari Sushi Recipes
You don't need professional skills to cook delicious Inari sushi. You only have to find the perfect recipe to match your sushi preferences.
Luckily, there is a list of the best inari sushi recipes you can try and experiment with. What's great about this dish is that you can use your imagination and creativity to make the finest Inari sushi!
Directions
Select your favorite recipe.
Organize all the required ingredients.
Prep a Inari Sushi in 30 minutes or less!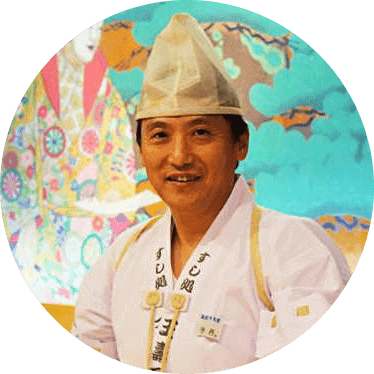 Hiroshi Nakamura, a Tokyo-born sushi chef turned US-based writer and critic, is the voice behind ichisushi.com, blending traditional sushi wisdom with modern insights.