If you enjoy sushi, you might enjoy candy sushi too. This is especially true if you are someone who enjoys bite-sized desserts!
Candy sushi is an excellent addition to your taste buds and something to look forward to as a dessert. If you want to try making some, you can consider trying these 27 candy sushi recipes.
This recipe combines the sweet goodness of rice Krispies, gummy worms, and other candies.
With the combination of the rice Krispies' crispiness and the chewiness of the gummy worms, rice Krispie candy sushi offers a nice balance of texture when eaten.
The additional candy involved also adds to the overall flavor of the sushi. This recipe can create two types of sushi, namely nigiri, and maki.
2. DIY Candy Sushi
If you like colorful desserts, this recipe can be something you want to try making at home. This bite-sized dessert is not only appealing to kids but also adults.
There's always a room for dessert, right? This recipe includes rice Krispies and different gummies and candies, resulting in a colorful batch of candy sushi. Aside from being tasty, the kids will surely enjoy making this.
This recipe puts together the goodness of rice Krispies, chewy fruit snack sheets, fish-shaped chewy fruits snack, and marshmallows. Can you imagine all of these ingredients in your mouth? Magical right?
This recipe makes a batch of sound and visually thrilling candy sushi rolls. The colors of each component also make sense when combined, making it very ideal for kids and even as decoration.
4. Dessert Sushi with Fruit Preserves
If you are someone who likes a fruity taste in every bite of your dessert, you can try this dessert sushi with a fruit preserves recipe.
This recipe brings together fresh strawberries, fluffy rice pudding, marmalade, and fruit jam of your choice; in this case, mixed berry jam to complement the fresh strawberries.
With this recipe, every bite is filled with softness and fruity goodness.
This recipe is super easy and also very fun to make. It incorporates Rice Krispies, gummy sharks, Swedish fish, gummy worms, licorice strings, and fruit roll-ups. With all these colorful ingredients and candies, you will have a handful of bites.
The sweet and sour flavors mix nicely together with the Rice Krispies. With this recipe, you can make both maki and nigiri sushi, a personal favorite for kids.
6. Sweet Sushi Cookie Pops
If you love food disguise, you would love these cookie bites but in candy sushi mode.
This recipe makes a good batch of candy sushi using oreo, milk chocolate, white chocolate, shortbread biscuits fingers, white nonpareils sprinkles, desiccated coconut, whipped cream, and different candies as per preference.
The chocolate combination gives a good balance of chocolate goodness, and the sprinkles and desiccated coconut add to the rough and tasty texture.
This Gummy Candy Sushi recipe is one of the easiest and fastest recipes to do out there. This recipe is great for parties as the ingredients involved in this recipe are sure ingredients loved by kids.
Gummy candy sushi combines the goodness of filled marshmallows, twisted marshmallow ropes, gummy fishes, and sour candy belts. The soft and chewy marshmallow and the gummy fishes fit the sour candy belts so much.
8. Sushi S'mores
The most often star of every camping trip, s'mores come in the form of sushi for this recipe.
Like the typical s'mores ingredients, this recipe incorporates the goodness of marshmallows, graham crackers, rice cereal, marshmallows fluff, cocoa powder, chocolates (preferably chocolate chips), and heavy cream.
So, as you cut your roll-up and taste it, you will see and taste the goodness of each ingredient highlighted in every bite. But, of course, desserts are more fun with chopsticks!
The chocolate sheet hugging this sushi will surely spark your curiosity and make you want to try it out.
This candy sushi recipe requires whipped cream, dark couverture chocolate, milk chocolate couverture, cognac, strawberries, coconut milk, arborio rice, sugar, and butter.
The use of couverture chocolate will be ideal for this recipe as this type of chocolate is meant for tempering. This way, rolling the sheet will be possible without breaking the chocolate.
10. Sushi Crepe Rolls
The good news for people who love and enjoy eating a crepe is then this sushi recipe is for you. This recipe maximizes ingredients you can easily buy at the store.
For this recipe, you can use different ingredients like chocolate spread, your favorite chocolate bars, chocolate brownies, chocolate syrup, nuts if you like nuts with your crepe, condensed milk, cookies, oreo, and any sweets you enjoy.
This may be the recipe to complete the food lineup during your party. Chocolate sushi may be new to your guest, but it's also an excellent food to serve whenever you feel like wowing the crowd.
This recipe incorporates the usual sticky rice and your favorite type of chocolate. Along with the main ingredients are strips of seasonal fruits and apple juice to make the sushi tastier and have that tangy taste.
12. Sushi Cake
Perhaps you are thinking of a good dessert idea to make for someone who loves Japanese food or sushi. This recipe could be an excellent answer to your question.
Sushi cake is made of sweet chocolate jelly rolls, sponge cake, ginger jam-infused buttercream, and your favorite candies like gummies, sprinkles, etc., which makes this roll colorful and vibrant. Not only is it visually pleasing, but also delicious.
This recipe is perfect for kids' parties and sleepovers. On the other hand, this recipe can also be served in simple gatherings, as snacks, dessert after meals, etc.
This recipe is easy to make, and the ingredients are also easy to find. Because this sweet sushi recipe is designed to be visually attractive, you can be as creative as you want.
14. Oreo Sushi Roll
Who doesn't love oreo? If you are someone who enjoys them, you may want to try out this oreo sushi roll recipe. This recipe uses essential ingredients like different types of milk and oreo.
And so, making this roll is relatively easy, all while being tasty too. So, if you are craving something with oreo, this is undoubtedly for you. It is easy to make and also a quick recipe.
This recipe combines the goodness of sushi rice, the smooth sweetness of Nutella, and the fruity crunch of strawberries into a single bite. If you like your strawberries with chocolate and vice versa, then this recipe is for you.
This recipe also uses the usual sushi rice, which adds texture and flavor to the entire roll, and honestly, it can be a party highlight given the visual and taste!
16. Icecream Sushi
Yes, there is a dessert sushi recipe for people who love and enjoy ice cream. You might want to try this recipe, especially during the summers when the temperature is hot and you are craving something new.
It can also be served at events like parties and sleepovers, and your guests will surely love them. The smooth ice cream accompanied by their respective topping and sauce will surely be a showstopper.
This dessert sushi recipe will fill your stomach and your plates because of its good looks. Indeed, you can add another party highlight to your event's menu.
If you are new to dessert sushi, there is no need to worry as the recipe is easy to follow. This recipe also includes your desired fruit like raspberry, strawberries, etc. You can also add some toppings as desired.
Perhaps you are craving a coconutty dessert during the weekend or for a summer snack, and this recipe may be the one you are looking for.
This recipe puts together good quality coconut sticky rice and mango, resulting in a pleasant and balanced bite of soft and tasty rice and mango's sweet and tangy flavor.
Each flavor is emphasized in every bite, so no one taste's overwhelming.
This recipe puts together rice crispies, mini marshmallows, strawberry-flavored Twizzlers, green apple sour straws, and green-colored fruit rollups.
As you might have observed, the color combination screams nature, so it's relaxing from the get-go. Indeed, after you try out this recipe, you will find the ingredients and colors beautifully put together into a tasty treat.
This recipe is great for any occasion, whether a significant event or just an afternoon snack.
20. Strawberry Nutella Cheesecake Roll
Heads up, cheesecake lovers, there's a perfect sushi type for you. This recipe incorporates different dessert flavors, which work so well together.
Nutella plus strawberry plus cheesecake sounds like a dream, right? Well, lucky for you, this recipe makes it a reality.
As you take your bite, you can taste and feel the smooth chocolate spread with the soft and tangy cheesecake, then the strawberry crunch and juice will complete the bite.
This recipe puts together rice pudding, marzipan, fruit, fruit leather, and black sesame seeds. This sushi is served with a chocolate sauce that you can alter.
These rolls are very peaceful and very therapeutic to make. It may take some time and effort, but the results are worth it. If you are someone who likes rice pudding and fruits, this recipe is for you.
22. Fruit Crunch Cheesecake Roll
Perhaps you are looking for something fun and sweet for dessert, and you might want to give the fruit crunch cheesecake roll a shot.
This recipe is made of your favorite rice cereal, marshmallows, butter, graham, cheesecake, kiwis, strawberries, and just any fruit you might prefer.
With every bite, you will feel the goodness of these ingredients. These bites are also accompanied by the raspberry sauce featured in this recipe.
This dessert sushi recipe offers you zesty and delicious sushi bites to make your day. If you like dessert with a tangy twist and a zesty hint on them, this might be a recipe you want to try.
You can customize the filling for this roll. Perhaps you want mango, raspberry, strawberry, blueberry, pineapples, or a combination of your favorite fruits. This recipe is also entertaining to do.
24. Dessert Sushi with Cream Cheese & Bursting Boba
This recipe also incorporates cream cheese and bursting boba with crepe serving as the sheet that holds the fillings together.
The bursting boba is an excellent addition to this recipe as it adds to the texture and the fun factor of the whole recipe.
The soft sheet of crepe and the smooth filling complements the desired topping you might want to add and, ultimately, the bursting boba.
24 Best Candy Sushi Recipes
If you are curious about how candy sushi is made, try these 27 candy sushi recipes listed above.
You can start at something you think is the more accessible and the most familiar for you then you can move on to making more complicated candy sushi recipes. Do not forget to have fun while working on them!
Directions
Choose your most-loved candy sushi recipe.
Organize all the required ingredients.
Prep a Candy Sushi Recipe in 20 minutes or less!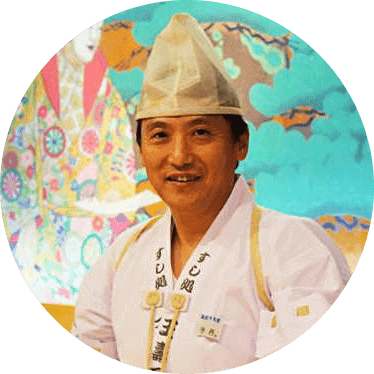 Hiroshi Nakamura, a Tokyo-born sushi chef turned US-based writer and critic, is the voice behind ichisushi.com, blending traditional sushi wisdom with modern insights.