Sushi is a popular Japanese dish made with cooked vinegar-flavored rice, vegetables, or eggs and usually topped with raw seafood. Sushi chefs, also known as itamae, are specialists in sushi preparation.
It takes a considerable amount of time to master making sushi that meets traditional Japanese standards. But is sushi-making even a profitable job, and considering the robust popularity of the sushi dish, how much do sushi chefs make?
Is Sushi-making Profitable?
Before venturing into any business, you need to be sure whether such a business is profitable or not. Sushi-making is not an exception. If you know how to prepare it well and there's a market hungry for it, you'll profit.
However, the profit a sushi shop realizes depends on several factors such as incurred expenses, the location of the sushi shop and its customer base, advertisement, customer relations, etc.
Incurred Expenses
Like any other business, sushi-making requires certain expenses to be made. These expenses come in various forms.
For a restaurant that only sells sushi, the expenses might be purchasing sushi ingredients, setting up the shop, and other customer services, while a five-star hotel or high-end restaurant that sells sushi might spend more.
However, a sushi shop must ensure that its profit is higher than its incurring expenses or else, it will run at a loss or eventually fold up.
Location And Customer Base
Every business needs customers to profit, and the sushi business isn't an exception. A sushi restaurant located in a busy city or an economic standpoint would most likely make more profits than one in an economically not-so-vibrant town.
However, this isn't absolute, given that the residents of an economically-vibrant city might not necessarily be fans of sushi. This is where good advertisement and customer relations come in.
Advertisement And Customer Relations
The visibility of a business ensures its profitability. Advertisement is important if a sushi business wants to be visible and successful. Also, how well the customers are treated determine visibility and profitability.
Some customers might be reluctant to visit the restaurant if they think the sushi dishes are too expensive.
Therefore, sushi restaurants can think long-term and maintain pocket-friendly prices via themed or promotional sales, helping them maintain their customer base even when prices steadily increase in the long run.
Sushi has grown in influence over the last decades, becoming a worldwide phenomenon. Now, sushi restaurants can be found in just about every major city in any part of the world today.
As such, there are sushi chefs in almost every region, but they don't earn the same amount of money.
North America
In North America, the estimated average salary of a sushi chef is $34,468 per year.
United States of America
In the United States of America, salaries can range from $9,149 to $394,837.
City
Amount Paid

Per Hour

New York
$22.82
San Diego, CA
$21.03
Washington, DC
$22.81
Los Angeles
$21.60
Chicago, IL
$21.36
Companies such as Hillstone Restaurant Group pay sushi chefs $25.22 per hour.
Canada
The average sushi chef's annual salary in Canada is $35,115, or an equivalent rate of $17 per hour. They also earn an average bonus of $580.
Entry-level sushi chefs with work experience of 1 to 3 years earn an average salary of $29,369. On the other end, a senior-level sushi chef with work experience of 8+ years earns an average salary of $41,937.
South America
In South America, the estimated average salary of a sushi chef ranges from BRL 28,117, equivalent to $5,666.81, to BRL 43,158, which is $8,696.65 per year.
Countries
Annual Salary
Pay per Hour
Average Bonus
Entry-level Salary
Senior-level Salary
Trinidad and Tobago
$55,312
$27.
$907
$42,645.
$65,457
Brazil
BRL 36,132/ $7,280.86
BRL 17/

$3.42

BRL 593/ $119.56
BRL 28,117/ $ 5,669.09
BRL 43,158 / $ 8,701.74
Asia
In Asia, the average salary range for a sushi chef is between PHP 153,588, also $2,924.01, and PHP 235,744, also $ 4,488.10.
Fujiyama Steakhouse of Japan pays $21.23 per hour while Woodmont Grill pays $22.96 per hour and Cho Cho San Japanese Restaurant, $27.81 per hour.
Africa
In Africa, the average sushi chef's annual salary of R 194,282, which is $ 12,302.95 in Cape Town, South Africa. The hourly rate is R93, which is $ 5.859.
Cities/ Countries
Annual Salary
Pay per Hour
Average Bonus
Entry-level Salary
Senior-level Salary
South Africa
R194,282 /

$ 12,302.95

R93/ $ 5.859
R3,186 / $201.75
R151,305 /

$ 9,581.42

R232,241 /

$ 14,706.71

Pretoria, Gauteng
R43,512/ $2744.4
–
–
–
–
Durban, KwaZulu-Natal
R54,888 / $3461.76
–
–
–
–
Randburg, Gautearnsearn
R 135,252 / $8,530.32
–
–
–
–
Ghana
GHS 37,500/ $4,983.39
–
–
GHS 3,260/ $433.22
GHS 9,560/ $1,270.43
Companies such as Simply Asia pay sushi chefs R 4 800, $ 304.26 per month, and More Restaurant R 3 792, $238.77 per month.
Europe
In Europe, the estimated average salary of a sushi chef ranges from £23,000, also $ 28,723.78 to £50,000, also $62,447.75 per year.
Countries
Annual Salary
Pay per Hour
Average Bonus
Entry-level Salary
Senior-level salary
Ukraine
₴ 113 235 / $3,869.96
₴ 54/ $1.85
₴1 857 / $63.47
₴ 88 860 / $3,036.91
₴136 392 /

$ 4,661.38

France
€ 21 389 / $22,509.25
€ 10 / $ 10.52
€ 351 /

$ 369.38

€ 20 840 /

$ 21,931.39

€25 335 /

$ 26,661.29

United Kingdom
£29,083 /

$ 36,340.23

£14.91 /

$ 18.63

–
£25,350 / $31,674.62
£37,500 / $46,853.89
Australia
In Australia, the estimated average salary of a sushi chef ranges from $47,468 to $80,000 per year.
Cities/ Countries
Annual Salary
Pay per Hour
Annual

Bonus

Entry-level salary
Senior-level

sal

Sydney, Australia
$47,468
$23
$778
$40,172.
$56,350
New Zealand
$41,599
$20
$682
$41,599
$46,130
5 Things That Determine How Much Sushi Chefs Make
Depending on various factors, such as education, work experience, ethnicity, geographic location, companies, and additional skills, the salaries of sushi chefs vary. These factors are extensively discussed below:
Education/ Certification
One factor determining how much a sushi chef makes is education. Many employers would prefer a well-educated individual who has undergone traditional culinary school training.
With a master's degree, sushi chefs earn $41,324, while those with a Bachelor's degree earn an annual income of $42,976.
With a college degree, sushi chefs earn a yearly income of $42,609 compared to High School Degree who earns an annual income of $37,462.
Schools such as Drexel University, Princeton University, Providence College, etc., are recommended for education for sushi chefs.
Work Experience
Sushi chefs' work experience also influences how much they make.
For instance, in South Africa, a sushi chef with 1 to 3 years of work experience earns an average salary of R151,231, which is $9,527.553, while a sushi chef with 8+ years of work experience earns an average salary of R232,127, which is $146,240.01. Hence the work experience determines their earnings.
Ethnicity
It is observed that white sushi chefs have the highest average salary compared to other ethnicities in the United States of America, while Asian Sushi Chefs have the lowest average salary at $34,624.
The white chef earns an average of $37,627, followed by the Hispanics with an average salary of $37,578, and African Americans with an average salary of $35,598.
At the least, a Japanese sushi chef in the United States earns $20,592, with their pay being the highest in San Francisco.
Company
The organization or establishment sushi chefs work in determines their salary. High-end restaurants and five-star hostels would ordinarily pay higher than a one-star hotel because the customers patronize them.
Professionalism
How professional a sushi chef is is determined by how much they earn.
When a sushi chef perfects their communication and people relation skills and has a flair for entertaining customers can increase one's salary and guarantee customers' satisfaction.
In addition, when a sushi chef establishes a reputation as a competent and professional sushi chef, he may be able to increase his compensation.
Summary
Sushi chefs make good money, depending on the factors listed above.
A well-educated, professional, and skilled sushi chef who works in a high-end restaurant or five-star hotel with more work experience would typically earn more than his counterpart who isn't as educated, professional, skillful, or knowledgeable.
A sushi chef can always boost his earnings appropriately by leveraging these factors in any part of the world.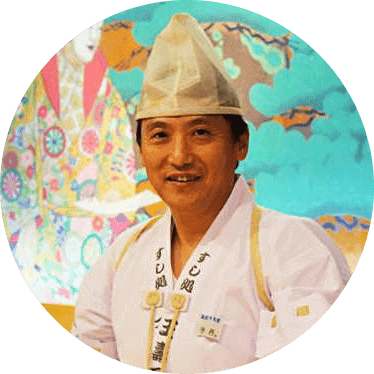 Hiroshi Nakamura, a Tokyo-born sushi chef turned US-based writer and critic, is the voice behind ichisushi.com, blending traditional sushi wisdom with modern insights.