Freshwater eel or unagi sushi is an everyday staple in most Japanese restaurants. It's created by rolling the unagi with seasoned rice and a nori sheet.
The unagi is the star of this dish with its naturally sweet and bold flavors. Check out the 28 eel sushi recipes that you can recreate at home.
This inside-out sushi has the nori inside and the rice outside, making it an alternative to traditional sushi. The fillings are crunchy cucumber, barbecued eel, and drizzled with an unagi sauce called kabayaki.
It's a common condiment in many Japanese dishes and grilled meat. While it's available online or in Asian stores, it would be great to make it at home using this recipe.
2. Unagi Sushi from Live Eel
The unagi available in most grocery stores is imported and contains many additives and preservatives that may not be good for one's health. This video cooking guide reveals how to create unagi nigiri using live eels.
It may seem daunting, but it's manageable as long as you follow the directions carefully. It also includes a recipe for a special umami sauce.
This recipe, shared by a chef from an authentic Japanese restaurant, is easy to recreate at home. It will teach you how to make the perfect sushi rice that's the base for a perfect roll.
It includes steps to create an unagi glaze that can bring back memories of a trip to Japan or a delightful dinner at a Japanese restaurant.
4. Viper Roll
In this video, you'll learn how to make this eel sushi from Master Sushi Chef Hiroyuki Terada. He's a world-renowned Japanese chef whose been on top of his game for many years.
This Viper Roll, a crowd favorite at Chef Terada's restaurant, got its name from a Viper snake. But don't worry, you won't be cooking with a scary reptile; instead, you'll use an exceptionally delectable barbecue eel.
This decadent, sweet, and delicious unagi sushi is perfect for lunch or dinner with loved ones. What makes it more special is you can prepare it at home and add your personal touch.
You'll surprise your family and friends with sushi better than the usual Japanese takeout fare. You can buy unagi in the frozen section of most Asian grocery stores or order it online.
6. Delicious Eel Sushi
Pre-cooked eel available at supermarkets can be pricy, so it's best to make the most out of it. This cooking guide will teach you how to prepare store-bought eel and turn it into restaurant-quality sushi.
Be prepared to use a 12 oz eel to make this dish. Don't worry about seeing several tiny bones because you won't feel them anymore after broiling them to golden perfection.
Impress your family, friends, or someone special by recreating this classic Japanese takeout dinner at home.
The perfect combination of sweet and rich flavors of the unagi and the mouthwatering teriyaki sauce is a delightful meal you can all enjoy.
You can buy all ingredients from your neighborhood Asian grocery store or at the international aisle and frozen section of the supermarket.
8. Eel Avocado Roll
Try this fantastic sushi recipe if you're looking for a unique dish you can bring to a party. The Eel Avocado roll is packed with an umami flavor complemented by the refreshing taste of avocado.
It would be best to have pre-marinated unagi, black and white sesame seeds, cucumber, avocado, short-grain rice, and vinegar. The video clearly shows you can turn these ingredients into delicious sushi.
Beautifully-assembled nigiri can serve as canapes at elegant parties. It can stand out in any gathering and elicit praises from the crowd. This seared unagi nigiri recipe from a world-class chef has a unique texture and rich taste.
It's served with sushi ginger and wasabi paste to complement the flavors of the eel. You can make it into a complete meal by adding other grilled eel dishes.
10. Roasted Eel Sushi
If you're craving eel sushi but can't go to a restaurant, this recipe can satisfy your longing for this authentic Japanese classic. You can use vacuum-packed, pre-marinated eel or unagi that you can buy from a local Asian store.
The unagi teriyaki sauce, sushi rice, and vinegar are also within your reach. Serve this with pickled ginger to make a memorable lunch or dinner meal.
With this eel sushi recipe, you can make a favorite sushi bar fare at home. If the ingredients are not available at your local grocery store, you can purchase them online.
The process will take about 30 minutes, and you'll have delectable sushi for lunch or dinner. Eel is packed with Vitamin A, E, and protein, so you'll get your share of nutrients while enjoying this Japanese classic.
12. Eel Dragon Avocado Roll
This recipe hails from an authentic Japanese Eatery in London and is prepared by a trained sushi chef. It's a sophisticated take on eel, avocado, and cucumber sushi.
You'll get tips on cleaning and slicing the ingredients and making sure they form perfectly. It's amazing how the chef prepares delicate sushi with artistic flair and precision.
This recipe will give you a step-by-step procedure for preparing unagi sushi at home. The photos for each process can guide you on the slicing and rolling techniques.
You can either use canned barbecue eels or frozen, vacuum-packed ones sold in supermarkets or Asian stores. To make it a restaurant-quality dish, you need to add cucumber and sesame seeds for the toppings.
14. Unagi Eater Rolls
This dish is a unique take on the traditional eel sushi recipe. It includes fried shrimp and cream cheese, making it a deliciously meaty and creamy experience.
The mixture of textures is a culinary treat. This jampacked sushi is already a meal on its own that you can have for lunch or dinner. It's easy to eat, so you can also have it on the go.
Eel sushi is so well-loved in Japan that they even celebrate a special eel sushi-eating day. This recipe will help you prepare eel avocado roll the way it is made in the land of the rising sun.
It even shows how you can store sushi in the fridge and freezer, so you'll have this delicious treat to enjoy for two to three more days.
16. Futomaki Sushi
This recipe shows how to make traditional futomaki, a fat and thick sushi roll with grilled eel and avocado. It's made more delicious with the addition of cream cheese, red tobiko, and sesame seed.
Inside-out sushi like this one looks difficult to make, but this video will help you create tightly-rolled sushi that's a treat for the eyes and the taste buds.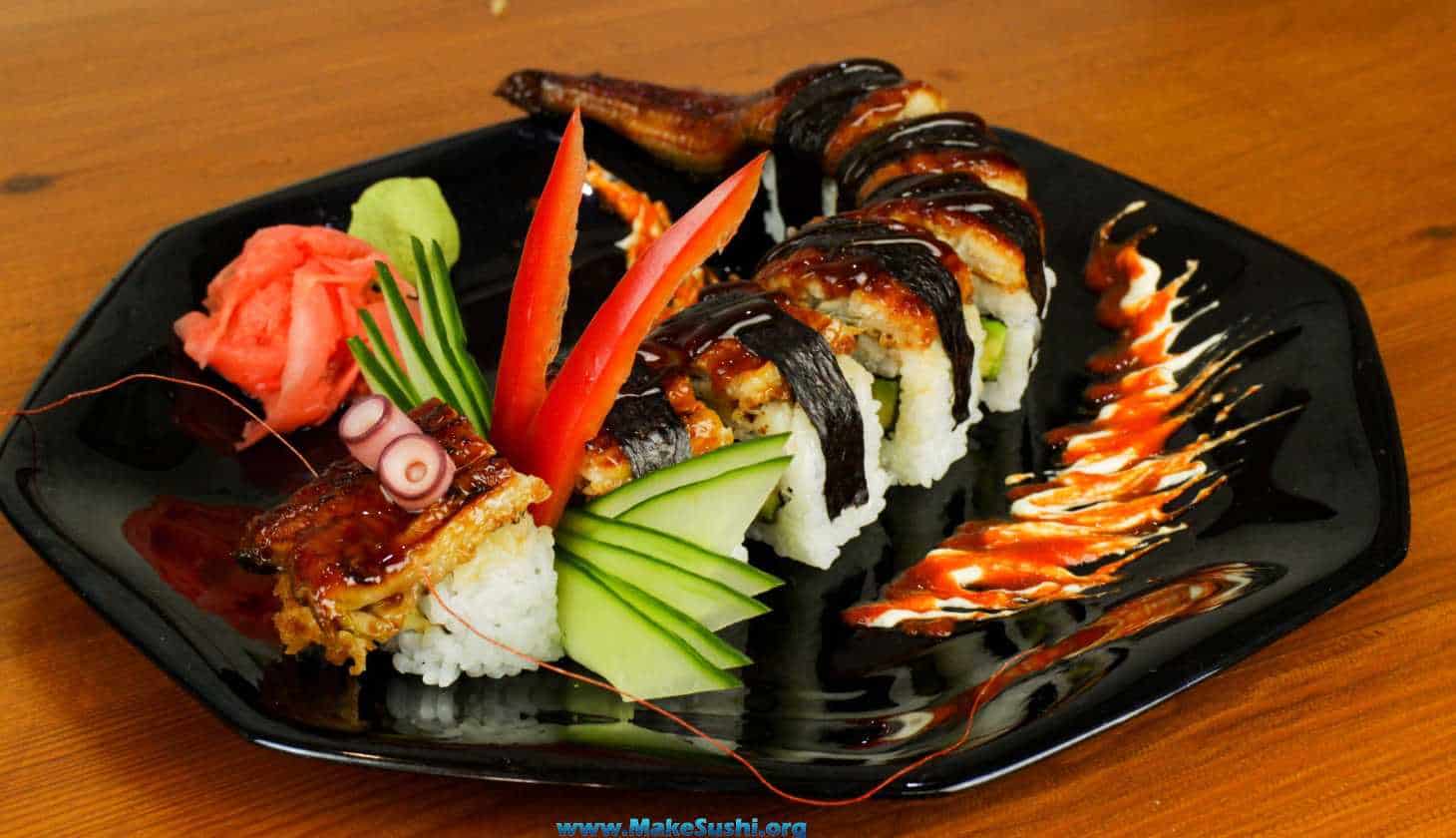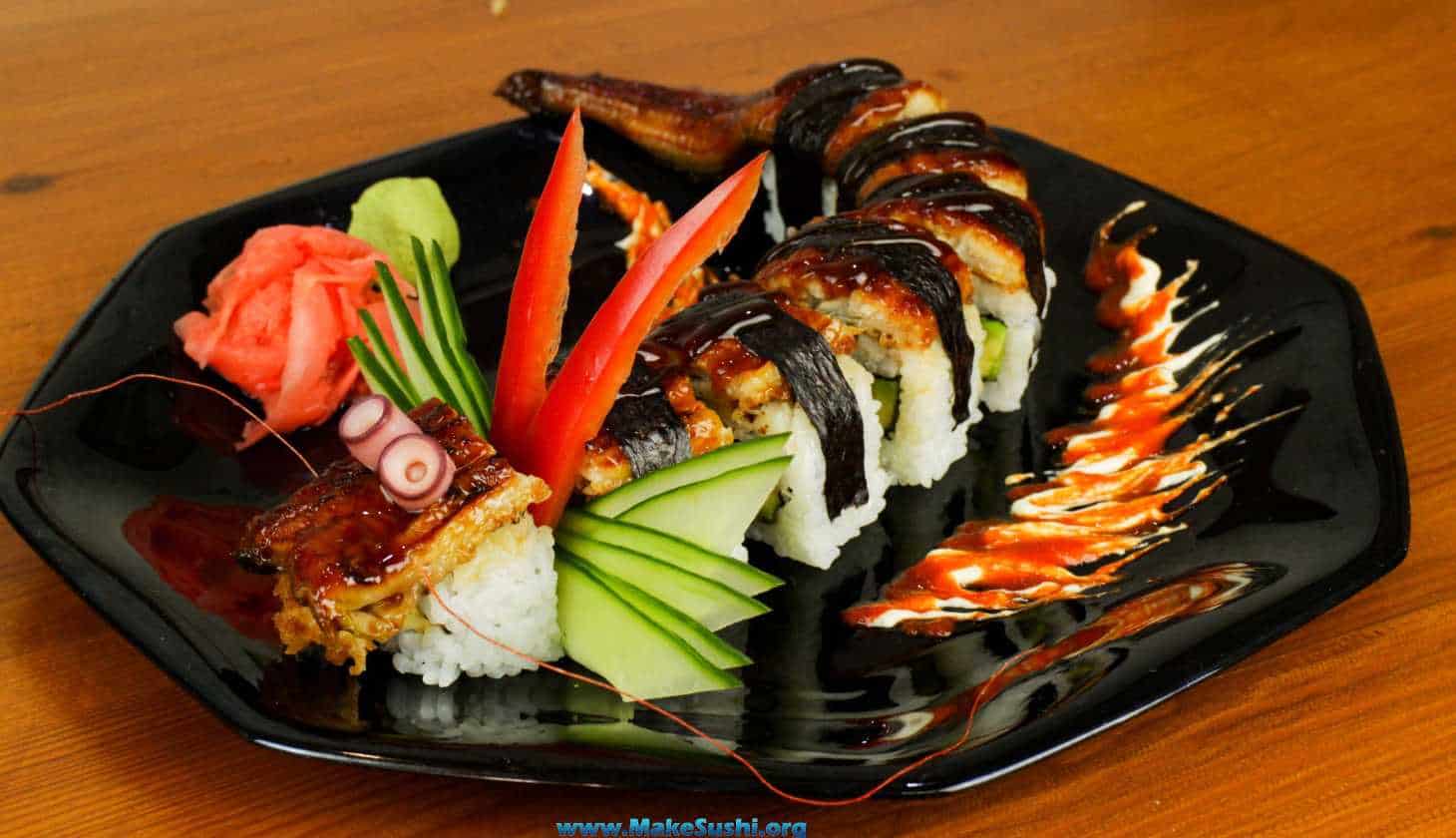 Dragon rolls are exquisite sushi creations offered by high-end Japanese restaurants. Did you know that you can recreate this artistic dish at home by following this recipe?
It includes a delightful combination of avocado and crispy shrimp. Then, a layer of succulent unagi fillet is placed on top to complete the dragon's body. It's drizzled with a classic unagi sauce that will breathe fire into your dish.
18. Freshwater Eel Sushi
If you're a solid unagi sushi fan, this video is perfect for you! It shows various ways of preparing freshwater eel sushi, such as dragon roll, caterpillar roll, and classic unagi sushi.
It also teaches every step, such as cutting the eel, slicing the avocado, and rolling all the ingredients together. You can learn three dishes in one just by watching a single video.
Some people may find the combination of unagi and cucumber odd, but this sushi roll recipe hits all the right spots. It is delicious, but it's also easy to make at home.
It would help if you had frozen and vacuum-packed unagi, sushi rice, nori (seaweed) sheets, mayonnaise, and teriyaki sauce. It's a pretty straightforward dish that you can prepare in less than 30 minutes.
20. BBQ Freshwater Eel Sushi
The chef in this video, who calls himself "My Sushi Daddy," is an avid sushi lover, so he decided to share his adoration for this dish on Youtube.
This particular episode teaches how to make freshwater eel (unagi) sushi. He uses frozen and cooked eel that has a smoky barbecue flavor. To balance out the umami flavors of the eel, he adds cucumbers and cream cheese.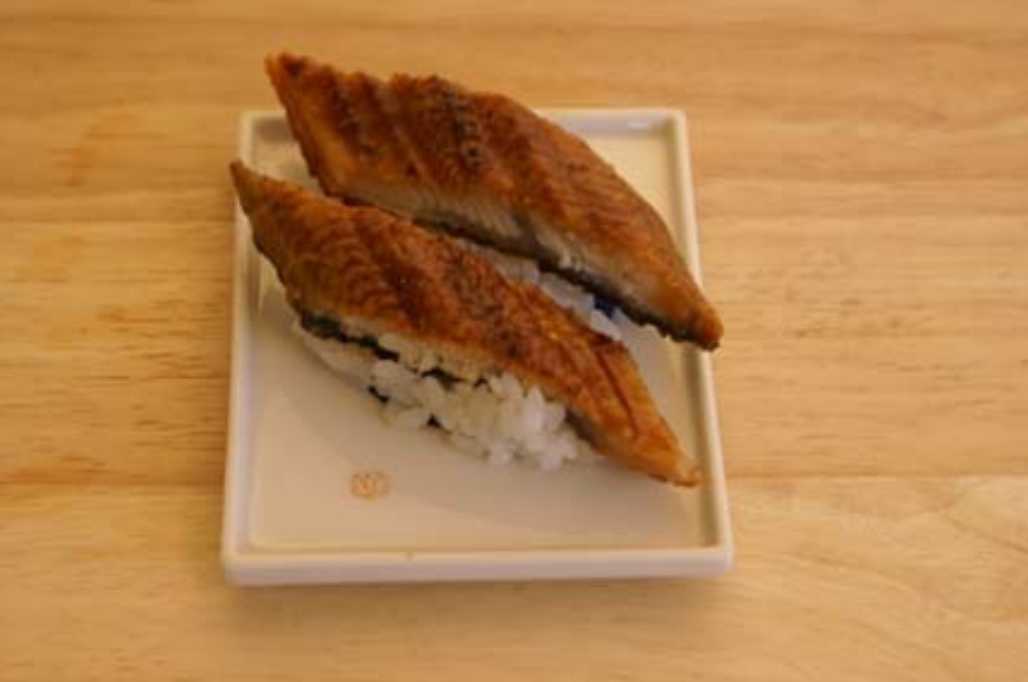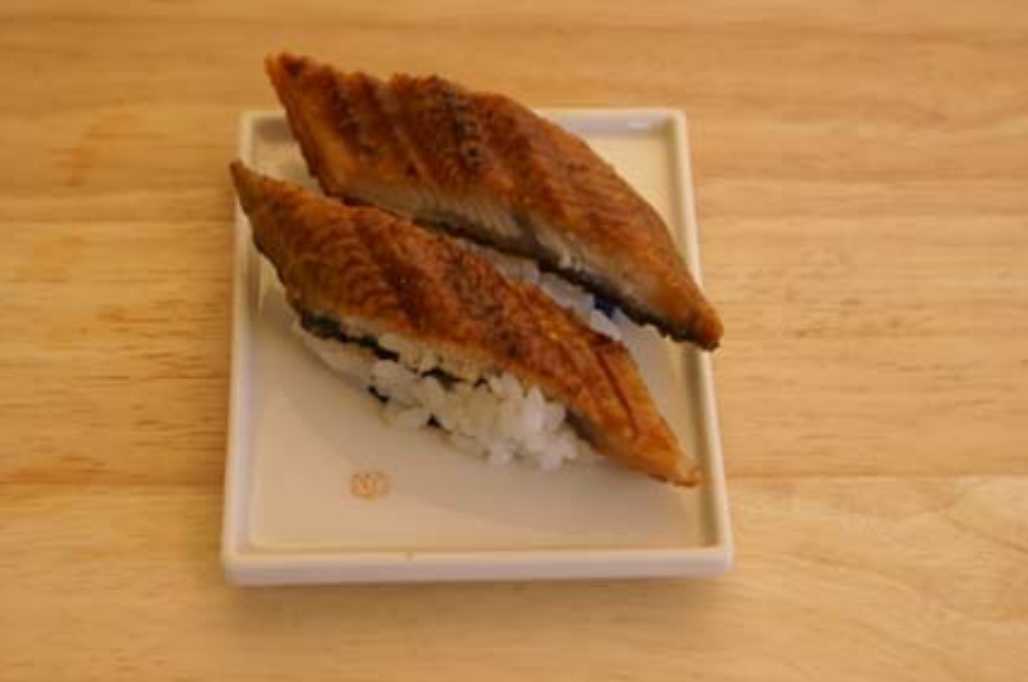 If you're looking to try the delicate and flavorful freshwater eel, it's time to make unagi sushi. This favorite among many Japanese food lovers is made from freshwater eel from Japanese, Philippine, and Korean rivers.
This recipe uses vacuum-packed and ready-to-cook eel found in many Asian grocery stores. You can enjoy this dish with soy sauce and wasabi dipping sauce.
22. Dragon Rolls
Dragon rolls can be expensive in Japanese restaurants, so making them at home is a great idea. The dish may seem challenging, but once you get the hang of it, you'll be surprised at the masterpiece that you have created.
The video even includes recommendations for where to buy kitchen tools and ingredients for the best sushi. It also shares a recipe for a fabulous sushi sauce.
Unagi or eel sushi is a special part of Japanese culture and cuisine. It's a delicacy enjoyed not only in Japan but also in many parts of the world.
The sushi in this recipe goes well with nitsume sauce, a concoction made from dashi or fish broth, rice vinegar, soy sauce, mirin, and sugar. You'll learn how to make a restaurant-quality sauce in this recipe.
24. Eel Sushi Roll
This video shows a detailed procedure on how to make eel sushi. The top shots are a great way of learning how to slice the eel and the vegetables, form the rice, layer the ingredients, and roll everything together.
It provides a serving suggestion to make it look like a restaurant-quality dish. It will inspire you to prepare sushi at home for your loved ones.
Packed marinated unagi is typical in Asian grocery stores and the supermarket frozen food section. There are several ways to prepare this Japanese delicacy, and sushi is one of the most famous methods.
This recipe shows how to transform a store-bought product into a restaurant-grade dish. The instructions are easy to follow, and you can buy most of the ingredients from the store or online.
26. Electrifying Eel Maki
This sushi recipe stands out from the rest with the inclusion of crab stick strips. The mesmerizing way the chef slices vegetables may make you want to whip out ingredients to make sushi at home.
The way the eel maki was presented can match any expensive restaurant sushi. It's great to know that you can have this Japanese specialty with ingredients that you can easily purchase.
Add some color to your Japanese dinner with this multicolored eel sushi recipe. The addition of finely chopped carrots and cucumber makes this dish a delight for the eyes and taste buds.
It also adds more nutrients to the sushi. Another great thing about this detailed tutorial is the tips on preparing sushi rice correctly, including the proper ratio of rice to vinegar.
28. Unagi Sushi Nigiri
The close-up shots of this tutorial video can make you want to have eel sushi for lunch or dinner. It reveals slicing techniques, including the proper angle to make the most of the freshwater unagi.
You'll be amazed at how neat, and efficient the preparation is and how easy preparing this dish at home. It ends with a fantastic blowtorch method to sear the eel.
28 Best Eel Sushi Recipes
Generally, eel sushi is an expensive item on most Japanese restaurant menus. Fortunately, you can make this delightful delicacy at home with ingredients you can buy from local Asian stores and big supermarkets. Use these 28 eel sushi recipes as your guide for a successful unagi sushi dish.
Directions
Choose your most-loved Eel sushi recipe.
Compile all the necessary ingredients.
In 20 minutes or less, get the recipe ready!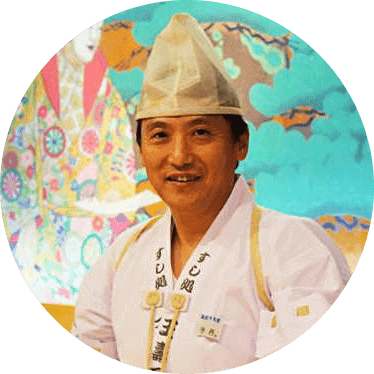 Hiroshi Nakamura, a Tokyo-born sushi chef turned US-based writer and critic, is the voice behind ichisushi.com, blending traditional sushi wisdom with modern insights.