Sushi is a classic Japanese cuisine that is popular all over the world. Sushi is little rice cakes seasoned with sweet vinegar and often topped with raw fish, seaweed, cooked egg, and vegetables.
As time has progressed, so has the sushi-making process, which now includes ingredients not included in the original sushi recipe.
One popular sushi recipe that we now have includes cucumber. This article will provide you with 20 cucumber sushi recipes that you will undoubtedly enjoy.
1. Cucumber wrap Philadelphia sushi roll
The Philadelphia roll is a type of sushi made with smoked salmon, cream cheese, and cucumber. These things are wrapped in a sheet of nori and sushi rice. This sushi roll is also called a Philly roll or a Japanese bagel roll.
In this cucumber sushi recipe, the nori is wrapped by the rice instead of the other way around, which is how every other sushi roll is made.
This is called an "inside-out sushi roll." Because they have smoked salmon and cream cheese, Philadelphia rolls have more calories than most sushi rolls.
Also known as kappamaki, cucumber sushi rolls are among the most popular sushi rolls. This recipe only used three ingredients – dried seaweed called nori, cucumber, and sushi rolls.
This recipe is perfect for vegans because this does not include meat and fish. One key ingredient for an ideal kappamaki is the Japanese cucumber which is seedless and has a less bitter taste than other cucumbers.
If you use other cucumbers other than the Japanese ones, remove the seeds to remove the bitter taste.
3. Cucumber wrap Philadelphia roll without rice and seaweed
This cucumber Philadelphia sushi roll is almost the same as recipe number two. Still, it does not include rice or seaweed.
Cucumber, smoked salmon, cream cheese, jalapeno, and onions are the main things in this recipe. Lemon zests are used to get rid of the fishy taste. This is a great keto recipe because it doesn't have rice.
Also called Gunkan or Gunkan Maki in Japanese, this sushi recipe is perfect for appetizers. Cucumber-wrapped sushi uses sliced cucumber to wrap around the sushi rice.
The toppings are usually salmon roe, hanachi, tuna, amaebi, eel, or sea urchin. Make sure the cucumber is thinly sliced so it will be easy to form around, and make slits at the end so you can interlock the tips.
You can use any topping that you want with this recipe.
5. Sushi rolls without the sushi rice
This recipe is good for you if you want sushi but don't want to wait for the rice to cook. This sushi recipe combines the delicious flavors of sushi-grade salmon and tuna with masago, avocado, cucumber, and imitation crab meat.
You just wrap all the ingredients in a sheet of toasted nori. Even though no sushi rice is involved, the bites are still light and look great, making them perfect for a party or other casual event.
From the name itself, this recipe involved stuffing the sushi ingredients into the large, cored cucumber. Use a large cucumber with a wide circumference to stuff more into it. You can pair any ingredients that you like with the sushi rice.
Avocados, carrots, red peppers, or any vegetable are perfect, especially if you are a vegetarian.
You can also make this rice-free, but it will be harder to keep the stuffing sticking together. This recipe comes with a spicy mayo dip that you will surely love.
7. Veggie sushi
As the name suggests, the ingredients for the veggie sushi are all vegetables. Some of the ingredients are carrots, cucumber, daikon, lettuce, crab stick, and avocado. Thin strips should be cut from the carrots, daikon, and cucumber.
Instead of using rice to wrap the fillings in this recipe, lettuce was used. The nori is the wrap that goes on top. This sushi with vegetables is great for both vegans and vegetarians.
This sushi recipe is made for health-conscious people on a gluten-free diet. This dish is easy to make and very colorful because of the assorted vegetables. It is best to use the large American cucumber here because it will produce wide slices.
For veggies, you have to cut them into long thin strips so they will not fall when rolled with the cucumber slices. For the sauce, seasoned cream cheese is blended well with the raw veggies.
9. Homemade vegetable sushi
This homemade vegetable sushi is another healthy recipe you can make at home.
Cucumber, sushi rice, and avocado are the main ingredients in this cucumber sushi recipe. Gomasio, a Japanese macrobiotic condiment made of sesame seeds, sea salt, and seaweed, is used to season the sushi rice.
Cut the cucumber into strips the same length as the nori. Simply wrap all ingredients in nori and roll it with the bamboo mat to ensure that everything sticks together. This is very easy to make, and the ingredients are readily available.
Sushi rolls made with cucumber and avocado are simple to prepare and the ideal starter for a barbeque party with friends. This dish wraps the sushi rice, avocado, and cucumber slices with nori, just like traditional sushi.
You can add a few crab meat or salmon pieces, but the two greens are the primary elements. This sushi is ideally served with teriyaki sauce or soy sauce.
11. Raw vegan California sushi rolls
This recipe for cauliflower rice sushi is so tasty and good for you. It seems strange to make sushi rolls without rice, but once you see how easy it is to make cauliflower rice, you'll love this easy, low-carb recipe.
This is raw vegan sushi, and it's also a vegan keto sushi recipe because it uses cauliflower rice instead of regular rice. This sushi without rice is delicious and comes with a creamy peanut butter sauce.
Spicy tuna cucumber sushi is another sushi recipe that you will enjoy. The main ingredients are tuna, sushi rice, jalapeno, avocado, pickled ginger, and radish. All of these are wrapped in thin slices of cucumber.
What makes this different from other cucumber wrap sushi is that the spicy mayo or cream cheese is spread evenly on the base of the wrap to balance out the flavor.
You can also use Greek yogurt or Neufchatel instead of cream cheese if you want a tangier taste.
13. Basic vegetable sushi
Let's make some simple vegetable sushi at home! The sushi rice, seasoned with rice vinegar, organic sugar, and salt, is the first ingredient in this dish.
Fillings can be any vegetable you want, but avocado, cucumber, and carrots will suffice if you're in a hurry and don't have any other ingredients.
Cut all of the vegetables into small strips to be easy to roll later. This is ideal if you want to make healthy and simple snacks or appetizers for your family.
This recipe for sushi can be a snack or a starter. These cucumber rolls are great for lunch, dinner, or even parties because they only have a few simple ingredients and flavors.
This dish is also an excellent choice for vegetarian or vegan diets because all you need is rice and cucumber. Since you'll be wrapping the rolls in nori, you'll need the bamboo mat.
Roll it into a perfect cylinder before cutting it into circles. You need to cut the cucumber rolls into three long strips of all the same length. This recipe for cucumber sushi goes well with sauces like hoisin, soy sauce, or sriracha.
15. Raw Paleo Vegan Avocado Cucumber Sushi Rolls
These raw vegan avocado cucumber sushi rolls are high in vitamins, minerals, antioxidants, fiber, and live enzymes. Aside from being extremely nutritious, these cucumber sushi rolls are also low in carbs, delicious, and visually appealing.
The best thing about this is that you can make this sushi in under 10 minutes. Another distinction between this recipe and the others is the addition of green leafy vegetables such as kale or spinach to the mashed avocado.
The mixture is sprinkled with fresh lemon juice and a dash of salt, cumin powder, and cayenne powder to add flavor.
This sushi recipe is suitable for people who care about their health because it is healthy and low in fat. Fresh salmon filet without the skin is used for the filling of the Salmon-Cucumber Sushi Rolls.
Cut the salmon into very thin slices that run the length of the fish. Sushi rice, sushi ginger, and wasabi wrapped in nori go with the salmon. Dip it in soy tuna with wasabi or easy miso soup to fully enjoy the taste.
Depending on your preferences, you can also add whatever vegetables and seafood you want. You can add meat like roasted beef or fried chicken strips for more flavor.
17. Keto cooked spicy tuna roll
This keto spicy tuna roll recipe is so easy to make, cheap, and delicious that you'll want to make it all the time. For the rice, this recipe calls for cauliflower rice with Koski, but you can also use fresh cauliflower and rice it yourself.
You can cook cauliflower rice with olive oil, avocado oil, or coconut oil. Cauliflower has a lot of water, so make sure to cook it until all the water is gone and dry. Cucumber, avocado, Nori seaweed sheet, and toasted seeds make sushi.
It's easy to make sushi boats. In most sushi cucumber recipes, the cucumber is cut into a round shape.
On the other hand, this recipe uses only half of a cucumber, so it looks like a boat. In this recipe, too, tuna is cooked in water that has been boiled with lemon.
Once you've cut the cucumber in half, take the seeds from the middle to make room for the sushi filling. This recipe for sushi doesn't use rice. The filling is made of mashed avocado, mayonnaise, and salt this recipe.
Cooked tuna, pieces of pickled ginger, a small amount of spicy mayo, sushi sauce, and sesame seeds are used as a topping.
19. Mango Avocado Cucumber Sushi Rolls
Fully Raw Mango Avocado Cucumber Rainbow Sushi Rolls is the name of this recipe, which pretty much tells you what you need to make this dish. This recipe has a lot of colors, so your friends and family will like it.
This easy-to-make finger food is fun and can be a savory dinner for anyone who wants sushi. To make sushi wraps, you only need six to seven things, like fresh nori wraps.
For the rice, this recipe uses raw cauliflower that has been shredded or diced into small pieces.
This recipe is just like the sushi boat that uses salmon, but this time it uses shrimp instead. The shrimp sits in a mixture of soy sauce, rice wine vinegar, and sesame oil in the fridge for 15 minutes.
When the marination is done, cook the shrimp until it is done. This recipe also used rice as one of the fillings. The cooked shrimp and the seasoned avocado, sriracha mayo, and seaweeds will be used as toppings placed on top of the rice.
The marinated sushi shrimp boat is a great choice for lunch or dinner because it is the same as a complete meal.
This sushi recipe is like the Korean kimbap. Still, it has fewer ingredients and is easier to make, and tastes better. Because of the mayonnaise, the taste is delicious and refreshing.
Bacon is already enticing; how much more so when adding cucumber and avocado strips? You can put this recipe for sushi in the fridge and eat it the next day. Don't use a microwave, or the seaweed will get soggy.
Summary
Everyone enjoys eating sushi. It's the type of dish where you can get creative and make your own version that suits your preferences. Cucumber appears in almost all sushi recipes, whether all-vegetable or meat and seafood.
Cucumber sushi recipes come in various flavors and colors. Still, the bottom line is that cucumber sushi is healthy and delicious. The sushi recipes listed above can be made whenever you crave it.
22 Best Cucumber Sushi Recipes
Directions
Select your favorite recipe.
Organize all the required ingredients.
Prep a Cucumber Sushi Recipes in 30 minutes or less!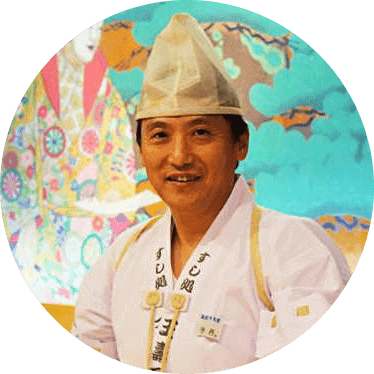 Hiroshi Nakamura, a Tokyo-born sushi chef turned US-based writer and critic, is the voice behind ichisushi.com, blending traditional sushi wisdom with modern insights.