One of the most popular recipes in Japanese cuisine is chicken tempura roll. However, ordering it in a restaurant will cost you money. So, how about making it yourself? What else do you need when you have the correct instructions? For sushi fans, here are 20 chicken tempura sushi recipes you can try.
These sushi rolls are tasty and easier to prepare than you would imagine. Making these chicken tempura rolls requires sticky rice and an inexpensive bamboo mat. This delectable food will blow away your guests.
This recipe makes three dozen slices. It will only take you one hour to prepare this dish. You have to bake the chicken according to the package directions.
In addition, when cooking sushi rice, adding sugar to salted water enhances the flavor dramatically. You can prepare it six hours ahead. Keep it covered with a moist towel at room temperature.
2. Chicken Tempura Maki
Are you hesitating to make sushi at home? Then this recipe is for you. It is simple and inexpensive to produce. It features a delicious tempura maki with crispy chicken and creamy avocado.
If you or your family members are allergic to shellfish, this sushi with chicken can satisfy your tummy. The clean and delicious flavors of this sushi will make a hit.
Before coating the chicken pieces with panko, dip them in the batter. Fry the chicken until it's golden brown on the outside.
To make the rolls more appealing, sprinkle sesame seeds over the rice. Gently press the seeds into the rice with the palm of your hand. Divide the maki roll into 6-8 equal pieces. If preferred, you can serve it with wasabi, ginger, or soy sauce.
This recipe will allow you to make a dish with natural Japanese flavors. You don't have to splurge on money to enjoy good tempura sushi rolls. It's simple to make, and the results are delicious! This dish is similar to the store-bought version. But now, you'll prepare it yourself.
These rolls are a tasty twist on traditional chicken wraps. Sushi rice, chicken tenders, and stir-fry ingredients make these tempura rolls. You can serve them any day of the week.
4. Creamy Chicken Tempura Rolls
This roll is another easy-to-follow, creamy, and delicious recipe. It's yummy, and the ingredients are appealing. What do you think of teriyaki chicken pieces coated in cream cheese? Isn't it mouth-watering?
Roll the chicken slices carefully to avoid smashing them. Squeeze lightly but firmly. Because you don't overfill it with fillings, this will form a tight roll.
It will take 5-6 minutes to fry the tempura batter-coated roll. Every 30 seconds, keep turning the roll. This technique will keep the roll from getting too hot. You will get an excellent, golden-brown roll.
Using a sashimi knife, slice the roll. After that, drizzle it with your favorite sauce, and you're done!
Do you have a family member who doesn't eat sushi? This may be because of the smell or taste. Don't worry! This recipe is designed for those who do not eat sushi. They'll surely enjoy it, as will any serious sushi eater.
Immediately prepare this recipe and spend quality time with them. You will not get embarrassed.
You'll probably see the directions and ingredient list a lot. Do not freak out. This recipe is simple to prepare. You can make about 2-3 sushi rolls with this recipe.
You may customize and serve your sushi. To prepare the sauce, combine Japanese mayo and sriracha. Spread over the top. Finish with a pinch of black cumin. It's a famous flavoring agent in many food preparations. Thus, you can't go wrong with this spicy tempura roll.
6. Spicy Chicken Tempura Roll
Filleting a chicken breast into three pieces is required for this recipe. Use rice vinegar to marinate the chicken and other spices. Refrigerate the marinated chicken for about 10 minutes.
Prepare the tempura batter by whisking together the egg, flour, baking powder, and salt. Make sure the chicken slices are well covered.
Cook the chicken in a hot skillet until golden brown and crispy. Carrots, mayo, and sriracha make the dipping sauce. To achieve the proper level of spiciness, use sriracha.
This recipe makes a large roll filled with romaine lettuce. The slices can also be thickened. As a finishing touch, drizzle with eel sauce. You can also sprinkle roasted sesame seeds on top.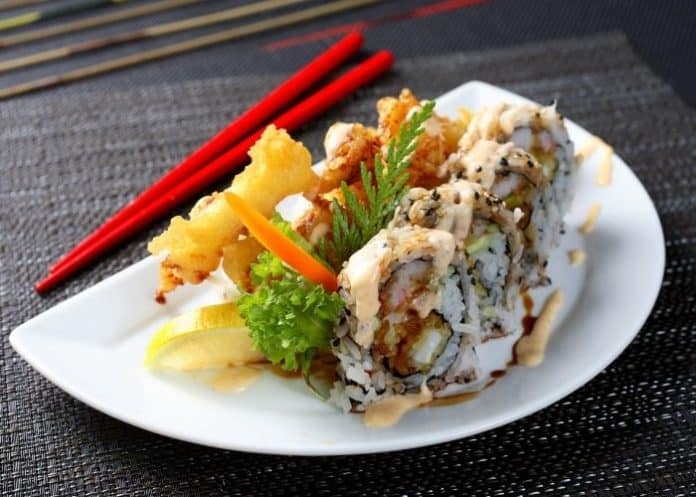 Have you heard of toriten? It simply means "tempura." How would you like to taste it in a great sushi roll? Well, that is what you get with this tempura roll. This recipe is a little tough to make. It has a lot of steps to follow. But you'll surely enjoy the result.
You can make this tempura roll with just a few ingredients. It's commonly prepared with a chicken mixture. The mixture consists of red pepper, orange strips, and green onion.
8. Chicken Tempura Roll
This dish is yet another straightforward recipe. Naturally, it would help if you first made the sushi rice. Allow it to cool before adding the remaining ingredients.
This chicken dish is flavorful. You'll need salt, red chili pepper, and ginger garlic paste to marinade. Dust the chicken with flour, then dip it in the egg and coat it in bread crumbs. Fry the chicken slices till golden brown for an authentic tempura flavor.
Spread rice evenly on nori sheets, just like traditional sushi rolls. Next, the fried chicken tempura will be placed on the rice layer. Combine grated carrot and sriracha mayonnaise.
Sliced avocado and cucumber are among the additional fillings. This delightful dish goes well with soy sauce or wasabi.
The crunchy richness of toriten meets the bite-sized sushi flavor in this recipe. It will honestly give you a never-to-forget experience. Plus, the cooked meat ensures your health and safety.
This dish turns the chicken into sushi-style rolls in just about five minutes. It has a few steps because you'll need to make the tempura chicken first. But the results are magnificent and well worth your effort.
10. Chicken Tempura Sushi Roll
You'll need chicken breast sliced into small pieces for this delectable meal. Coat the chicken slices in flour. Flour them until they're completely covered. Chicken is ideal since it cooks quickly and remains soft when fried in batter.
Whisked eggs and bread crumbs are required ingredients for the batter. Each chicken strip should be dipped in the egg and bread crumbs. Then cook till golden brown on both sides.
This is a medium-sized roll. The roll can alternatively be cut into slightly thicker slices. You should add this delectable roll to your repertoire.
Sushi doesn't have to be difficult to make at home. With this recipe, you can easily prepare one serving size. It's simply putting everything together once you've created the sushi rice and eel sauce.
You'll need cream cheese, thinly sliced baked chicken, and asparagus for these rolls. You can also add crab, avocado, and other ingredients.
You have to toss your sushi rolls in tempura batter. Fry them until they are golden brown on the outside. The crunchiness provides the most delicious flavor.
12. Chicken Sushi Tempura Roll
To make this tasty recipe, you'll need roughly 200 grams of chicken strips. Salt, red chili powder, garlic powder, and crushed black pepper are sprinkled over the top. Lemon juice will help to mask the odor of chicken.
This recipe calls for a particular type of sushi rice. It would help if you stirred it while cooking. Other seasonings like salt, sesame seeds, black pepper, and garlic powder are also included. White vinegar will also be added.
Extra virgin coconut oil should be used to grease the cling wrap's surface. This dish can be prepared in two ways. You can make it with nori sheets. A roll can also be made without the use of nori sheets. Spring onion, avocado, cucumber, and carrots will be fillings.
This chicken roll is an excellent illustration of how you can combine classic Japanese foods into one. This dish is ideal for sushi beginners who are hesitant to eat raw fish.
You'll mainly need chicken breasts for this dish. Before frying the chicken slices, you'll dip them in three bowls: flour, whisked egg, and Panko crumbs. Cover the entire piece at all times.
You're almost ready to roll once the chicken has been cooked and the tempura crumbs have been prepared. Press the crumbs into the rice with your rolling mat. This will keep the crumbs from falling apart as you slice the roll.
14. Sushi Roll Chicken Breast Tempura
This tempura sushi is an inside-out roll. You'll adore it because the preparation and ingredients are so distinctive.
You will, however, require the rice base, as with any other type of sushi. You will need to make sushi rice. Over the layer, sprinkle sesame seeds.
The tempura batter is used to coat the chicken slices. The chicken slices are dipped in whisked egg, flour, and bread crumbs to make this dish. It's excellent and simple to make.
Flip the layer over so that the nori sheet is facing up. Place some mayonnaise in the middle of the sheet. Arrange asparagus and chicken pieces on top. It's not as prevalent as some of the other rolls offered in restaurants.
Are you tired of sushi rolls? Here is a recipe for homemade chicken nuggets with a twist. These tempura-battered chicken nuggets come in a sushi bowl.
Cooking time is 20 minutes, and prep time is 5 minutes. You'll have to bake the chicken nuggets for 15 minutes or until golden brown on an oven pan.
When everything is done, fill serving bowls halfway with rice. Chicken nuggets, carrots, and cucumber go on top. Serve with a drizzle of sauce and green onion ringlets. This recipe makes four servings.
16. Chef Randz' Chicken Tempura Rolls
The main filling for the rolls in this meal is chicken tempura. Your tempura batter can be made according to your specifications. Tempura mix is offered at certain specialty stores. But you can make it using regular all-purpose flour.
The sushi rice used in this recipe is pink in hue. Food coloring is added in addition to rice vinegar. This is commonly done with beet juice. On top of the rice, thin, broad slices of avocado create a lovely contrast.
The addition of cream cheese additionally enhances the flavor of the chicken. To finish, drizzle with sauce and sprinkle with sesame seeds.
This sushi tempura roll is unique in that it comes with broth. You'll need teriyaki chicken from Bold Head. This dish will take you on an authentic culinary excursion. It evokes the old teriyaki style of Japanese chefs.
Each slice is brimming with an Asian-inspired taste. It has distinct overtones of garlic, ginger, and a dash of brown sugar. Cheese and fried egg also enhance the flavor.
For the broth, you'll need bonito flakes and mirin. Allow 15 minutes for the broth to soak before straining the liquid and removing the bonito flakes and seaweed.
18. Spicy Chicken Tempura Roll
This meal is a straightforward tempura recipe. It's simple enough for a beginner to accomplish at home. As is customary, begin with the rice base for your rolls. To add extra flavor, sprinkle paprika on top.
As fillers, long cucumber slices as long as the nori sheet is utilized. The mayo gives the chicken tempura a creamy flavor. For a spicy kick, add some red chili paste. Form the mixture into a roll, slice it, and it's ready to eat.
19. Chicken Tempura Futomaki
As the name implies, this futomaki meal is fat-rolled sushi with a couple of fillings. Chili mayonnaise is put in the center of the sushi rice. To improve the flavor, you can add teriyaki sauce and sesame seeds.
The stuffing consists of thick avocado chunks and tempura chicken. It's quick and easy to make, yet delicious and filling.
20 Best Chicken Tempura Sushi Recipes
Do you love chicken tempura? What about using it as a sushi filling? Explore the tastes of tempura when paired with other ingredients. Try the 20 chicken tempura sushi recipes given above. You'll never run out of delectable recipes to serve your guests. These tasty delicacies make excellent gifts as well.
Directions
Select your favorite recipe.
Organize all the required ingredients.
Prep a Chicken Tempura Sushi Recipe in 30 minutes or less!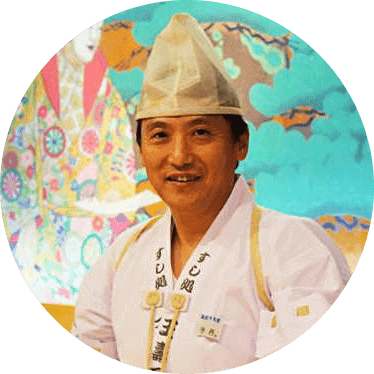 Hiroshi Nakamura, a Tokyo-born sushi chef turned US-based writer and critic, is the voice behind ichisushi.com, blending traditional sushi wisdom with modern insights.