A lot of people prefer chicken over other types of meat. This can be true in several dishes, including sushi. Whether it be because of diet or allergy, chicken meat is tasty nonetheless.
If you want to try new recipes that incorporate chicken, here are 27 chicken sushi recipes you can try.
If you want to start getting into more uncomplicated chicken sushi recipes, this one is perfect for you. Of course, it can be pretty challenging if you are a first-timer, but this recipe is really quick and easy.
Plus, this recipe guides you on what you should do and explains it in detail and easily. This recipe also includes essential ingredients for sushi, so it's easy to find.
2. Deep-Fried Chicken Sushi Roll
Some people like fried sushi more than the traditional way of making it. If you happen to be one of them, or if you want to try new things, you can try out this recipe.
This recipe incorporates chicken, sushi rice, avocado, cucumber, potato starch, seaweed paper, roasted sesame seeds, unagi sauce, spicy mayo sauce, almond powder, and other ingredients add flavor, including spices.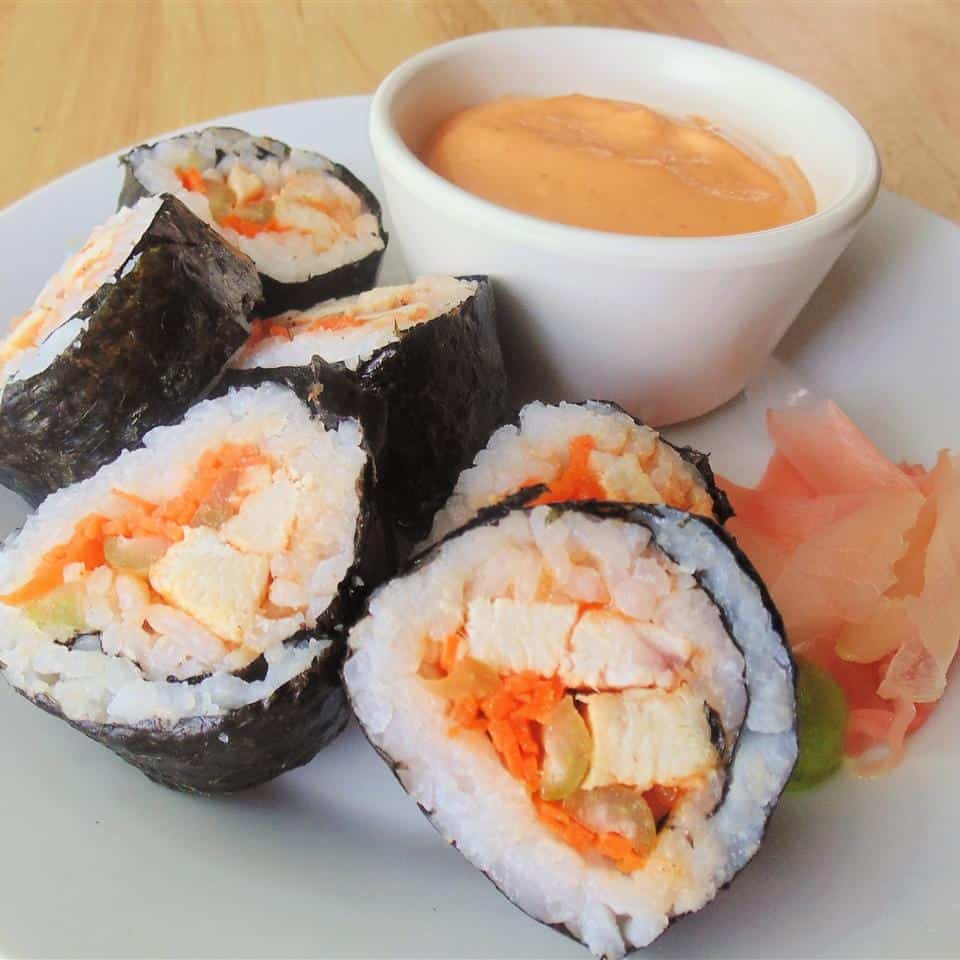 Buffalo chicken has been a hit dish recently and has been something many people look forward to. This recipe takes the famous buffalo chicken to a whole new level by combining it with the flavors of sushi.
This recipe would satisfy both the sushi and buffalo wings cravings you may have. This is a perfect recipe for those who want a quick fix, whether it be breakfast, lunch, or dinner.
4. Chicken Katsu Sushi
You may have already tried katsu at your favorite restaurant. If you love katsu, then you would also love this recipe. Every bite offers you the katsu goodness and the soft sushi rice filled with flavor.
Apart from having a good slice of sushi, this recipe is visually appealing, adding even more goodness to every bite. This recipe is relatively easy, and you'll be surprised!
Chicken Teriyaki is one of the most popular chicken dishes worldwide. Imagine getting that rich flavor along with one of the best Japanese dishes globally. This recipe might be pretty complicated if you are still new to cooking.
Nevertheless, the recipe provides step-by-step instructions, making it easier for you. After cooking, your efforts will surely be worth it.
6. Spicy Chicken Katsu Sushi Roll
For some people, sushi is better off spicy. This recipe offers another chicken katsu sushi roll, but this time, spicy! So, if you like spicy dishes and prefer spicy sushi over regular ones, this recipe might be perfect.
This recipe offers step-by-step instructions, so you won't have to worry about making sushi. Ths spiciness complements well with the flavors. You are going to love this one.
This one is for cheese lovers all over the world. If you haven't tried baked sushi before, this may be an excellent time to try it. Soft, creamy, cheesy, and meaty could be a game-changer for your event menu or even casual snacks.
This recipe is great when you invite people over as it is a warm meal sure to fill the stomachs and capture the hearts of your visitors.
8. Chicken Sushi Roll
This recipe incorporates sushi rice, Sushi nori, Philadelphia cheese, sesame seeds, cucumber, salad, the star of the show, crispy chicken, and corn flakes.
The corn flakes can be considered the cherry on top of this recipe as it highlights the crunchiness of the chicken, beautifully complementing the soft rice and juicy cucumber.
The cheese also binds them into a sound bite, which is superb and tasty.
Do you happen to like your sushi sweet and spicy? This recipe is the one you might be looking for. Combining sweet chili sauce's natural spiciness and sweetness elevates the typical sushi into something new and fresh.
The vegetables and the sushi rice also work well in delivering good sushi to your plate. If you want something sweet and spicy, try this recipe out.
10. Spicy Karaage Roll
This recipe uses chicken karaage as fillings and various ingredients that you might want to add to your roll. If you are looking for something quick that you can cook and is craving karaage, you can try this recipe out.
The saltiness and chicken flavor are good balancing ingredients to the sushi rice, making every bite worth it.
This recipe is perfect for those who are not in the mood for raw fish. A practical substitute for raw fish is cooked chicken, which you may want to try.
This recipe is easy to follow, and the main ingredients include chicken breast, teriyaki sauce, nori sheets, carrots, green peppers, and sushi rice. The good crunch of every bite with the teriyaki sauce is just perfect.
12. Sushi Burritos
This might be one of the most excellent crossovers in the food industry. Two of the best and most popular dishes from different parts of the world are combined in this recipe which you should not miss out on.
Apart from being a relatively easy recipe, making sushi burritos is also very customizable, as you can personalize whatever you want to go with your sushi burrito.
These sushi balls are set out to make your day. If you are craving some chicken teriyaki and sushi, this is one of the best choices.
Getting your mouth filled with sushi rice balls and getting your taste buds surprised with chicken teriyaki filling might be what you are looking for today. Perhaps you want that type of taste surprise, and you might want to try this recipe.
14. Fried Sushi Rolls
Fried sushi is popular because of the added flavor brought by deep-frying the rolls. The extra crunch and hotness of the dish are something people like in their meals, and in this case, sushi.
This recipe offers freedom in choosing the type of meat you want to incorporate into your roll. So, if you are craving chicken, you can have chicken as the roll filling.
A lot of sushi places always offer mayo in their serving. Many recipes also have mayo incorporated into their dishes. This tells us something about mayo; it's a perfect partner for sushi.
And so, having mayo and chicken together can spark magic inside your mouth. If you enjoy sushi with mayo, you can try making this recipe and satisfy your cravings.
16. Crispy Chicken Sushi
This recipe is easy, and the ingredients are very easy to find in groceries and even in your local stores. Crispy chicken sushi is not only famous for adults but also for kids. In fact, this recipe is specially made to be packed as lunch for kids.
This recipe is not only tasty but also healthy. This is a quick fix both for children and for yourself.
California roll might be of the top three most popular types of sushi served worldwide. You would assume that it would be challenging and complex, but this recipe is actually easy and tasty.
This recipe puts together hot chicken meat, avocado, sriracha mayonnaise, sesame seeds, and of course, sushi rice. The smooth avocado and the mayo, chicken, and sushi rice work very well together.
18. Creamy Chicken Tempura Rolls
Who said savory dishes could not be creamy? This recipe highlights the goodness of creamy sushi! Another thing about this sushi roll is that it has chicken tempura rolls.
If you happen to be craving tempura, this is the recipe. The creamy goodness enhances your meal experience. Meaty and creamy? This recipe has both of these delicious characteristics, so you don't want to miss trying this.
Katsu is one of the most well-known dishes served in Japanese restaurants all over the world. This recipe takes chicken katsu and California-style sushi roll and puts them together into this mouth-watering roll.
This roll is made better by a dipping sauce! Who doesn't love dipping their sushi slice into a flavor-rich sauce? Dipping the bite in the sauce will surely complete this fantastic meal; it's the cherry on top!
20. Chicken Katsu Roll
Here's another recipe that highlights chicken katsu. This recipe makes sure that your dish is healthy and visually pleasing. With a side of wasabi and drizzled with sauce, this can be what you are looking for.
The crunch from chicken katsu and the softness and savory flavor of the sushi rice make a perfect combo. Of course, completing the bite is a little bit of wasabi and the drizzled sauce!
This recipe features a unique spice called arugula, which has a fresh, bitter, tart, and peppery flavor which complements well with other main ingredients.
Some main components include chicken breast, teriyaki marinade, sushi rice, and cream cheese. The cream cheese also contributes positively to making each bite creamy.
This roll is creamy, peppery, meaty, and delicious. The sushi rice wraps them together perfectly.
22. Chicken Tempura Maki
If you are craving some chicken tempura, this recipe is for you. There is no need to worry about the ingredients used because they are relatively cheap and easy to find.
This recipe incorporates tempura chicken, chicken meat, avocado, sushi rice, bread crumbs, and other ingredients to add and enhance flavor.
The flavor combinations in this dish will make you feel as if you are eating in a comfortable but fancy restaurant.
This recipe offers an aesthetic and delicious result. This means that this recipe is not only delicious but also very pleasing to look at. They say that the eyes are the first to taste the dish, and this sushi roll will not disappoint your vision.
So, if you are looking for a recipe to add to your menu for an event, you might want to include this one.
24. Easy Korean Chicken Sushi
If you are leaning toward the flavors of Korea, this recipe can be the one for you. This chicken sushi recipe incorporates various ingredients, including egg, slices of carrots, green veggie slices, sushi rice, and of course, chicken.
You don't have to worry about messing up because the recipe is explained correctly, so if you get all things done as instructed, there should be no problem with the process and taste.
Yes, there is also a keto-friendly version out of the many chicken sushi roll recipes. This is good news for people following a strict diet and maintaining a specific weight range.
This recipe substitute sushi rice with cucumber strips reducing carbs and sugar. So, if you are craving chicken sushi but do not want to break your keto diet, there is a recipe solution for you!
26. Indian Style Chicken Sushi
If you are craving something slightly different from the usual type of sushi, you can try this Indian-style chicken sushi recipe.
There is no need to worry about doing this for the first time as the recipe is very educational and easy to understand. In cooking, it's always encouraged to try something new, so if you haven't tried this yet, this may be your sign to do so.
On the other hand, this recipe takes you to a place of sandwiches. You would need to prepare white bread, kosher dill pickle chips, American cheese, and roasted chicken breast for this recipe.
These ingredients complement each other well, like fish and the ocean. This recipe is also best if you prefer bread to sushi rice. The meaty flavor of roasted chicken bread, the crunch of the chips, and a sheet of cheesy bread scream perfection.
27 Best Chicken Sushi Recipes
These 27 chicken sushi recipes will give you a lot of knowledge and experience in cooking chicken sushi. As you start, it can be pretty challenging, but you learn and gain more knowledge as you try and try more things.
Indeed, one of the joys of cooking is learning and seeing people happy because of your dish.
Directions
Choose your most-loved chicken sushi recipe.
Compile all the necessary ingredients.
In 20 minutes or less, get the recipe ready!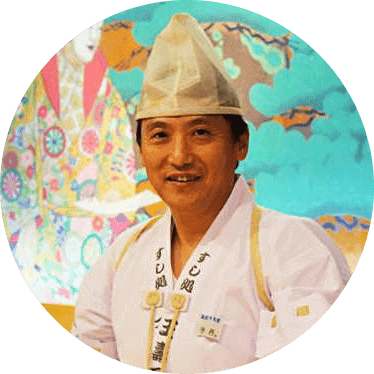 Hiroshi Nakamura, a Tokyo-born sushi chef turned US-based writer and critic, is the voice behind ichisushi.com, blending traditional sushi wisdom with modern insights.