Want to know how to make a Boston sushi roll? Well, you came into the right place.
Sushi has been a big part of the contemporary food culture, along with the upward trend for the Boston sushi roll. If you want to know how to make a delicious Boston sushi roll, you can choose one of our 21 Boston sushi roll recipes.
What is Boston Sushi?
Boston sushi (also called shrimp maki or shrimp tempura roll in some varieties) is a type of sushi roll originating in the Eastern part of the USA. It differentiates itself from other types of sushi, such as California maki, with its ingredients.
Boston sushi is made with vinegared sushi rice filled with shrimp, cucumber, and avocado and rolled with a dried seaweed sheet or commonly known as nori.
The shrimp inside the sushi is commonly poached, but certain fried varieties are also available, called shrimp tempura rolls. Other additives such as masago and tobiko or capelin egg roe are added to the rice.
Like the California rolls, Boston sushi is an inside-out type which means the rice is commonly on top rather than the dried nori sheet. However, varieties of Boston sushi rolls with double nori sheets are also available and are called shrimp maki or Boston maki.
This step-by-step Boston sushi rolls perfect recipe by Make my Sushi is ideal for beginners. It goes through the standard ingredients of the Boston roll without any additives.
You can make approximately eight slices with the measurements and ingredients given on their website, perfect for one to two servings. The recipe also provided an alternative option for Boston maki roll if you want to double up on the tasty nori sheets.
2. Boston Sushi Roll Recipe by Masala Herb
This quick and easy video recipe by Masala Herb will surely bring you a creamy and tasty Boston sushi roll. The tutorial is pretty quick and easy to follow, so beginners don't need to worry.
Compared to written recipes, a video tutorial will make the cooking process more manageable, especially if you don't know enough about using the sushi mat. The recipe is the standard Boston sushi recipe without much added.
Crunchy and delicious, that's how you can describe this fantastic Boston sushi roll recipe from How Daily user Victoria. As an alternative to a boiled or poached shrimp, she decided to add a crisper twist and made the shrimp into tempura.
The combination of soft avocado and rice and the crunch of shrimp and cucumber will surely make your taste buds happy. Add the nori sheet and masago, and you are in for a beautiful treat.
4. Shrimp Dragon Roll by Just One Cookbook
This shrimp sushi roll recipe is a deconstructed version of the Boston rolls. The avocado is moved to the top of the sushi roll rather than a filling, while the shrimp is deep-fried and not poached.
The dish looks much nicer and more delicate but is also more challenging to do. You will surely love this recipe if you want to impress and serve a fancier and more gourmet version of the Boston sushi roll.
You will surely love this traditional Boston roll sushi recipe by Chef Jar. It's not complicated, and they simplified the directions, so it's great for beginners looking forward to getting their hands in sushi making.
Other than the standard cucumber, poached shrimp, and creamy avocado, there isn't much added other than the tobiko as the alternative to the masago roe eggs. The recipe is perfect for both beginners and professionals alike.
6. Boston Roll by Kitchen Island
This Boston roll by Kitchen Island is a step up from other recipes. Rather than having only shrimp as a filling, their roll is filled with crab meat and topped with sesame seeds and salmon.
This is a more costly but more flavorful sushi roll recipe. If you are a big fan of seafood, you should give it a try as you will surely love the combination of ingredients in this dish.
This in-depth Boston roll sushi recipe by Izzy Cooking will surely make your cooking process more manageable. The article will work you in the step-by-step process of making sushi along with tricks and trips to make it more delicious.
She even gave directions on choosing the best ingredients to ensure that your Boston rolls are high-quality and made with the freshest ingredients. You will indeed have the creamiest and tastiest sushi rolls with this recipe.
8. How to Make Boston Sushi Roll by Healthy Recipes Idea
This recipe calls for a much creamier Japanese taste by incorporating mayonnaise and teriyaki sauce in the sushi roll. The Boston roll has more shrimp flavor as a shrimp topping is also added along with a layer of tobiko and teriyaki sauce.
The appearance of the roll is fancier, perfect for a date night or fine-dining feel inside the home. However, the recipe is easy to follow and requires no more than two ingredients than the standard original recipe.
Cheesy, crunchy, and creamy, that's how you can describe these incredible shrimp tempura rolls recipes. The shrimp is not poached but instead deeply fried to have a very crunchy texture. Certain additions to the fillings, such as cream cheese, elevate the tastiness of the dish.
Then, the whole roll is soaked into a tempura batter and then deep-fried until golden brown. The crispy Boston shrimp tempura roll is an excellent accompaniment to the spicy mayo topping.
10. Shrimp Tempura Sushi Roll by Chef Hiroyuki Terada
This crispy and flavorful recipe will surely fill your sushi cravings. Rather than the original poached shrimp in the standard Boston sushi roll, Chef Hiroyuki Terada elevates the dish's crunchiness by deep frying the shrimp with a tempura batter, creating a shrimp tempura sushi roll.
The filling is entirely unchanged; you will still have the avocado's creaminess and the cucumber's refreshing taste.
This recipe takes the crunchiness of the sushi to a whole new level. The shrimp is not the only fried ingredient but the entire roll.
Rather than the standard masago or tobiko, the crunchy tempura roll recipe is topped with panko breadcrumbs for a very crispy surface. Combining a crunchy exterior and a soft, juicy, and creamy interior will surely make your mouth water and your taste buds dance.
12. Shrimp Tempura Sushi Rolls with Spicy Mayo by Rachel Finley
These crispy and spicy tempura shrimp rolls will surely be your next favorite sushi dish. The crisp seafood taste and spicy mayo, carrots, and cucumber are the perfect ingredients for a hearty and flavorful meal.
The addition of a nori sheet will surely make you want more, so try out this quick and easy recipe. The recipe has a short prep and cooking time, perfect for beginners that want an additional twist to their Boston sushi rolls.
This quick and easy Boston roll sushi recipe by The Eat Down is perfect for those looking for a quick bite of the shrimp and creamy goodness of the sushi roll. The guide contains the original and standard recipe for the Boston Sushi Roll, so if you want to taste the authentic version, be sure to check this recipe out.
14. Monster Shrimp Roll by Chef Hiroyuki Terada
This Monster Shrimp Roll recipe by Chef Hiroyuki Terada is genuinely packed with shrimp flavor. He combined the two in just one roll rather than the variety between poached or dried shrimp. You will taste the combo between a boiled shrimp and tempura, so you don't have to choose between the two.
If you are a fan of shrimp, what are you waiting for? Try out this recipe and taste it for yourself.
This quick and easy shrimp maki recipe is perfect for those who do not want any roe in their Boston sushi roll. Rather than the traditional inside-out sushi roll, this recipe calls out for a shrimp maki, a perfect accompaniment with soy sauce, wasabi, and pickled ginger.
The maki is filled with steamed shrimp, carrots, cucumber, and avocado slices. You will genuinely taste the cacophony of flavors with this recipe.
16. Crispy Shrimp Tempura Maki Roll by Inan Dogru
This crispy and cheesy variation by Inan Dogru to the original Boston sushi roll recipe will satisfy your sushi cravings. The sushi roll is accompanied by crispy tempura coated with panko breadcrumbs, sesame seeds, cream cheese, and avocado.
The roll is creamy, crunchy, and juicy from the exterior to the fillings. It's not topped with tobiko or masago but with roasted black sesame seed for a smoky flavor.
This easy and in-depth tutorial and the recipe are excellent for beginners and professionals alike. The author, Cassie Marshall, gave many information and varieties you can choose to make Boston sushi roll.
The recipe might be standard, but it's an in-depth tutorial for newbies looking to explore the beautiful sushi-making world. Check out this recipe if you are confused about where to start.
18. Spicy Shrimp Sushi Roll by My Sushi Daddy
This shrimp sushi roll recipe calls for a little bit of spice. The poached shrimp is mixed with the hot and spicy sriracha sauce for more kick and tangy flavor and Japanese mayo for a creamier and richer taste.
Rather than on top of the roll, the masago is placed inside as a filling along with avocado. If you want your Boston sushi roll with more kick, you should try out this hot and spicy recipe.
This Boston roll sushi recipe is one of the standard ones. However, the author made sure to go more in-depth ways to make the flavorful and tasty Boston sushi roll.
The guide is in-depth and provides many optional varieties and alternative ingredients. If you are new to the art of making sushi, this recipe and guide are perfect for you.
20. Deep Fried Shrimp Sushi Roll with White Rice by Denis Lim
This deep-fried shrimp sushi roll recipe by Denis Lim is perfect for those who want their sushi with a crunch. Rather than the tempura, the filling of cucumber and avocado does not change.
Rather than the tobiko or masago fish roe, the sushi is topped with sesame seeds, unagi sauce, and spicy mayo. It's a cacophony of creamy, saucy, and crunchy flavors all in one sushi roll.
This crunchy and delicious variation of the Boston sushi roll is excellent for those who want their sushi with a bit of a crunch.
The sushi roll is filled with shrimp dipped in tempura batter and deep-fried until crispy, along with thick slices of avocado and strips of cucumber. Rather than the standard fish roe, this sushi roll is topped with black and white sesame seeds.
22. Shrimp Tempura Sushi Rolls by Sushi Chef Kai
The quick and easy shrimp tempura sushi recipe from an authentic Sushi Chef Kai will satisfy any craving for a crunchy yet creamy and flavorful variant of the Boston sushi roll.
Other than the crispy tempura shrimp, most of the original ingredients for the Boston sushi roll recipe are still the same. However, this sushi roll is not topped with fish roe but with eel sauce and spicy mayo.
21 Best Boston Sushi Roll Recipes
As the Boston sushi roll grew more popular, it garnered many variations ranging from fried tempura, different sauces, and many more. We hope that with these 21 Boston roll recipes, you find the one that will satisfy your cravings.
Directions
Select your Boston sushi roll favorite recipe.
Organize all the required ingredients.
Prep a Boston Sushi Roll in 30 minutes or less!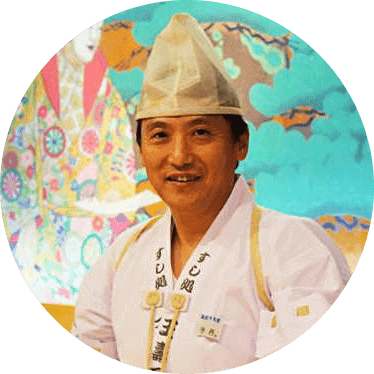 Hiroshi Nakamura, a Tokyo-born sushi chef turned US-based writer and critic, is the voice behind ichisushi.com, blending traditional sushi wisdom with modern insights.