Sushi is one of the most popular Japanese foods. If you are a sushi lover, you must have tried so many varieties including Tuna Tower Sushi. If you enjoyed this type of sushi and want to recreate it at home, here are some recipes that you can check out!
Here's a simple and easy Sushi Tower recipe. All you need is about 25 minutes to make this! You only need seven ingredients for this Sushi Tower. One of the main points of the recipe is using Smoked Ahi Tuna. It adds a richer flavor. The directions of the recipe are easy to follow. It only involves seven steps!
2. Easy Tuna Avocado Sushi Tower
If you like the combination of sweet, spicy, tangy, and creamy flavors, you will love the taste of the Easy Tuna Avocado Sushi Tower!
This video is less than 2:30 minutes long, but it shows you everything you need to know about making your Tuna Avocado Sushi Tower. The list of ingredients are also listed in the description box for reference.
If you are thinking of a new appetizer to prepare for your guests, you should try making Spicy Tuna Avocado Tower. At first glance, it might seem difficult to do but it's really not.
The recipe calls for sushi-grade tuna. You can chop and dice it and then mix it with spicy mayo and avocado. Fry some wonton wrappers and start layering the ingredients.
4. Ahi Tuna Sushi Poke Stack
If you are looking for an intricate recipe video for a Tuna Tower Sushi, then this is the one to watch! It's a little longer – a little under 13 minutes. If you have time on your hands, you should check this out.
If you are also a wine lover, you will love the wine pairing that happens here. Imagine eating delicious Tuna Sushi and drinking the perfect wine! Now that sounds like culinary heaven!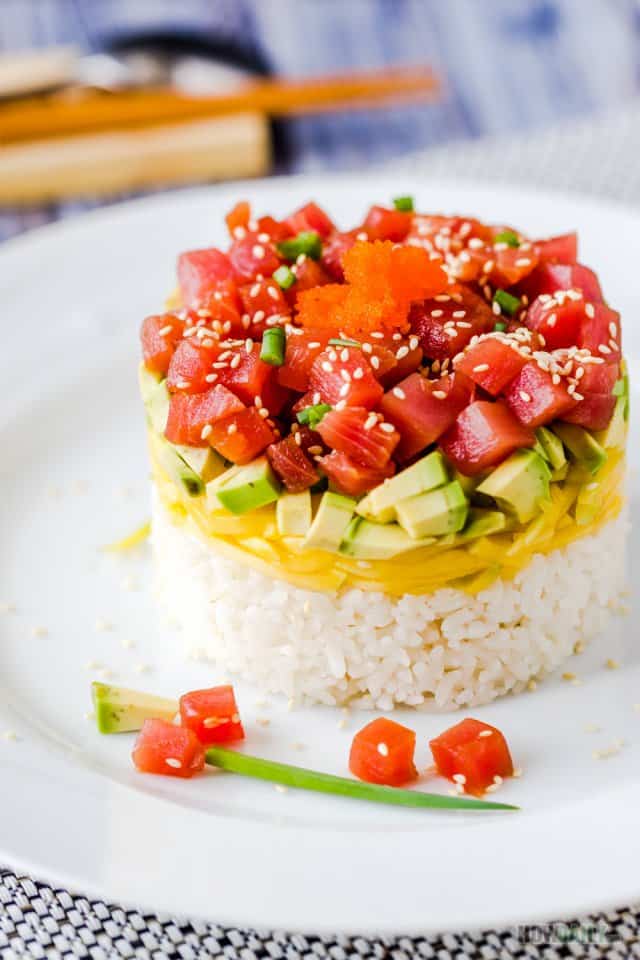 You can practice your food stacking skills with the Tuna Avocado Sushi Tower with Mango. This recipe is simple yet delicious. It's also visually appealing so that's another bonus!
Start with your sushi rice and layer it with tuna and other layers like vegetables or fruits. You can also add another protein to make it even healthier. Make this recipe even more special by topping it with some Flying Roe.
6. Spicy Canned Tuna Sushi Stack
Let's face it – sushi-grade tuna might be costly for some people. If you are looking for an alternative, try this recipe. If you want to eat Tuna Tower Sushi, you should look into this video.
If you are running out of things to make for lunch, consider making this for you and your family. While there's a difference in the taste of fresh and canned tuna, this recipe is still tasty. It's guaranteed to fill your stomach!
Some people consider Tuna Tower Sushi as a deconstruction of the sushi that most people are used to. Regardless of how you see it, you should try making this delectable dish!
When making the Spicy Ahi Tuna and Avocado Tower, it's all about layering. You should prepare your Sushi Rice ahead of time. The sushi rice will be the base. And then you layer it with Mashed Ripe Avocado with Lemon Juice, Spicy Ahi Tuna Mix, and Furikake seasoning.
8. Fine Dining Ahi Tuna Poke Tower
You can sometimes find Tuna Tower Sushi at fancy places. However, you don't have to send a fortune to get a taste of it again. You can now make your own with this Ahi Tuna Poke Tower recipe!
While your sushi rice is cooking, you can focus on the other ingredients. You can cut the tuna, cucumber, avocado, and everything else you need. And if you don't have a molder, you can always use a red solo cup!
If you have some Bigeye Tuna at home, here's something you can try making. It takes about 45 minutes to prepare everything. The great thing about this recipe is that the instructions are very detailed.
Every layer has directions that you can easily follow. The recipe recommends using a Round Cake Ring Mold. However, there are other kitchen tools that you can use as a substitute so make sure you read this part!
10. Making Ahi Tuna Sushi Tower
If you have about six minutes to spare, watch this video about making Ahi Tuna Sushi Tower. This video proves that this dish is something you can make from the comfort of your own kitchen!
For easy reference, the list of ingredients is also in the description box. Check if you have some items in your pantry. If you don't have raw tuna at home, you can pick it up from the grocery.
This is a straightforward recipe for a Tuna Tower. It enumerates the ingredients needed to make this dish.
It mentions diced sushi quality Ahi tuna and other ingredients like soy sauce, ginger, and avocado. This recipe also needs mango. If there's no mango, you can use peaches too. Before you start layering, you must prepare the ingredients that need mixing.
12. Zojirushi Tuna & Avocado Tower
Here's something you can do with the help of your rice cooker. You can use it to make sushi rice! But before cooking the rice, prepare all the other ingredients you need like cutting the tuna and avocados into half in cubes. Don't forget to use sushi-grade tuna. When everything is ready, use a ramekin to layer the ingredients.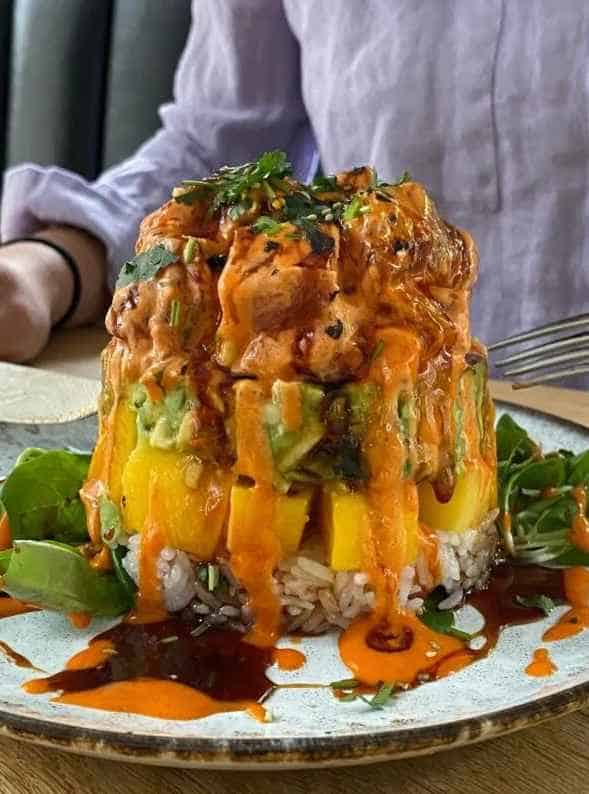 If you want to impress your party guests, you should try making this Ahi Tuna Tower. It's something you'll have fun making at home!
Everything you need to know is included in the recipe, including sushi rice, sushi-grade Ahi tuna, mangoes, and cucumbers. You should also prepare the seasonings and garnishes. The recipe is not difficult to follow. Just refer to the 11 steps involved.
The chef of a Sacramento restaurant shares how he makes Ahi Tuna Tower. All of the ingredients are laid out on the counter but the chef explains what they are and what to do with them. If you want an Ahi Tuna Tower that resembles that of a restaurant, use this video as a learning tool! It always helps to learn from a professional!
There's nothing quite like serving something delicious and healthy to your loved one. GThat's why you have to try making this Heart Healthy Tuna and Avocado Tower. Tuna and avocado contain a lot of vitamins and minerals.
This recipe serves four. And you only need the following ingredients:
Fresh Sashimi quality tuna
Cooked Sushi Rice
Lemon Juice
Avocado
Before the layering process, make sure you have cooked the sushi rice as directed.
16. Gluten Free Tuna Sushi Tower
Some people with gluten sensitivity might be worried about eating tuna tower sushi. However, here's some good news! Here's a gluten-free recipe that you can make!
It only takes this recipe less than two minutes to show you the ingredients you need for this gluten-free treat! You need some tuna in oil, cucumber, and surimi! Put all three together and you have your Gluten-Free Tuna Sushi Tower!
If you would like to make an Ahi Tuna Tower, you should include the following in your grocery list:
Cooked Sushi Rice
Crabmeat
Sashimi Grade Tuna
Sriracha
Eel Sauce
Ponzu Sauce
This recipe features some photos, so you have some references as you go along. Before starting, find something that you can use as a molder. It will be easier to layer everything together if you do.
18. Whipped Tuna Sushi Stacks
This Tuna Sushi Stacks recipe starts with mixing mango, cucumber, onion, lemon juice, salt, and pepper. Add some red chilis for some kick! The next step involves combining tuna, mayonnaise, and Sriracha in another bowl. Don't forget to mash your avocadoes!
Now it's time to stack all of these ingredients together! Get a plate and a molder and start layering!
If you crave sushi but want something with a twist, you should try this Ahi Tuna Poke Stack recipe. This recipe is presented well. It has photos that show just how appetizing this dish is! It looks pretty good. And you can bet the taste is amazing too!
The steps on how to make the Ahi Tuna Poke Stacks are not hard to follow.They are direct to the point!
20. Shorts: Tuna Tower Sushi
Here's the perfect recipe video for those with a short attention span. In just a couple of seconds, you will be able to know how to make Tuna Tower Sushi.
This recipe is like a four-layer sushi tower. It starts with the sushi rice as the first layer. The next layers include avocado,  shredded Kani and diced tuna. Use a cylindrical object as your mold!
It only takes 45 minutes to make four servings of this mouthwatering dish! The recipe has a photo of the Spicy Tuna Sushi Stack with Sticky Rice & Avocado, so you know how it looks.
You can find three tabs in this recipe. The first one tells you about the kitchen items you need. The second one is all about the ingredients. And the third one shows the 11 steps you need to follow to make this sushi stack.
22. Made In Quarantine: Tuna Sushi Stacks
The quarantine might be over, but you can still make these Tuna Sushi Stacks. Combine canned tuna, mayonnaise, and Sriracha in a bowl or cup. Don't forget to mix this well!
Since there's no molder available, you can use a measuring cup. Add the tuna mix to the bottom of the cup, followed by the sushi rice. When ready, flip the measuring cup on a plate.
When you check this recipe, you will surely fall in love with the photos of the Spicy Seared Tuna Tower. And once you taste it, you will have an out-of-body experience!
This recipe makes two servings of  the Spicy Seared Tuna Tower. You won't have time deciphering the things you need and the steps to take because they are categorized accordingly.
You don't need to go to an expensive restaurant to be able to eat an Ahi Tuna Tower. Now you can make this in your kitchen! A trip to the Asian store might be in order before making this.
This recipe only takes 30 minutes. It's not that hard to know what ingredients are needed for this Ahi Tuna Tower. The directions are explained well.
You don't have to be an expert in the kitchen to be able to make this Ahi Tuna Tower recipe. This homemade recipe is calling your name!
Upon looking at the recipe, you will notice how it's divided into four main parts. It is such a comprehensive recipe. And of course, you can never go wrong with high-resolution photos of good food!
Once you bite into an Ahi Tuna Tower, you will taste exquisite and explosive flavors that are unlike any other! You can make three servings from this recipe.
The ingredients needed for this Ahi Tuna Tower dish are listed in the recipe. The same can be said for the directions. Once done, you can either eat it by layer or mix everything up!
Tuna Tower Sushi Made Easy
Making Tuna Tower Sushi is easy-peasy! You just need a couple of ingredients, and that's it! Of course, never forget the star of the show – tuna! It is one simple yet flavorful sushi variation you and the people you love will adore!