If you crave Japanese food, you shouldn't miss out on ordering sushi. With so many varieties of sushi out there, you will surely have your own favorites! If you're on this side of the United States, don't forget to check out the 17 best sushi places in Sacramento, CA!
Feasting On Sacramento's Sushi Spots
Mikuni
$$ | (916) 447-2112 | WEBSITE
View this post on Instagram
If you drop by Mikuni's Midtown Sacramento branch, its cosmopolitan vibe will be greeting you. And you will notice just how the establishment centers on art – from the food to the decor.
At Mikuni, you will be getting the best sushi rolls made from locally sourced ingredients. This Japanese restaurant has committed to serving fresh and healthy food to its customers from the very beginning.
The restaurant has an extensive menu, offering starters to party platters. As for their sushi selection, you would love how large their sushi bar menu is!
Osaka Sushi
$$ | (916) 440-0178 | WEBSITE
If you're in the mood for some sushi, consider dropping by Osaka Sushi! The friendly waitstaff will welcome you with open arms as soon as you walk in.
One of the perks of getting your sushi from this place is how reasonably priced everything is. You can get various sushi rolls, and it would not put a dent in your wallet at all. They have plenty of sushi rolls to choose from!
Osaka Sushi has sushi combo platters available if you want a little bit of everything !
Akebono
$$ | (916) 731-8288 | WEBSITE
If your goal is to taste the freshest sushi in town, then there's no better place to achieve that objective than at Akebono! This Japanese restaurant gets busy as soon as it opens its door, so don't forget to make a reservation.
If there's one thing you shouldn't miss from Akebono, it's their Boat sushi plate! You can get a variety of sushi rolls to enjoy! It will definitely fill up whatever sushi cravings you might have! If you want some other dishes to try, they also have ramen, gyoza, tempura, and so much more!
Kansai Ramen & Sushi House
$$ | (916) 455-0288 | WEBSITE
View this post on Instagram
Don't let the size of Kansai Ramen & Sushi House stop you from enjoying some of your Japanese foods. Don't forget to give the restaurant a ring and reserve your table! It can get quite full and hectic!
Once you have scored a table at Kansai Ramen & Sushi House, you can indulge in many dishes. For the sushi lover, you will love the Maki options they have.
They serve Veggie Rolls, Deep Fried Rolls, Basic Rolls, and Chef Special Rolls. And as a bonus, you can also try their ramen, bento, or rice bowls.
Arigato Sushi
$$ | (916) 920-5930 | WEBSITE
In 2004, Christine & Kay, opened the very first Arigato Sushi branch in Sacramento. This was after working for a sushi place in the Bay Area for years. They have brought their love for sushi to life by opening their own restaurant.
When you opt to eat at Arigato Sushi, you will be able to get a taste of the different sushi rolls that you can't find in any other place. The sushi rolls are reasonably priced, so you can get various kinds to satisfy your sushi-loving heart!
Ju Hachi Japanese Cuisine
$$ | (916) 448-3481 | WEBSITE
If you are looking for a traditional Japanese restaurant with a modern twist, then all you have to do is drive to Ju Hachi Japanese Cuisine as soon as possible. They are open seven days a week, so you can drop by anytime you want!
Ju Hachi Japanese Cuisine has a great menu. If you are after sushi rolls, you can check the Standard and Special versions.
There are vegan and vegetarian sushi rolls on the menu if you have some dietary restrictions! If you want something with a little bit of kick, you can choose from a couple of their spicy sushi selections.
Jensai Sushi
$$ | (916) 443-8888 | WEBSITE
View this post on Instagram
There might be days when you want to eat both Chinese and Japanese food. If you can't decide which one, you can always go for both! When you go to Jensai Sushi, you will get the best of both worlds!
If you are opting for the Japanese menu, go over the different sushi rolls they have available. You will realize that they have so many varieties on their menu. Their Maki and Handrolls are start from $4.00! With that said, you can order as many as you like!
Makisu Sushi
$$ | (916) 993-6620 | WEBSITE
View this post on Instagram
There's nothing quite like eating your favorite sushi in a relaxed environment. That's what you can get from Makisu Sushi! While it's not as trendy as other sushi places, it makes up for it with its fresh food!
Each sushi roll that you order is delicately made by the Makisu Sushi chefs. They have a large selection which is perfect for those who want a variety of sushi rolls. Apart from the delectable food, the servers are efficient and friendly and the service is topnotch!
Banzai Sushi
$$ | (916) 421-4055 | WEBSITE
View this post on Instagram
Banzai Sushi has been around for ages. And despite the years that have gone by, this Japanese restaurant continues to serve fresh and excellent food!
If you want to stick to the standard sushi rolls, then go for it! However, they have specialty raw rolls and non-raw Banzai Maki rolls if you want something interesting.
Depending on what type of sushi you are craving that day, Banzai Sushi has them. You can order their All Maki or Sushi combi party trays if you're in a group.
Kyoto Sushi Bar Grill & Ramen
$$ | (916) 492-2250 | WEBSITE
If you love eating delicious food in quaint spaces, then the Kyoto Sushi Bar Grill & Ramen hit the spot!
Kyoto Sushi Bar Grill & Ramen is known for its modern take on classic Japanese dishes. They make sure that they only use high-quality fresh ingredients. This Japanese restaurant has an extensive menu featuring extremely affordable options.
Their sushi menu is no joke – from simple rolls to sushi boats! It's perfect if you are dining by yourself or with your loved ones!
Kura Revolving Sushi Bar
$$ | (916) 900-8100 | WEBSITE
View this post on Instagram
One of the best ways to honor one's heritage is through food. And that's what Kura Revolving Sushi Bar is doing. This restaurant is committed to serving authentic Japanese dishes using artificial-free ingredients.
If you dine at this place, you will be able to tell by the food they serve, including their sushi! They have different kinds of sushi on their menu!
Apart from the delicious food, Kura Revolving Sushi Bar also offers a fun dining experience for its patrons. They have a really cool sushi delivery system. And the drinks are delivered by a robot!
Kru Contemporary Japanese Cuisine
$$ | (916) 551-1559 | WEBSITE
View this post on Instagram
There's a lot of technique and passion in every dish that come out of Kru Contemporary Japanese Cuisine's kitchen.
This restaurant serves contemporary Japanese cuisine using the best ingredients and flavors. Whenever you drop by Kru Contemporary Japanese Cuisine, you get appetizing sushi and more.
The restaurant and its crew will showcase the very best of Japanese hospitality. With great food and amazing service, it won't come as a surprise if you keep coming back to Kru Contemporary Japanese Cuisine for more!
Miyagi Bar & Sushi
$$ | (916) 485-2299 | WEBSITE
For over 20 years, the Miyagi Bar & Sushi has been serving traditional Japanese cuisine. This Japanese dining joint has several popular dishes, including their famous sushi! It's the perfect place to eat Japanese food with a big group like your family or friends. It's also great for happy hour!
Regardless of who you are with, you will enjoy their sushi roll selection. If you want to eat sushi and sashimi, the restaurant have combo platters on the menu.
Takumi Izakaya Bar
$$ | (916) 228-4095 | WEBSITE
View this post on Instagram
As a restaurant, Takumi Izakaya Bar is all about serving exceptional food in the best possible way. This restaurant has been committed to hospitality and service since 2016.
This place is more than just an Izakaya. They have a lot of things to offer for their diners, including sushi! If you want to try a variety of stuff, you can get some Nigiri and Maki rolls. If you want something to share with the people you are with, they also have a couple of sushi sets.
Sushi Café
$$ | (916) 452-6888 | WEBSITE
View this post on Instagram
Sushi Café is the brainchild of Bryant Lee. As an entrepreneur, business owner, and chef, Lee has always had a passion for food. His passion is reflected in the food he serves at this restaurant.
The secret to Sushi Café's delicious dishes is the fresh and local ingredients that they use. As much as possible, the restaurant uses locally grown ingredients. Upon looking at the menu, you will be greeted with endless options. The sushi menu alone features so many items, including sushi boats!
Sushi Hook
$$ | (916) 921-6707 | WEBSITE
A couple of years ago, Sushi Hook burned down. However, it has bounced back and continued to serve various Japanese foods to the people of Sacramento.
Sushi Hook can get a little busy, so if you want to get a table, you might want to arrive early. They currently do not take any reservations.
They now have a new ordering system. If you want to order sushi rolls, noodles, rice bowls, and other stuff from the menu, they will give you a QR code to scan. The code will direct you to their website where you can order.
O Toro Sushi & Shabu
$$ | (916) 661-5129 | WEBSITE
If you are around the Midtown area and craving sushi, then make your way to O Toro Sushi & Shabu ASAP! It's at a prime location, so you won't miss it!
You will find good food and great service at O Toro Sushi & Shabu! The restaurant's menu is lined with so many options. For sushi lovers, there are special rolls that you can try! If Japanese food and a fun ambiance are your thing, then you should try this place soon!
Sushi Satisfaction In Sacramento
Whenever you have a yearning for these rice rolls, you can always count on the 17 best sushi places in Sacramento, CA! There are so many varieties that you might find it hard to choose which one to get. However, once you have fulfilled your sushi craving, there will surely be a big smile on your face!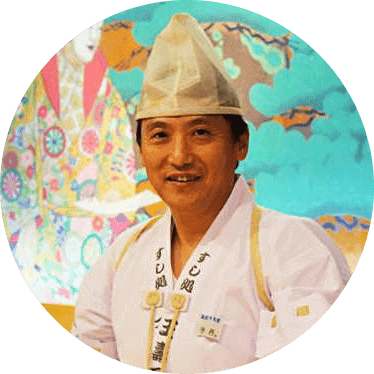 Hiroshi Nakamura, a Tokyo-born sushi chef turned US-based writer and critic, is the voice behind ichisushi.com, blending traditional sushi wisdom with modern insights.