Phoenicians call their city the "Valley of the Sun." The sun shines all year round, so it's an excellent place to visit anytime. Update your travel experience in this city by trying its delectable cuisines. Come and see the 15 best sushi places in Phoenix, AZ. It will surely be a memorable experience.
Harumi Sushi & Sake
$$ | (602) 258-0131 | WEBSITE
View this post on Instagram
Have you tried purple rice before? What do you think of sushi made with purple rice? Harumi specializes in this sort of rice, also known as "forbidden rice." So come to Harumi if you want to try purple rice.
Purple rice was prized in ancient Japan not for its color but because of its medicinal and nutritional benefits. It's high in fiber and antioxidants. Plus, it also has little carbs and sugar content.
What else sets Harumi apart from other sushi restaurants? Every day, the restaurant employs only the freshest fish flown in worldwide. Harumi's fresh wasabi is another trademark component.
If you're a morning commuter, stop by Harumi for fresh sushi. If you want to dine in, the restaurant serves various options. One is the Harumi roll. It's made with crab salad, tempura shrimp, and avocado. The toppings are Tobiko, fresh tuna, spicy mayo, and olive oil. Try it for yourself!
Sushiholic
$$ | (602) 956-2354 | WEBSITE
Come to Sushiholic if you're craving sushi late at night. It's a contemporary Japanese restaurant that stays open till late. If you're going sushi-hopping, it's also a great place to end the night.
Don't worry if you or someone in your company is choosy or vegan. Their menu is pretty comprehensive. You exactly know what you're receiving in every dish you order. So forget about eating disappointments.
You can't go wrong with anything on the menu. If you want to taste different types of sushi, tell them, and they will provide the best advice. The Four Seasons, though, is a popular choice.
Yama Sushi House
$$ | (602) 264-4260 | WEBSITE
Yama Sushi offers exquisite, freshly prepared sushi. It's known for its diverse flavor palette and high-quality ingredients.
The restaurant is an excellent choice for dine-in or takeout dishes in the Phoenix area. It's noted for its convenient location and low prices. The warm atmosphere and excellent service are significant pluses.
Quality is not compromised in the name of cost savings. So, don't be concerned! The menu's variety is almost overwhelming, yet it's intriguing.
Yama's trendy and calm ambiance will also appeal to you. It's just as vibrant as the sushi options. You'll return for the freshest raw fish rolls with flavorful rice.
Sushi Style
$$ | (602) 866-1505 | WEBSITE
Are your taste buds craving great sushi? Sushi Style is here to serve you. It's a popular hangout for locals who want to get some fresh rolls.
You won't get embarrassed when bringing your friends and family to dine there. It has the stickiest rice, the most delicious seaweed, and the most incredible rates in town! The discounts and deals will help reduce costs if you want to save some money.
Sushi Style has a ton of delicious sushi options on the menu. Everything is produced fresh and excellent. Savor the hot tuna rolls, flavorful salmon, and perfectly-ripened avocado.
Try one or two rolls for yourself. You can also share a varied spread with your friends. You'll enjoy dining while receiving excellent service from the personnel. The chefs take pride in creating for you the most sumptuous sushi you'll ever taste.
Nori Sushi & Asian Dining
$$ | (480) 494-5147 | WEBSITE
View this post on Instagram
Are you looking for a laid-back, stylish restaurant where you may get colorful sushi and rolls? Make sure Nori Sushi is on your itinerary. This spot is one of the locations to visit if you want the most fabulous sushi experience in Phoenix.
Also, if you believe that ordering sushi takeout means you'll never get fresh sushi, you're wrong! With new bento box offers, this restaurant is pushing for change. For $25, you can enjoy boxset selections, including Sashimi + Nigiri or Nigiri+ Maki.
Nori is a gem in the Phoenix sushi culture. It offers patio dining, excellent service, and impressive chef knife talent while you dine. The friendly service matches the restaurant's freshest seafood sushi and colorful rice selections.
Sushi Tokoro
$ | (602) 358-8789 | WEBSITE
Sushi Tokoro is a self-serve sushi bar. Aside from its convenient location, it is known in Phoenix for its delectable sushi. The sushi is placed on a conveyor belt so that you may choose what you only want.
The restaurant is famous for its extensive sushi menu and fresh, high-quality sushi. You can have tatum sushi, a spring roll, and other great options.
You may also expect a welcoming atmosphere and outstanding service. The waiter will take your drink order and periodically check in with you. Don't worry; you won't get constantly monitored if that's something that bothers you!
Hana Japanese Eatery
$$ | (602) 973-1238 | WEBSITE
View this post on Instagram
Have you already tried a sushi restaurant where the chefs are females? That's how it is at Hana. This eatery defies what has traditionally been considered a male function. But your sushi isn't going to be any less delicious because of this.
Hana's sushi is among the best in town. Their sushi specials burst with creativity and flavor. One of the restaurant's most popular dishes is a sushi roll called Hana Pride. It's a standout on the menu! You won't have to worry about stale rice because the roll is enclosed in cucumber.
The sushi selections feature a wide variety of fresh fish shipped from different parts of the world. This includes Bluefin tuna belly and light and delicious seabass.
Do you love surprising twists? If so, you're in for a treat. Some of the menu's more eccentric additions include garlic chips and onions with tuna and fresh tataki sauce.
Sakana Sushi & Grill
$$ | (480) 5980-506 | WEBSITE
Do you know what "sakana" means? "Fish" is the literal translation of the Japanese term "sakana." No wonder the restaurant's reputation is built on the quality of its seafood.
Sakana is a warm and inviting sushi bar that opened in 1994. It is famous for serving ample amounts of fresh fish at an affordable price.
The restaurant receives shipments of fresh fish from throughout the world daily. Lunch and dinner are available. Nigiri and maki forms of sushi are available. There are also a wide variety of cooked meals to pick from. Many dishes are gluten-free.
Sushi Nakano
$$ | (602) 603-2129 | WEBSITE
View this post on Instagram
Sushi Nakano is located in Ahwatukee. It can only seat 20 people simultaneously, yet it's warm and friendly. It focuses on the presentation of sushi as an art form, so you won't certainly regret coming here.
Quality is never compromised at Sushi Nakano. Flying fish, sardine, and Spanish mackerel are all examples of locally sourced, seasonal foods. Masago Nigiri is one of the most flavorful nigiri options. It's the perfect prelude to one of their specialty rolls, such as the deep-fried Las Vegas Roll.
Do you wish for a wider variety of sushi rolls? The Geisha Roll features a beautiful blend of avocado and mango together. The Bushido Rolls are a great combo of langostino and grilled tuna. You'll have a smile and a full stomach when you go home.
Akaihana
$$ | (602) 864-9202 | WEBSITE
Since 1986, Akaihana in central Phoenix has served fresh, high-quality sushi. Mr. Sushi is its original name.
Ahaikana specializes in sushi rolls. They provide a large selection of sushi rolls that are all super delicious. This includes Nigiri, traditional rolls like Tekka, as well as handrolls.
Are there any particular rolls you'd want to sample? Some specialties available only here are Paul Roll, Mexico Roll, Godzilla Roll, Sunset Roll, and Grand Canyon Roll.
Are you unsure about what to eat? Get your hands on as many as you can! At Ahaikana, you won't be let down by anything.
MOIRA Sushi Bar & Kitchen
$$ | (602) 254-5085 | WEBSITE
Are you off to McKinley Street in Phoenix to look for sushi restaurants? It's hard to find one that can rival Moira in this area. This sushi restaurant experiments with new combinations of local seasonal foods.
Traditional Japanese cuisine has a modern twist in this restaurant by incorporating new flavors and textures. Japanese aesthetics are not compromised in any way. Unique and refreshing ways are added to the mix.
Moira serves excellent sushi rolls. Kani Crunch and Eel and Cucumber are just two of the delectable rolls. The superb dining experience here is unquestionably bright and exciting.
Moira Sushi Bar and Kitchen provides the best service. But you won't be able to order online or have your food delivered.
Sushi Sonora
$$ | (602) 278-9355 | WEBSITE
View this post on Instagram
In 2012, Sushi Sonora opened in Phoenix, intending to give high-quality sushi. The Rivera family of Mexican origin owns it.
Their specialty is Sonora-style sushi that you can't simply resist. It's loaded with Mexican colors, flavors, and textures that are enticing to the taste buds.
You're mistaken if you think Phoenix doesn't have any good sushi. If you've never had sushi from Mexico, you're missing out. Besides Phoenix, states bordering Mexico are also big fans of Sushi Sonora.
In Sushi Sonora, you'll experience a beautiful combo of ingenuity and Mexican culture. Sushi may be a Japanese dish when it arrives in Mexico. But once it reached Sonora, it turned into a unique culinary experience.
Buck & Rider
$$$ | (602) 346-0110 | WEBSITE
View this post on Instagram
Buck & Rider is not your typical sushi bar. It's a high-end restaurant that serves a variety of rolled sushi. The place focuses on the freshness of fish from all over the world.
In this restaurant, you can enjoy various sushi-grade sushi rolls. You can try their delectable rolls like the deluxe tuna roll. The crab macadamia roll with blue crab asparagus is another must-try!
The eatery also takes great pride in the quality and freshness of its ingredients. These are procured from local farmers and fishers. They fly in their seafood daily by taking advantage of the best fishing circumstances. Come in and pamper your palate with sushi all over again!
Trapper's Sushi
$$ | (602) 281-6341 | WEBSITE
View this post on Instagram
Trapper's is located in the downtown Phoenix district. It offers nigiri and Asian fusion rolls. Are you up for eat-all-you-can sushi? This joint is the right place. You can enjoy your meal in the bar area or sit indoors or outdoors.
The sushi chef Trapper O'Keeffe has been making sushi for over two decades. In Reno, NV, he began training with his brother-in-law, Eisuke Sato. Trapper brought what he learned from Eisuke's restaurant to open Trapper's.
Trapper quickly discovered that his particular brand of sushi was a hit. No wonder the restaurant received several awards and is a neighborhood favorite.
Sushi Station
$$ | (602) 358-8789 | WEBSITE
Have you ever heard of fast-food sushi? It sounds strange but intriguing, right? This setting is called kaizen sushi. It is often called "conveyor belt sushi. Sushi Station is the place to go if you're looking for some sushi adventure,
Raw fish isn't the only thing on the menu, either. The menu also includes thoroughly cooked rolls. Hand-battered tempura is also at its best here.
Are you fond of happy hour? It's an "in" thing here on Sundays to Thursdays from 3-5 p.m. You can savor sushi for $1.50. With such low prices, you can try different flavorful sushi rolls.
Summary
Do you dream of eating authentic sushi in Japan while being in the heart of Arizona? Go to one of the 15 best sushi places in Phoenix, AZ. Sushi restaurants in Phoenix are on par with those in California and New York. Satisfy your sushi cravings with authentic Japanese preparation with modern inspiration.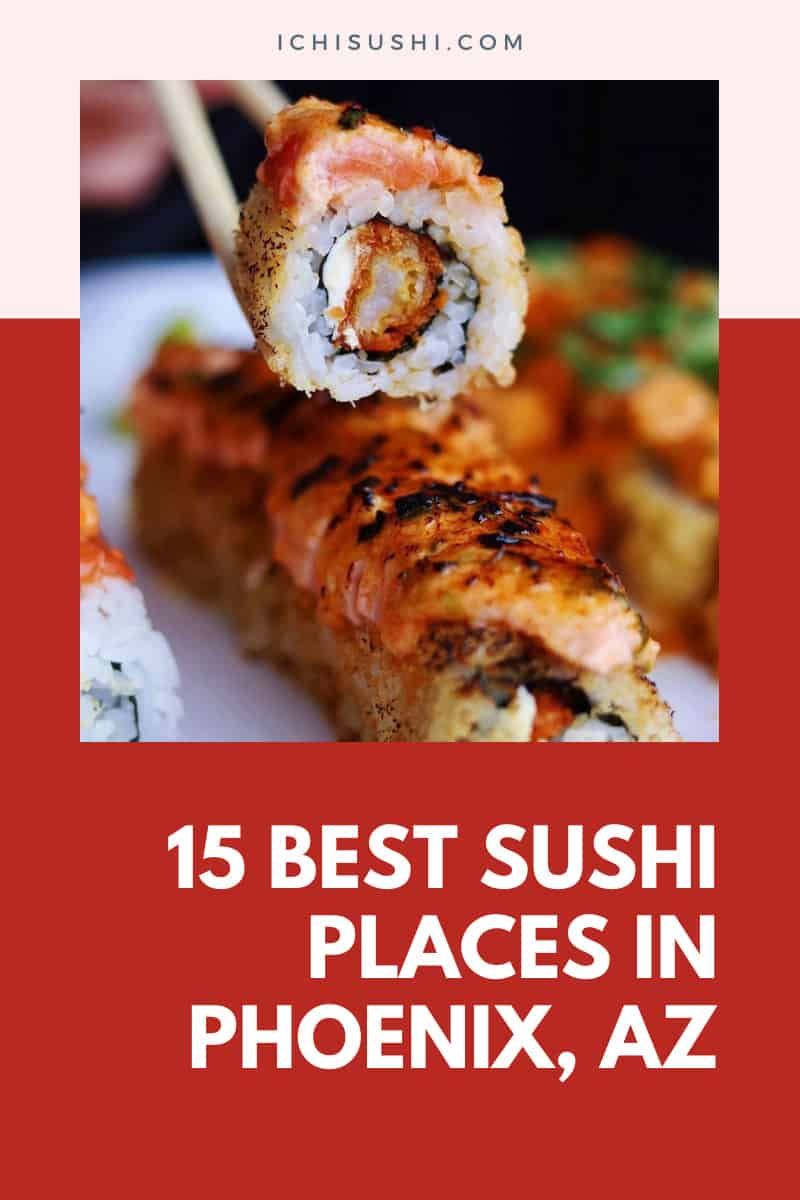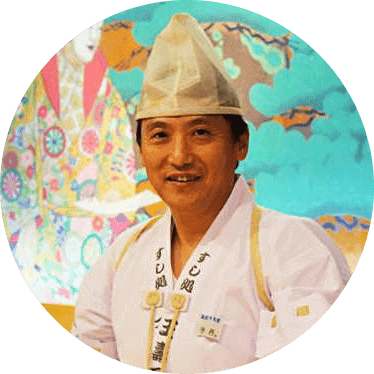 Hiroshi Nakamura, a Tokyo-born sushi chef turned US-based writer and critic, is the voice behind ichisushi.com, blending traditional sushi wisdom with modern insights.