Naperville is known for having world-class parks,  award-winning communities, and the best library system in the country. This Chicago suburb is also home to excellent sushi restaurants that locals and tourists can enjoy.
The 17 best sushi places in Naperville, Il, can satisfy your cravings for this Japanese dish.
Blue Sushi Sake Grill
$$ | (630) 305-3099 | WEBSITE
View this post on Instagram
Blue Sushi Sake Grill aims to serve exceptional sushi while positively impacting seas and oceans. Its Conscious Earth Program ensures that they responsibly source its seafood and other ingredients.
It supports sustainable practices and respects the Earth's ecosystem. The restaurant values serving food that gives off an energetic vibe and provides new and exciting ways of eating sushi.
Its vegan and nonvegan options are perfect for the premium cold sake. You can order the Build-You-Own-Box Sushi if you feel like having a unique sushi experience at home.
Shinto Japanese Steakhouse & Sushi Lounge
$$ | (630) 632-8899 | WEBSITE
View this post on Instagram
This popular Naperville restaurant serves an exceptional sushi and hibachi dining experience. You can order a wide array of creations from the sushi bar, including Tuna, Cucumber, Avocado, and California Rolls.
Diners can also enjoy custom-made rolls that contain octopus, salmon, white fish, mackerel, eel, and other fresh fish. The restaurant has a private sitting area for intimate parties and meetings.
It also offers a reward program where diners collect points for every visit. Once you've earned enough points, you get a voucher for your next visit. Shinto also caters for events such as weddings, birthdays, and anniversary parties.
Yamado Japanese Restaurant
$$ | (630) 938-3567 | WEBSITE
Stepping inside this restaurant will bring you to the traditional sushi places in Japan. Its sushi chef will prepare your rolls while entertaining you with his personal stories and interesting facts.
One crowd favorite is a roll with yellowtail, sesame seeds, and green onions. This sushi joint also serves Western rolls such as Philadelphia and Hawaii Mango Roll. You can also enjoy lunch or dinner at their sushi bar, which serves various entrees.
These Japanese treats are perfect with a bottle of sake. A bowl of ramen is also good during a cold Chicago evening.
Hoshi Sushi
$$ | (630) 536-8273 | WEBSITE
This sushi place may be quaint and modest, but it matches the authenticity of restaurants in downtown Tokyo and Kyoto. You can feel the delectable flavors of the fresh fish and the perfectly-cooked rice.
Loyal diners recommend the super white tuna, yellowtail, albacore, and sweet shrimp sushi. These sushi offerings go perfectly well with the hot sake. On the other hand, the Maki sushi and tequila are a match made in heaven.
You can order a bowl of edamame or some gyoza while waiting for your sushi. The servers are prompt and attentive, making the dining experience pleasant.
Zuka Sushi and Hibachi Grill
$$ | (630) 219-3883 | WEBSITE
Customers rave about the delicious Japanese food and drinks at Zuka Sushi and Hibachi Grill. This restaurant serves bluefin tuna, avocado, unagi, salmon, and mackerel sushi.
Sushi meals come with soup and salad, so it's real value for your money. Ask the server for off-menu options and chef specials if you feel adventurous. It would be great to look at how your food is prepared at the sushi bar.
You may have a poke bowl or a vegetable platter with your sushi or sashimi. All the dishes pair perfectly well with their sake and beer offerings.
Kiku Japanese Steak House & Sushi Lounge
$$ | (630) 305-3355 | WEBSITE
View this post on Instagram
This contemporary dining spot was awarded Naperville's Best Sushi Restaurant and the 2020 Opentable Diner's Choice Awar.
This sushi spot features artistic creations and unique versions of traditional rolls, providing diners with a memorable feast. The elegant dining room or comfortable lounge offers a  classy and calm ambiance.
It also has a private dining area for intimate parties or power business meetings. After a hard day's work, those looking to relax can choose from the restaurant's extensive wine collection and cocktail offerings.
Wild Tuna Contemporary Sushi
$$ | (630) 420-8801 | WEBSITE
Since 2005, Wild Tuna Contemporary Sushi has offered the Naperville Community mouthwatering sushi. Its consistent quality and relaxing ambiance are known in the city, making it a favorite among locals and tourists.
The head chef and owner, Gene-San, has extensive training in the art of sushi and takes pride in his innovative creations and traditional fare.
It's famous for its tuna tower, including spicy crab, sushi rice, layered tuna tartare, wasabi-avocado, microgreens, and tobiko. Suppose you want to have a more adventurous dining experience.
In that case, loyal customers recommend the combination plate that includes eight types of sushi and a California Maki.
Sushi Naper
$$ | (331) 281-0620 | WEBSITE
Brace yourself for a unique and fun dining experience where cute robots bring you food. Sushi Naper has a wide array of sushi, including tuna, salmon, shrimp,  yellowtail, mackerel, and red snapper.
If you want to try several of its offerings, you can try the eat-all-you-can-menu that will give you your money's worth. It will allow you to enjoy a wide array of sushi and sashimi to your heart's content.
It also offers Makimono or rolls such as California Maki, Spicy Tuna Maki, and Unagi Maki. While waiting for your order, enjoy a bowl of edamame to whet your appetite.
Wild Rice Sushi and Grill
$$ | (630) 717-1199 | WEBSITE
Wild Rice Sushi and Grill is the go-to place when you're looking for one of the best sushi in town. Some loyal customers even declared it one of the best in Chicago. You may start your meal with some unfiltered sake called nigori.
It's a sweet and light drink that prepares your palate for the fantastic sushi ahead. It has a wide array of sushi, including striped bass, salmon, squid, tuna, octopus, and hamachi. This charming sushi spot is away from the crowded restaurant strips, making it a perfect place to spend a peaceful evening.
Shinto Sushi at Freedom Commons
$$ | (331) 229-8197 | WEBSITE
View this post on Instagram
This popular Naperville dining spot is perfect for family dinners and date nights. It provides impeccable service, a cozy atmosphere, and a wide array of sushi rolls, bento boxes, and lunch specials.
A place at the sushi bar gives you a front seat where the action happens. Trained chefs will prepare the freshest sushi and sashimi for your satisfaction. It also offers a kid's menu so the little ones can enjoy the Shinto experience.
One fantastic meal is the 16 -piece bridge dinner for two composed of the chef's nigiri choice, two specialty rolls, salad, and soup.
Shogun Japanese Steakhouse Naperville
$$ | (630) 416-0871 | WEBSITE
The charm of this hole-in-the-wall sushi joint lies in its charming and humble atmosphere. It's been serving the Naperville community for almost 25 years, and people still come back for more.
The restaurant walls are filled with photos of satisfied customers-  a testament to its good service and great food.
It offers sushi appetizer plates with a California roll and tuna, shrimp, salmon nigiri, and sushi entrees such as Shogun Sushi, Makimono Specials, and American Sushi. These delectable Japanese treats are a perfect match with cocktails and Sapporo beer.
Yamada Sushi & Poke
$$ | (630) 857-9188 | WEBSITE
This sushi place serves pretty good, impeccably prepared sushi and always tastes fresh. It's a fantastic place for a casual date or fun night with family and friends.
However, if lunch dates or meetings are more your things, the restaurant's lunch special with miso soup and salad is a good option. Its sushi bar offers many creative offerings, such as the vegetable combo, maki combo, and rainbow combo.
You also would not want to miss the Yamada Special, a platter that includes six pieces of assorted sashimi, four pieces of nigiri, and one monster roll.
Jin 28
$$ | (630) 848-1828 | WEBSITE
This charming and intimate restaurant offers sushi, cocktails, smoothies, and other Pan-American classics. A highly trained chef prepares the sushi entrees and serves them with miso soup and salad.
You can order from a wide array of sushi platters, including Mixed Maki, Mixed Vegetable maki, California Roll, sushi, sashimi, and maki. You may also try some classic rolls such as salmon, tuna, superwhite, yellowtail, and avocado.
The restaurant's selection of Japanese favorites is innovative and varied. Every visit can be a new culinary adventure that you can enjoy with family and friends.
Anthem Ale House
$$ | (630) 579-8880 | WEBSITE
Anthem Ale House might not be your traditional Japanese restaurant. Still, its dedicated sushi bar can whip up classic sushi and rolls. It draws inspiration from its experience of being a former sushi restaurant.
The sports bar atmosphere, the lively music, and the wide selection of drinks provide a unique dining experience. Its sushi offerings include tuna, salmon, yellowtail,  and salmon.
You may also want to try the specialty rolls, such as the bestselling rainbow roll topped with tuna, salmon, and avocado. Match these Japanese treats with local and imported beer, cocktails, pineapple shots, or wine for a delightful meal.
Gyu-Kaku Japanese BBQ
$$ | (630) 536-8270 | WEBSITE
View this post on Instagram
Gyu-Kaku's Gyu-sushi is your dream meal if you're not a fish sushi fan. This creatively-crafted sushi is made with roast beef,  sushi rice, and Japanese shoyu sauce. A dollop of Kuki-wasabi accompanies this innovative dish.
The restaurant also offers barbecue options, rice bowls, noodle soups, and appetizers. There's always something for everyone in your family or friend group.
Its sauces and dips are certified gluten-free, making it a safe place for those who have allergies or special dietary needs. Quench your thirst with a bottle of Japanese beer, sake, or specialty cocktails.
Poke Burrito
$$ | (360) 914-9898 | WEBSITE
View this post on Instagram
This innovative Asian Fusion restaurant serves sushi as you've never had before. It uses traditional sushi ingredients such as fresh fish, sushi rice, vegetables, and savory sauces in making its signature sushi burrito.
Every bite is a burst of delectable flavors and unique textures. Its vast selection of sushi burritos includes Salmon, Veggie Mix, Hawaiian, and Spicy Tuna- a real treat for the senses.
You may also want to try the Poke bowls with the same delightful ingredients. It also offers hot ramen, perfect for cold Chicago evenings. All meals are prepared on the spot to ensure freshness and quality.
Ikkai Japanese Restaurant
$$ | (630) 355-5516 | WEBSITE
View this post on Instagram
Ikkai Japanese Restaurant, located in downtown Naperville is a quaint and cozy sushi spot that offers sweet-tasting and tender fish. The best seat would be at the bar, where you can witness the chef's artistic skills as he prepares your order.
It boasts innovative dishes such as the zesty maki, unique seared salmon, and caramel maki rolls. It also has a knowledgeable staff that can walk you through the menu.
The plating is well-thought-of, proving the attention and care placed into every dish. You can get dessert on the house after your meal if you're lucky.
Summary
Naperville folks are genuine sushi fans, given the wide selection of sushi spots. These places have their unique versions of traditional Japanese dishes and classic creations.
Drop by any of the 17 best sushi places in Naperville, Il, if you plan a sushi lunch or dinner with loved ones.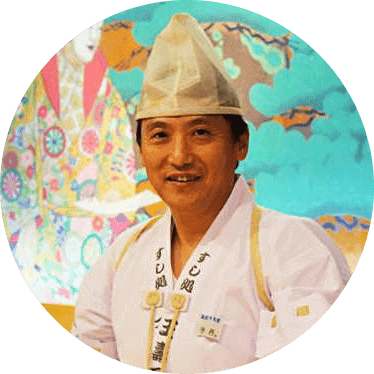 Hiroshi Nakamura, a Tokyo-born sushi chef turned US-based writer and critic, is the voice behind ichisushi.com, blending traditional sushi wisdom with modern insights.