Are you craving fresh sushi that you can enjoy anywhere in Orlando? Search n0 more.
We've come up with a list of the 16 best sushi places in Orlando, FL, with different sushi plates that you can enjoy to your heart's content. Check each restaurant on the list for more options.
The Cowfish Sushi Burger Bar
$$ | 407-224-3663 | WEBSITE
View this post on Instagram
If you're craving sushi and burgers simultaneously, visit the Cowfish Sushi Burger Bar in Orlando, Florida. They are committed to serving fresh sushi and burgers daily.
It's also a big plus that they are open from 8 am to 2 am, perfect to cater to your midnight sushi cravings.
From traditional sushi plates to some with a modern twist, there are a lot of different meals that you can choose from.
Some of their most well-known dishes are the Fiery Dragon Roll, Tropical Storm Roll, Sashimi Bowl, Moriawase Double Deuce, and The Roll That Love Built.
Hanamizuki Japanese Restaurant
$$ | (407) 363-7200 | WEBSITE
Do you want a taste of original Japanese sushi plates? Experience them here at Hanamizuki Japanese Restaurant. It is owned by a Japanese native, the chef who prepares the sushi with his own hands every day.
It's best to check their website whenever you want to eat here since their opening time varies. They also do not accept parties of more than 6 since the start of the pandemic.
They take pride in serving fresh sushi daily. Their most famous dishes include the Onigiri rice ball, Salmon nigiri sushi, Fluke Nigiri Sushi, and Octopus Nigiri Sushi.
Morimoto Asia
$$$ | (407) 939-6686 | WEBSITE
View this post on Instagram
Located in Disney Springs, you can quickly satisfy your sushi cravings in this themed entertainment center with Morimoto Asia.
Led by Iron Chef Masaharu Morimoto, you'll enjoy a one-of-a-kind dining experience in this award-winning restaurant.
Morimoto Asia offers a wide range of menu that varies depending on your mealtime. There is a Lunch special, Dinner menu, Weekend Lunch Menu, and a Kids menu, to name a few.
If you are here to love sushi, you may want to try some of their best-selling dishes, such as the Jyo Sushi Combo and the Shrimp Tempura Roll.
Kabooki Sushi
$$ | (407) 228-3839 | WEBSITE
If you want the best atmosphere to enjoy exquisite flavors, Kabooki Sushi is the way to go. Kabuki is a traditional Japanese drama with high-quality music and dances. The restaurant's name, Kabooki, seems to play off this traditional term.
Similarly, this is how Henry Moso describes the dishes served here at this well-known sushi restaurant.
What makes this restaurant unique is its exquisite talent in balancing the different flavors and tones of Mexican, French, and Japanese foods.
For menu recommendations, some of their most popular dishes are booki booki makimono, leche de tigre, handmade ebi gyoza, hamachi sashimi, and nigiri tasting.
Sushi Katana
$$ | (407) 345-0055 | WEBSITE
Open daily to cater to all of your sushi cravings is the next restaurant on our list. The Sushi Katana is located at Plaza Shoppers, highly accessible to anyone who wants to eat here anytime.
You may want to take advantage of their Happy Hour offer from 4:00 pm to 6:30 pm on weekdays.
This restaurant offers a vast menu with special menus such as Sushi Lunch and Sushi Dinner. You absolutely need to try their best-selling dishes like Sushi and Sashimi Platter, Maki Combo Minami, Sashimi Sampler, and the Nigiri Sampler.
Mikado Sushi & Grill
$$ | (407) 822-1080 | WEBSITE
View this post on Instagram
The next restaurant on our list has been one of Raleigh's top Sushi and Sashimi restaurants for the past 16 years.
Headed by Chef Tim Liu and Chef King, they aim to create quality dishes with ingredients imported from Japan to New Zealand. You can come and enjoy their good food as they are open daily.
When visiting this restaurant, it is note-worthy to try some of their seasonal dishes like Nigiri Moriawase or Sashimi Moriawase.
You should also try the Mikado Boat, Nigiri & Sashimi Combo, Toro (Full Fatty Tuna), Lunch Bento Box Teriyaki, and Lunch Bento Box.
Mikado Japanese Steakhouse
$$ | (407) 238-8664 | WEBSITE
Do you want to experience dining with teppanyaki-style service? Enjoy the service and good food provided by Mikado Japanese Steakhouse.
Their incredible chefs can whip up some of the tastiest dishes right before your eyes. You can enjoy the magnificent display daily as they are open from 6 to 10 pm.
One of Mikado Japanese Steakhouse's signature menu items is the Specialty Rolls. They offer a comprehensive menu selection with hot-selling items such as Volcano Roll, Red Dragon Roll, and Beauty & the Beast Roll.
They also provide different Drinks selections like Specialty Cocktails, Wine, Beer, and Sake.
Seito Sushi
$$ | (407) 898-8801 | WEBSITE
View this post on Instagram
Experience the beauty of the fusion of Asian cuisines at Seito Sushi. They are a well-known restaurant in Orlando established in the year 2000.
In its 23nd year, it established itself as a pioneer of Asian cuisine in Orlando. Enjoy their delectable dishes from Tuesdays to Sundays from 5 in the afternoon.
As one of the popular Asian cuisine restaurants in Orlando, Seito Sushi offers a variety of dishes that can fill your appetite.
They have a separate Sushi Menu for those who want to enjoy fresh sushi. Make sure to try the Tropic Thunder, one of their popular dishes.
Zeta Asia
$$ | (407) 597-3665 | WEBSITE
View this post on Instagram
Looking for a fine dining place where you can enjoy traditional and signature sushi plates and rolls? Visit Zeta Asia in the Signia by Hilton Orlando Bonnet Creek.
This place offers the beauty of dining with exquisite dishes and unique signature cocktails that one will surely enjoy.
There is a well-prepared menu waiting for you in Zeta Asia. They offer various dishes such as Signature Rolls, Nigiri & Sashimi, Shared Plates, Bowls, Small Plates, and Crazy A-Bao Buns.
There's also a part of the menu called For The Little Ones, which has Kiddie Meals ready if you decide to bring children.
Sushi Kichi Japanese Restaurant
$$ | (407) 778-1953 | WEBSITE
Enjoy a fantastic Japanese meal at Sushi Kichi Japanese Restaurant. Located at Central Florida Parkway, this casual restaurant aims to serve authentic Japanese food to its patrons.
They are also located next to Publix, and they offer dine-in and take-out for all of their customers.
If you ever decide to visit this restaurant, you need to try their famous Donburi rice bowls, their best-selling dish. There are a lot of variations to it, such as Spicy Salmon Poke Don, Teriyaki Chicken Karaage Don, and Gyu-Don.
They also have Noodles, Appetizers, and Nigiri & Sashimi to offer their customers.
Kimonos
$$ | (407) 560-1397 | WEBSITE
Craving for fresh sushi in the middle of Disney World? Kimonos got you covered. It's located in the Walt Disney World Swan Hotel at EPCOT Resort Area, easy to look for on Google Maps.
They have been voted the best sushi in Orlando in the Orlando Sentinel's Critic's Choice.
One of the best things that Kimonos is unique is that they offer a wide range of raw and cooked sushi for all of their customers, such as Spider Roll, Spicy Rainbow Roll, and AmaEbi Shrimp.
If you want authentic, traditional sushi to enjoy, you can never go wrong with Kimonos.
Dragonfly Robata Grill & Sushi
$$$ | (407) 370-3359 | WEBSITE
View this post on Instagram
The next restaurant on our list is the Dragonfly Robata Grill & Sushi. Inspired by the Japanese word Kaizen, which means continuously improving, they aim to show creativity in every dish they serve.
Their savory and authentic dishes are something you wouldn't want to miss if you're a fan of Japanese cuisine.
This restaurant offers a variety of menus depending on your meal time with them.
Their most common menu, the Dinner Menu, comprises categories such as Salads & Veggies, Seafood & Meats, Robata Grilled, Composed Sashimi & Combination Platters, Makisushi Rolls, and Sushi A La Carte.
Kobe Japanese Steakhouse
$$ | (407) 248-1978 | WEBSITE
View this post on Instagram
Another restaurant with the Teppanyaki style of service on our list is the Kobe Japanese Steakhouse. Come and be entertained as your chef prepares your meal right before you.
You'll indeed be treated warmly once you enter their premises and come to celebrate the joy of company.
The restaurant is known for its way of service, but that does not limit its menu offering. They have Teppanyaki Entrees, Chef Combinations, Vegan, Sushi Rolls, Signature Rolls, Sushi Dinners, and a Children's Menu.
Drinks are no exception as they serve a variety from Specialty Drinks to Wine and Non-Alcoholic Drinks.
Sushi Tomi
$$ | (407) 352-8635 | WEBSITE
If you're looking for an authentic Japanese restaurant in Orlando, why don't you look at Sushi Tomi. This restaurant is open from Monday to Saturday, Lunch, and Dinner, to serve their customers delicious menu items.
Sushi Tomi is a nice restaurant to go to if you want many options when it comes to food. Their menu starts with appetizers and salads, followed by different fried and grilled food.
They also have rice bowls, Noodles, Combination, Curry, and Sushi & Sashimi menu categories that you can choose from.
Tokyo Sushi
$$ | (407) 465-1188 | WEBSITE
For looking for quality and fresh Sushi in Orlando, check out Tokyo Sushi. They aim to provide mouth-watering dishes accompanied by excellent ambiance and service to satisfy their patrons.
This restaurant is a must-try for a one-of-a-kind dining experience that you'll never forget.
If you're looking for affordable sushi, Tokyo Sushi has the answer. There is a wide variety of sushi, sashimi, and rolls on their menu that you can choose from.
Try out their best-selling dishes like the Tokyo Special Roll, Salmon Roe Nigiri, Sushi & Sashimi Combo, and Sushi Lunch Special.
Shin Japanese Cuisine
$$ | (407) 648-8000 | WEBSITE
View this post on Instagram
The last restaurant on the list is Shin Japanese Cuisine. Created by four Japanese chefs in 2007, they aim to provide authentic Japanese flavors to their customers.
With two of the original chefs remaining, the initial flavors are still served up to this date, with fantastic blends and exquisite taste that's better than ever.
One thing that customers love about Shin Japanese Cuisine is its wide selection of Sushi Menu.
You can never run out of options with this restaurant, and you will surely want to try them all. We recommend that you try the whole Nigiri & Sashimi Menu.
Summary
We hope that this article was able to help you in figuring out where you can enjoy sushi the best.
Make sure that you check all their locations to see if there's a sushi restaurant in your area. Also, do not forget to share this helpful article with your friends.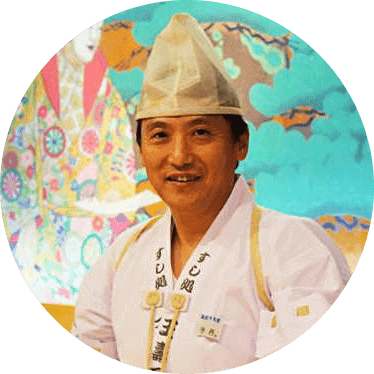 Hiroshi Nakamura, a Tokyo-born sushi chef turned US-based writer and critic, is the voice behind ichisushi.com, blending traditional sushi wisdom with modern insights.