Lately, people have developed a great liking for authentic Japanese and classic sushi rolls. Over the years, there have been growing restaurants in Salt Lake City that offer locals a taste of Japanese sushi offerings.
We all like sushi so much that finding the best restaurants that offer the best proves to be a worthwhile adventure. There are a lot of must-try sushi places that we have listed down for you. So, here are the 14 Best Sushi Places in Salt Lake City, UT.
O'Shucks Bar & Grill Ahh Sushi
$ | (801) 359-6770 | WEBSITE
View this post on Instagram
For 25 years, O'Shucks Bar & Grill Ahh Sushi has been serving its guests excellent sushi rolls made from the best and finest ingredients.
After your shopping spree at City Creek Mall, you can have sushi and authentic Japanese grill food. What's more incredible is that you can mix and match sushi rolls with chicken wings and burgers.
With their expanded food menu, you can have a lot of choices. You can try their sushi specialty called the "Confidential Roll." Also, with the great ambiance and lovely music, visiting this sushi place will be worth it.
Takashi
$$ | (801) 519-9595 | WEBSITE
View this post on Instagram
Inspired by authentic Japanese cuisine, Takashi was voted as Utah's best sushi restaurant by the crowd. It would be great to swing by this place when you're in Utah if you love sushi. You can check out their Giant Clam Hand Roll, Kona Roll, and Sashimi at a reasonable price.
When you see their menu, you can also find Takashi's best-selling specialty rolls like Spider Roll and Salmon Skin. There is also an expansive menu for drinks.
You can try their cocktails and beers imported directly from Japan. With a friendly welcome from their staff, Takashi is the perfect hang-out place for you.
Yellowfinn Grill & Sushi Bar
$ | (801) 466-2600 | WEBSITE
Found near Commons at Sugar House, Yellowfinn Grill & Sushi Bar is a cozy place to chill and eat sushi. When you come to this place, you will feel the lovely ambiance from their welcoming staff.
At an affordable price, you can experience premium sushi at Yellowfinn. Once you check out their menu, you can see that they have a dedicated spot for Rolls and Special Rolls.
Come with your best friends and try out their delicious sushi rolls like Jolley Rancher and Sugarhouse. They also have refreshing desserts like Chocolate Lava Cake, Ice cream, and Tempura Banana.
If you like to have special moments with your friends over sushi rolls, never miss Yellowfinn Sushi Bar the next time you come to Salt Lake City.
Itto Sushi
$ | (385) 522-2603 | WEBSITE
View this post on Instagram
Itto Sushi is proud to serve its guests sushi rolls made from fresh and handcrafted ingredients. This place will accommodate you whether you bring your family with you or just a simple hang out with your buddies.
You can try their bento box specials with salad and sushi roll choices when you want to have food and share it with your loved ones.
The crowd's favorites are California Roll, Avocado Roll, and Crunch Spicy Tuna Roll. Plus, the place served other sushi rolls like hand rolls, traditional rolls, house rolls, and specialty rolls. With its variety of dishes and prompt service, Itto Sushi is the ultimate place for you.
Sushi Groove
$ | (801) 467-7420 | WEBSITE
View this post on Instagram
Sushi Groove is Salt Lake City's favorite sushi bar. They have sushi combos served with a bowl of miso soup and seaweed salad. You could also try out their basic rolls like Philly Roll, Spicy Tuna Roll, and California Roll. Indeed, Sushi Groove will meet your food expectations with fantastic sushi rolls.
With its lively and loud music, you can enjoy trying out their groove rolls like Rainbow Roll, Firecracker, and Shrimp Tempura. They also have $2.50 great deals every Tuesday that you would never want to miss out on.
But suppose you want to have sushi rolls while watching movies over a weekend night. Then, call their number, and Sushi Groove will be glad to take your order.
Kaze Sushi Bar and Grill
$$ | (801) 800-6768 | WEBSITE
Kaze Sushi wants to take you to Japan with their delightful sushi rolls. Try their best-selling sushi and sashimi rolls Yellowtail (Hamachi) and Hotategai (Scallops) when visiting the restaurant. This sushi bar also offers nigiri and sashimi combinations available on a small and large platter.
Kaze Sushi Bar & Grill offers Philly Roll, Kappamaki, and California Rol if you want to stick with classic Japanese sushi rolls. You can also enhance your sushi experience by pairing it with ramen noodles.
They have signature salads like Squid Salad and Mixed Green Salad. On top of that, they have a complete menu for beverages like beers, wines, and sake.
Same Sushi
$ | (801) 363-0895 | WEBSITE
Found near Homewood Suites, Same Sushi is a warm spot serving traditional sushi rolls. For $12, you can try out their signature sushi rolls like Crazy Salmon Roll, True Texan, and Jupiter. Plus, you can have deep-fried tempura rolls like Park City and Vegas for $9.
Suppose you like to stick to the basics. In that case, California Roll and Tempura Veggie Roll are available for $5. Same sushi also served Fresh slices of raw fish like nigiri and sashimi.
What's great about this sushi bar is you can have a variety of premium sushi rolls for an affordable price but still with excellent quality ingredients.
Sapa Sushi Bar & Asian Grill
$$ | (801) 363-7272 | WEBSITE
View this post on Instagram
Sapa Sushi Bar and Asian Grill are among the finest restaurants in Salt Lake City. The place promise to provide its guests with food made with love and handcrafted ingredients. Try out their killer sushi rolls like Tataki Roll, Maui Wowie, and Snow White when you swing by this sushi bar.
But if you like to have something wild and hot, you can check out their spicy sushi rolls, such as Spider and Imperial. They also have ala carte nigiri and sashimi meals served all day. On top of that, the restaurant would love to accept early reservations and online orders.
Hamachi Sushi Bar
$ | (801) 359-2092 | WEBSITE
View this post on Instagram
Hamachi Sushi Bar is not your average sushi restaurant. This place believes that every sushi should be made extraordinary. With this in mind, they provide their guests with a premium sushi experience.
You can check out their special maki rolls with fantastic flavors like Avenue, Cobra Kai, and Tiger.
A sushi bar would be nothing without nigiri and sashimi. Maguro, Hamachi, and Unagi are the restaurant's specialties. If you're coming over with a group of people, it will be great to try their nigiri and sashimi combo.
With warm, friendly service and food from the best ingredients, never forget Hamachi Sushi Bar at your destination.
Tsunami on 9th
$$ | (385) 900-0288 | WEBSITE
View this post on Instagram
The Tsunami on 9th has promised to serve its customers something fresh, local, and fun sushi since 2002.
Whether you are holding company dinners, or a fancy, intimate gathering, you may want to check out this sushi restaurant. They offer dinner combinations where you can have classic sushi rolls with tempura vegetables.
This sushi restaurant features specialty house rolls like Sugar House, Tidal Wave, Fire Breathing Dragon, and Something Tropical. You could always have something more sushi rolls on their menu like Aloha, Cococabana, Spicy Masa Roll, and Samurai.
Hi Sushi
$ | (801) 906-8320 | WEBSITE
Hi sushi seeks to provide its customers with classic and playful dishes from seasonal ingredients. Just name it, and Hi Sushi will make it for you. They have a lot of sushi choices. You could go for traditional sushi rolls like Avocado and Cucumber sushi rolls.
Try their deep-fried rolls like Silver Lake, Funky White Boy, and Albacore delight if you're up for something playful. Do you want to have a blast of sushi rolls? There's more. House rolls, special rolls, baked rolls, nigiri, and sashimi are also available. Then pair it with your favorite soda!
Ichiban Sushi & Asian Grill
$$ | (801) 486-8882 | WEBSITE
View this post on Instagram
Are you one of the people on earth who loves sushi? Ichiban Sushi & Asian Grill would not disappoint you since the place comes with various sushi roll choices.
On top of that, the restaurant has Jumbo, Special, and Hand Roll. You could try their famous appetizers like Tempura Shrimp to have a heads-up.
If you're in doubt, then start with their popular items. Their best-selling specialties are Vegas, California, Executive, and Ichiban Roll. When you have your family coming with you, then check out their sushi sashimi combo: Royal Sushi and Imperial Sushi.
Sushi Burrito on 8th
$ | (801) 995-0909 | WEBSITE
Have you ever heard of a sushi burrito? If you like to have this fantastic food, visit Sushi Burrito on the 8th. The place has been recognized for having excellent sushi cuisine with friendly staff and prompt service.
The restaurant's popular dishes that you could try are Geisha Rice less Roll, Yummy Chef's Burrito, Buddha Roll, and California Sumo. With the place relaxing and calm vibe, you can have a great time eating sushi burritos.
Shinobi Sushi & Bar Grill
$$ | (385) 429-9428 | WEBSITE
Shinobi Sushi & Bar Grill is an all-in stop shop for flavorsome sushi rolls and authentic Japanese cuisine. With 20 years of experience, sushi restaurants offer their classic guest sushi in a relaxing and fun environment. If you love traditional maki sushi, then have Sake Maki, Oshinko, and Kappamaki.
Of course, a sushi restaurant would not be complete if they did not have special rolls like Rainbow, Alaskan, and Philadelphia Roll. On top of that, the restaurant made a special menu for vegetarians. Vegans can still have healthy but delicious sushi such as Simple Veggie Roll and Veggie Roll Combo.
You may want to try other Japanese dishes: Chicken Teriyaki, Filet Mignon, and Salmon Teriyaki.
Final Thoughts
Are you a sushi lover always chasing excellent sushi bars in town? Indeed, when we travel to some new place, we want to try out the best that they can offer. Salt Lake City is an excellent destination if you like sushi more than anything.
There are many options, from classic sushi to unique sushi burritos. The next time you stop by Salt Lake City, try out these 14 best sushi restaurants in Salt Lake City, UT. You will not regret it.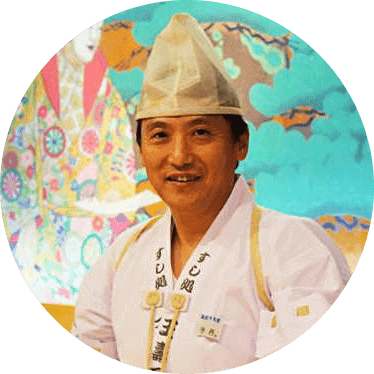 Hiroshi Nakamura, a Tokyo-born sushi chef turned US-based writer and critic, is the voice behind ichisushi.com, blending traditional sushi wisdom with modern insights.