If you stumble upon this article, you are trying to mix it up with your regular sushi. You're lucky because we are here to show you 24 bacon sushi recipes and how to do them. Get all the information you need from this article to spice things up.
Bacon Sushi
Before starting with the different recipes, you need to know more about bacon sushi.
Sushi is one of Japan's staple foods, and they have grown in popularity over the years. They are usually made with vinegared rice and various ingredients and rolled with nori sheets. Some ingredients that are usually used for sushi are sliced vegetables such as cucumbers, avocados, carrots, and others.
In Japan, you won't be able to pass a few streets without seeing a restaurant that sells sushi. Over the years, many variations have sprung into place and made sushi a famous appetizer or main dish in Japan and worldwide.
The renowned sushi types worldwide include Rainbow Roll, California Roll, Spicy Tuna Roll, Spider Roll, and Shrimp Tempura Roll.
For today's article, we will discuss various bacon sushi recipes from different sources. Basically, it's the same sushi goodness mixed with crunchy, flavorful bacon to add a new twist to it.
You'll see that most of the recipes listed below are recommended for keto diets, so you don't have to worry because there is definitely a variation that's right for you. Without further ado, here are the 24 best bacon sushi recipes.
The first bacon sushi recipe on our list here is from Delish. This recipe offers a creamy, crunchy, and salty snack that won't be too heavy on your weight. It also takes up to 30 mins to make, so it's straightforward and quick to do.
This recipe is mainly recommended for people on a keto diet trying to lose weight. But don't let that stop you from making it, too.
2. BLT Bacon Sushi Rolls
Next up on our list is a video recipe from Kenmore, which introduced a more kid-friendly recipe version of the classic bacon sushi. The BLT sushi recipe only needs several ingredients, such as bacon, lettuce, tomato, rice, and seaweed. It's simple, easy, and a great meal to serve in your kids' lunch boxes.
If you check out this video, you'll get step-by-step visual instructions on how to do it.
Another recommended sushi bacon recipe comes from My Korean Kitchen. It started with a Kimbap craving, in which they ultimately decided to make do with the ingredients they currently have in their home.
That's how their bacon sushi avocado recipe was formed, which is very easy and can be done in a few minutes for as long as you have cooked rice. We recommend this recipe if you love avocados.
4. BBQ Bacon Sushi
Over here, we have another party food-worthy recipe from COOK WITH MEAT. They went for the simple bacon, ground beef, and cheese combo but chose to cook it in the oven for a richer taste. Do not forget to add a BBQ glaze because it makes it better.
This recipe variation also makes use of toppings as garnish like crushed nachos. You can do it with whatever you like.
This next recipe from Mama Jean's Natural Market is another variation of the Keto Bacon Sushi. It takes 10 minutes of prep time and 30 minutes of cook time, but it will all be worth it once you have the end product. It's pretty easy to make and doesn't take many ingredients.
People on a keto diet will undoubtedly love this recipe because they are savory and fast to make.
6. Bacon Wrapped Keto Sushi
Still not fully satisfied with the earlier recipes we've shown you? Well, check out this bacon sushi recipe from Nicko's Kitchen. It's a quick and easy recipe that you could do in less than 15 minutes.
All you need for the roll is fried bacon, cream cheese, and some thinly chopped vegetables, whatever it may be that you like. It's a great quick snack if you're feeling a bit hungry.
If you're a big fan of sushi and meat, you will love this next one. Allrecipes came up with an exciting new sushi recipe that includes beef and bacon. On top of that, this sushi is grilled to add a unique taste, and it takes you less than an hour to prepare them.
This recipe will surely be a big hit for BBQ parties if you know what I mean.
8. Weekly Cheats Bacon Sushi
Here we have another grilled bacon sushi recipe in our hands that is brought to us by Weekly Cheats. Just like the other bacon sushi recipes, it does not take many ingredients and takes less than an hour to finish.
If you plan on following this, we recommend watching the video as you progress to ensure you're doing it all right and you get perfect bacon sushi at the end.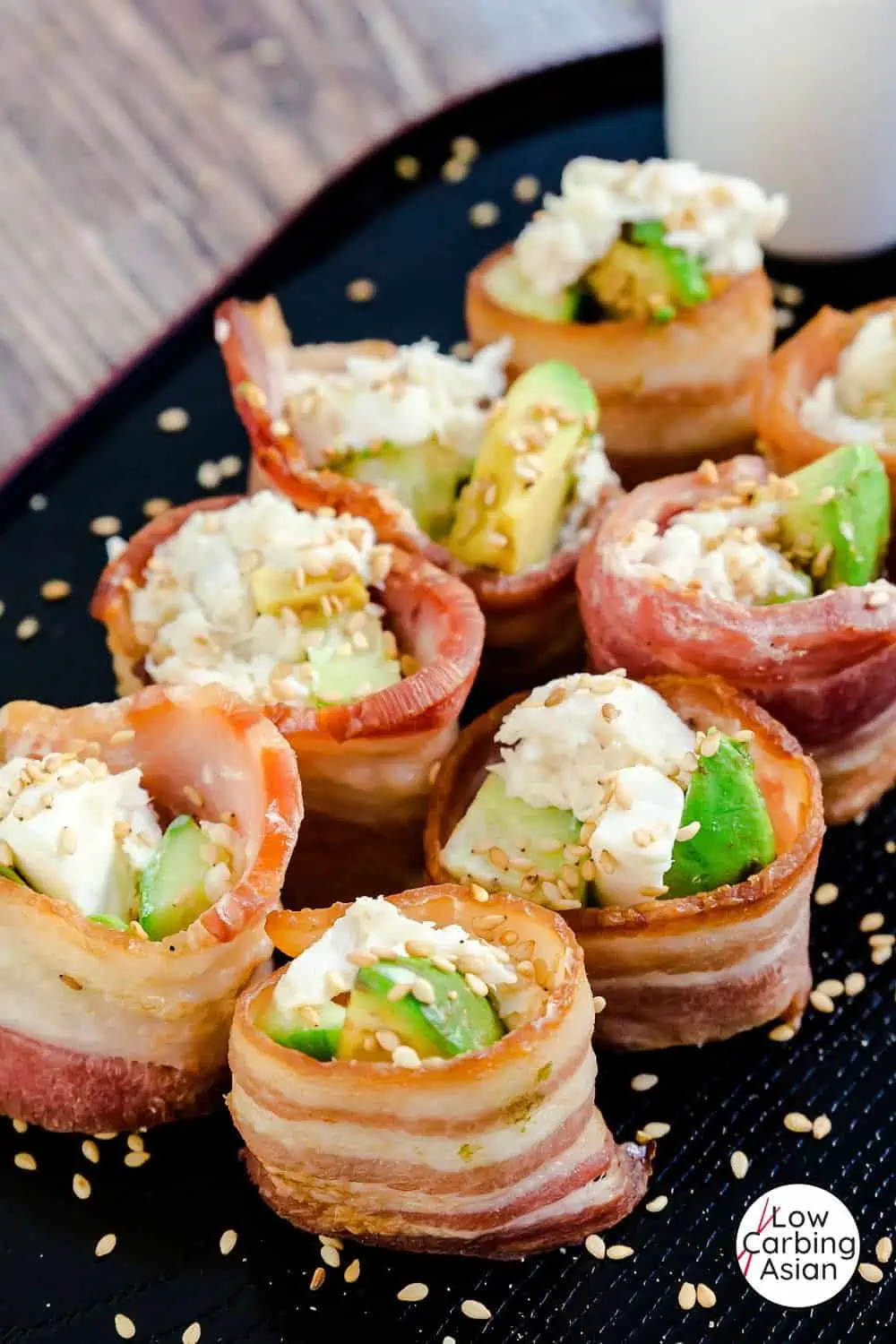 Many of the recipes on this list will use regular sushi ingredients. Still, if you like adding seafood to yours, such as crabmeat, the following formula is the one for you. Low Carbing Asian's bacon sushi recipe uses ingredients such as bacon, cucumber, mayo, avocado, cream cheese, and canned or fresh crab meat.
You can have this as a to-go breakfast or a midnight snack when you're feeling hungry.
10. Moon Rabbit Bacon Sushi Roll
Another five-ingredient bacon sushi recipe on our list comes from Moon Rabbit's YouTube channel. Made with eggs, bacon, rice, cheese, and nori sheets, this recipe will surely help you get going and fill you up in an instant.
Using nori is optional, so you can make do without it, making the recipe a lot easier. Cooking this recipe will take up to 30 minutes to finish 4 rolls.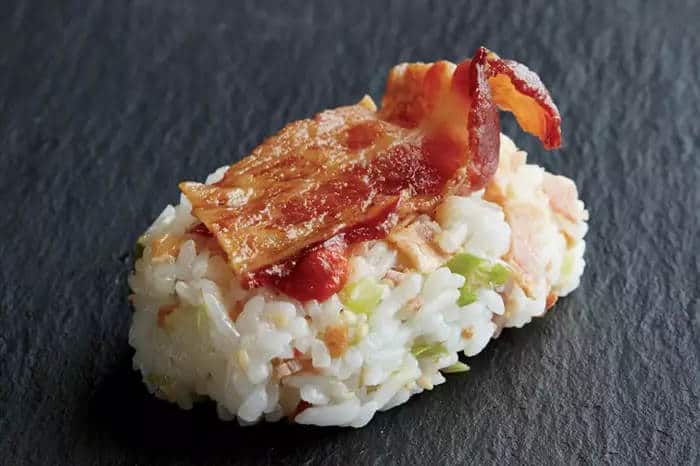 Searching for easy, quick party snack ideas over the internet? Look no more; Cooking Light has got you covered. They've discovered a brilliant new recipe that adds a twist to your regular nigiri sushi. What better to add to this dish than bacon, right?
Enjoy these light snacks, which are a combination of crunch and savory. You can whip them up in a few minutes and serve them outright.
12. Keto Bacon Sushi Recipe
Have you ever tried diet sushi before, but with the specific factor that bacon adds? You're lucky because Custom Keto Diet's YouTube channel includes a short video recipe for a Keto Bacon Sushi.
All you need for this recipe are bacon, cream cheese, cucumber, and carrots. You can make one every few minutes or so, and soon you can have a full plate of it in 15 minutes.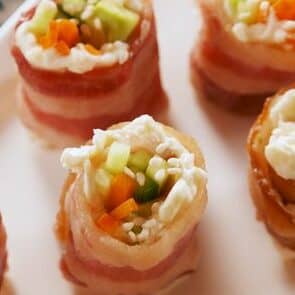 If you're currently on a keto diet and exploring different snacks you can eat, you might want to check this out. This bacon sushi recipe from theFFeed is a great snack to eat when you're feeling bored.
It may take 30 to 45 minutes to do all the necessary things to bring this dish to life, but I can assure you that it's something you wouldn't want to miss.
14. Bacon Sushi Roll Recipe
Next to our bacon sushi recipe list is a recipe video from Ninja Fairy. It adds a new twist to the earlier recipes since this one uses potatoes instead of carrots and cucumbers.
This recipe is for all sushi and potato lovers. For people who are big fans of sushi, I suggest you take a look at their YouTube channel because they have many sushi recipes you can try out.
Do you want to make a quick and easy dish that can serve as an appetizer, side dish, or even the main dish? Check out this fantastic bacon sushi recipe from Indiana Kitchen. All you need are cucumbers, carrots, avocado, ripe mango, cream cheese, sesame seeds, and bacon slices.
Once you have everything, it takes 30 minutes to make this perfect dish for you and your family.
16. Easy Baked Sushi Recipe
Up to this point, we have given you bacon sushi recipes that require being rolled. In this following recipe, you only need to lay down the ingredients neatly in a pan and serve it with nori sheets.
The next one is a bacon sushi baked recipe from The Hungry Missus. What you'll love about this recipe is that you can also serve it for lunch or dinner.
Over here, we have a typical bacon sushi recipe with a particular twist. Instead of baking the bacon separately or grilling or frying, you will put the whole roll inside the oven and let it cook. You don't even need an hour to do this meal; it can be done in less than 45 minutes.
It's a great dish you can serve to your friends at parties or at home.
18. Bacon and Avocado Sushi Rolls
Do you want to experience the rich taste of smoked salmon in your bacon sushi? Wait no more 'cause SoDelicious is here to provide you with a fantastic recipe that includes this one-of-a-kind ingredient. Mixed with sushi rice, bacon, avocado, and cucumber, you'll have a unique snack up to your sleeves for the next party.
Check out the link provided below the video for more information on the recipe.
SideChef is here to bring another variation of the keto bacon sushi with low carbs but strong flavor. In just 20 mins, you can serve this to your friends and family over dinner or during parties. It's also a big plus: you can buy almost all the ingredients at a local grocery store.
Get ready to indulge in a low-carb, savory snack you can enjoy with your loved ones.
20. Cookist Wow Bacon sushi
If you like beef and bacon, you will surely love this next recipe on our list from Cookist Wow. They've added together minced beef with BBQ rub, bacon, and mozzarella sticks to create creamy and savory sushi that the guys and girls will surely love.
Top the bacon sushi off with some crunchy nacho crumbles, and you'll have an easy party snack recipe to do that everyone will definitely enjoy.
21. Epic sushi roll (with bacon)
Do you like having meat slices in your sushi? Do not worry 'cause Make My Sushi has got you covered. They introduced a new bacon sushi recipe that takes 30 minutes and 5 simple ingredients to be done.
If you have nori sheets, rice, bacon, cream cheese, and avocado at home, you can easily make this recipe and enjoy it with all of your loved ones at home.
Have you ever wondered what the fusion of Spanish and Japanese food tastes like? Well, you're lucky because Tablespoon.com has all the answers you are looking for. Here's a bacon sushi recipe with Spanish-style rice with all the different spices.
If you are one to try experimenting with different foods and you also happen to be a big fan of sushi, do take your time and make this recipe.
As we near the end of this article, we'll bring out some hidden gems we've discovered along the way. The following bacon sushi recipe is from Peas and Crayons. They were inspired to create this recipe because of a restaurant where they tried a "Canadian Roll' which basically converts into bacon sushi.
All you need is some sushi rice, nori sheets, avocado, cucumber, cream cheese, sashimi slices, and bacon.
Last on our list is a keto bacon sushi recipe from Officially Gluten Free. Packed with the proper nutrients you need, you can finish making this recipe in less than 30 minutes.
You only need four ingredients for this recipe: stuffed crab, avocado, sesame seeds, and bacon. When combined together, they can create a different, new flavor that will make your mouth water for more.
Summary
You should already have a few recipes tricks up your sleeve that you may want to try. We hope that you were able to check each and every one of the 24 bacon sushi recipes we provided above to spice up your sushi cravings. Don't forget to recommend this to your friends.
24 Best Bacon Sushi Recipes
Directions
Select your favorite recipe.
Organize all the required ingredients.
Prep a Bacon Sushi Recipe in 30 minutes or less!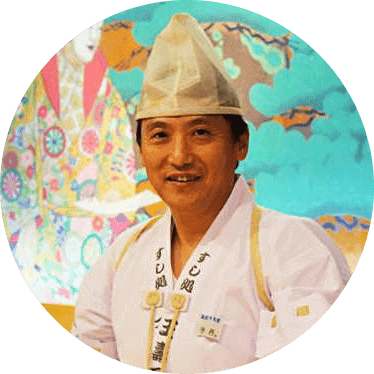 Hiroshi Nakamura, a Tokyo-born sushi chef turned US-based writer and critic, is the voice behind ichisushi.com, blending traditional sushi wisdom with modern insights.